8:30 PM ET, December 8, 2014
Lambeau Field, Green Bay, WI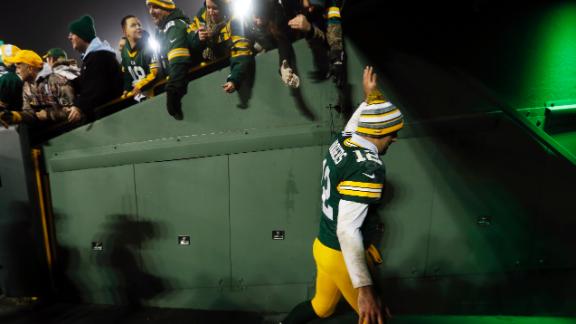 Packers Win Fifth Straight
Mike Tirico and Jon Gruden break down the Packers' 43-37 win over the Falcons on "Monday Night Football."
Packers Win Fifth Straight
VIDEO PLAYLIST
Packers Win Fifth Straight

Packers Win Fifth Straight

Mike Tirico and Jon Gruden break down the Packers' 43-37 win over the Falcons on "Monday Night Football."
After beating one division leader, the Green Bay Packers will get to host another.
The Atlanta Falcons, of course, hardly have the credentials of the Packers' previous opponent -- or even a winning record.
The Falcons, though, have won three of four heading into Monday night's visit to Lambeau Field, but they'll have to deny the Packers a season-high fifth consecutive win and seventh in a row at home to add to that stretch.
Green Bay (9-3) moved a step closer to a franchise-record fourth straight division title with a 26-21 victory over AFC East-leading New England last Sunday. Aaron Rodgers added to his MVP candidacy with 368 yards and a pair of touchdowns as the Packers remained one game ahead of Detroit in the NFC North.
"We have some big goals, and we're getting into December football now with a chance with everything right in front of us," Rodgers said.
The Packers, winners of eight of nine, will next face a team that almost handed them a damaging loss in the North race last December at Lambeau. After falling behind by 11 points at halftime, Rodgers-less Green Bay didn't take the lead in a 22-21 win until Matt Flynn turned a Matt Ryan fumble into a 2-yard touchdown to Andrew Quarless early in the fourth quarter.
Rodgers has 32 touchdowns to just three interceptions heading into this matchup and leads the NFC's most prolific offense at 31.7 points per game.
The Packers' defense, meanwhile, has allowed an average of 17.3 points in the four consecutive wins.
Rodgers has 20 TDs and no interceptions in six home games. He's topped 300 yards in each of his four matchups with Atlanta, including a playoff game in January 2011, and has totaled nine touchdowns with one interception.
"It's a big challenge for us this week with Aaron Rodgers," Falcons coach Mike Smith said. "No doubt, he's playing the best of any quarterback in the NFL right now. He's got a number of weapons he can get it to.
"He's played extremely well at home. I don't think he's thrown an interception at home this season, and I don't even want to talk about how many points they've scored."
The Packers have won three straight over the Falcons (5-7), beginning with the postseason victory, and by all appearances, should be favored for another win.
Atlanta, however, is coming off its most high-profile win of the season, 29-18 over NFC West-leading Arizona last Sunday. The Falcons' other four victories all came in division games.
Ryan had 361 yards -- his most since a career-best 448 in the season opener against New Orleans -- and connected on two touchdowns in the opening quarter as the Falcons raced to an insurmountable 17-0 lead.
Their patchwork offensive line also paved the way for 142 rushing yards, two shy of matching a season high, and veteran Steven Jackson topped 100 for the first time in 2014.
The win kept Atlanta tied with New Orleans atop the NFC South, but the Falcons have a tougher schedule than the Saints in the final four weeks. Following the trip to Green Bay, they'll host Pittsburgh (7-5) before visiting New Orleans on Dec. 21.
The Saints get to face opponents with a combined 15-32-1 record to wrap up the season. Both teams are trying to avoid becoming the NFL's second division winner with a sub-.500 record in a non-shortened season.
The 2010 Seattle Seahawks are the only team to hold that distinction.
Atlanta might get some help in its quest if receiver Roddy White can return from an ankle injury that caused him to sit out last week. White had one of his best performances of the season before getting hurt with nine catches for 96 yards in a 26-24 loss to Cleveland on Nov. 23.
Packers cornerback Sam Shields' status is unknown because of a concussion suffered last weekend. Linebacker Jamari Lattimore (ankle) was also hurt.
Green Bay last won five in a row Oct. 14-Nov. 18, 2012.
More from ESPN.com
Source: Packers' Guion agrees to probation
Green Bay Packers defensive tackle Letroy Guion has agreed to a deferred prosecution agreement, which will result in probation, stemming from his arrest for felony marijuana and firearm possession last month.
Free-agency buyer's guide: Falcons


Biggest free-agency needs, top targets and predictions on how everything will play out for the Atlanta Falcons.
Eagles sign ex-Pack LB Jones to 2-year deal
The Eagles added their first free agent of the offseason, agreeing to a two-year contract with former Green Bay Packers linebacker Brad Jones during his visit with the team Monday.
Free-agency buyer's guide: Packers


Biggest free-agency needs, top targets and predictions on how everything will play out for the Green Bay Packers.
Matchup
ATL

GB

W-L
5-8
10-3
Avg Points
2.8
3.3
Avg Points Allowed
3.3
2.8
Home Record
3-3
7-0
Road Record
2-5
3-3
Division Record
4-0
4-1
Conference Record
5-5
7-3
Complete Standings
Team Averages & NFL Ranks
TEAM OFFENSE
TEAM
PER GAME AVERAGE
Total Yards
ATL

378
GB

386
Yards Passing
ATL

285
GB

266
Yards Rushing
ATL

94
GB

120
TEAM DEFENSE
TEAM
PER GAME AVERAGE
Yards Allowed
ATL

398
GB

346
Pass Yds Allowed
ATL

280
GB

226
Rush Yds Allowed
ATL

118
GB

120
Head to Head Matchups (Since 2001)
Green Bay leads 6-4
Dec 8, 2013
ATL 21, @GB 22
Oct 9, 2011
ATL 14, GB 25
Jan 15, 2011
ATL 21, GB 48
Nov 28, 2010
ATL 20, GB 17
Oct 5, 2008
ATL 27, @GB 24
Nov 13, 2005
ATL 25, GB 33
Jan 4, 2003
ATL 27, @GB 7
Sep 8, 2002
ATL 34, @GB 37
Nov 18, 2001
ATL 23, @GB 20
Research Notes
The Falcons have only pressured
Aaron Rodgers
on 3 of his 19 dropbacks (16%) tonight. Entering tonight, the Falcons pressured opposing quarterbacks on 20.3% of dropbacks, the lowest rate in the league.
That is the Packers' 4th touchdown in the first 5 minutes of a game this season, the most by any team.
One of the biggest reasons for the Packers' success this season is their improvement in the turnover department. They've limited their mistakes while feasting on their opponents'.
[+]
Julio Jones
is up to 213 Rec yards, which breaks
Roddy White
's team record of 210, set in 2009. It's just the 3rd 200-yard game in Falcons history. The other two are by White.
The Packers are trying to become the 4th team in NFL history to average 40 PPG at home. Just two of the previous three (2011 Saints and 2011 Packers) went unbeaten at home. That 2011 Packers squad lost their first home playoff game to the Giants.
[+]
The bad news for the Falcons? Teams holding at least a 24-point lead at halftime over the last 10 seasons are 114-2. The good news? Those 2 losses have come in each of the last 2 seasons. The Patriots were down 24-0 to the Broncos before winning 34-31 last season; the Broncos were also down 24-0 to the Chargers before winning 35-24 in 2012.
Aaron Rodgers
is 8-9 for 157 yards and a TD on play-action passes tonight, including 5-6 for 126 yards and a TD when targeting
Jordy Nelson
.
--
Aaron Rodgers
was 23-of-31 for 317 yards and 3 touchdowns when the Falcons rushed 4 defenders or fewer. When Atlanta blitzed, Rodgers was 1-of-5 for 10 yards. --
Matt Ryan
completed 7-of-11 passes for 132 yards and 2 touchdowns against the blitz. Ryan's 15 touchdowns against the blitz are tied with
Drew Brees
for the most in the league this season.
From Elias: Through 100 career starts, the combination of
Aaron Rodgers
and Mike McCarthy have a win percentage together of .680. In the last 25 seasons, only 2 combinations of a head coach and QB have a higher win percentage.
[+]
Julio Jones
the 1st player with consecutive 175+ yard receiving games since
Josh Gordon
(Week 12-13) last season.
Aaron Rodgers
' 10 straight completions are his most to open a game in his career.
*
Julio Jones
set a Falcons franchise record with 259 receiving yards before leaving late in the game with a hip injury. Jones' yards were the 4th-most in Monday Night Football history. 212 of his yards came on throws more than 10 yards downfield. - Jones had a career-high 7 receptions on passes traveling more than 10 yards downfield Monday, tied with
T.Y. Hilton
and
Emmanuel Sanders
for the most by any player in a game this season. - Jones had 116 yards after the catch, the second-most in his career and the second-most by a wide receiver in a game this season (
Demaryius Thomas
, 148).
[+]
Jordy Nelson
has a receiving TD in all 7 home games this season, the longest active streak in the NFL and the longest streak since 2011, when Nelson caught a TD in 8 straight home games.
Aaron Rodgers
was 8-of-9 for 157 yards and a touchdown on play-action passes Monday, including 5 completions for 126 yards and a touchdown when targeting
Jordy Nelson
. The Packers averaged 6.0 yards per rush, their most in a game this season. Green Bay ran for 119 yards on rushes outside the tackles, their most in a game since Week 17 in 2007 against the Lions. Aaron Rodgers scrambled for 2 first downs Monday to give him 16 for the season, second behind
Russell Wilson
(19). Nelson has caught a touchdown in all 7 games at home this season, the longest active streak in the league. The last streak of more than 7 games was also done by Nelson (in all 8 games in 2011).
[+]
ESPN Stats & Information