4:25 PM ET, December 7, 2014
O.co Coliseum, Oakland, CA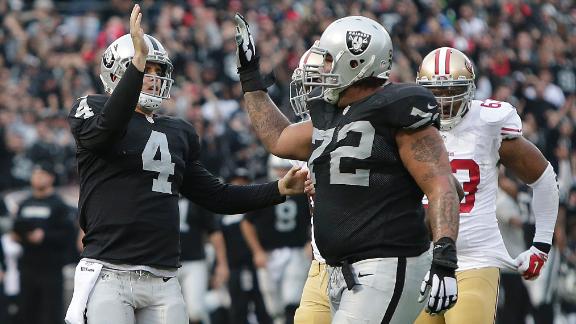 Sunday Blitz: 49ers-Raiders Recap
Jim Basquil and Eric Allen break down the Raiders' 24-13 win over the 49ers.
Sunday Blitz: 49ers-Raiders Recap
VIDEO PLAYLIST
A frustrating Thanksgiving defeat has fueled further speculation regarding Jim Harbaugh's future as coach of the San Francisco 49ers.
Even the lowly Oakland Raiders have found themselves amid the drama.
With a fourth straight trip to the playoffs potentially slipping away, Harbaugh's 49ers try to get back on track by adding to the Raiders' misery Sunday in the East Bay.
San Francisco's futile effort in a 19-3 home loss to Seattle last Thursday night not only delivered a hit to the team's postseason chances but prompted CEO Jed York to tweet the performance "wasn't acceptable."
Reports later surfaced that the 49ers (7-5) could trade Harbaugh with one year remaining on a five-year, $25 million deal. It's also rumored that Oakland (1-11) might be interested in making a deal for Harbaugh, who was an assistant coach with the Raiders in 2002 and '03.
Oakland might be in worse shape than San Francisco from a football standpoint, but hasn't experienced nearly as much drama as its Bay Area neighbor.
During his Monday press conference, Harbaugh was asked which team he'd be coaching Sunday. He smirked, then slightly chuckled.
"I don't worry about my future," Harbaugh said. "Haven't participated in any of that speculation. I think I have a recessive gene for worrying about my own future.
"What I want is to attack this week. I want to get this right."
There's work to be done for a team that's made three straight trips to the NFC title game but is one game behind the wild-card leaders.
The 49ers' three-game winning streak ended when the Seahawks held them to season lows for points and total yards (164). Colin Kaepernick went 16 of 29 for 121 yards with two interceptions and was sacked four times while seeing his string of 21 straight games -- including the playoffs -- with a TD pass end. His 36.7 passer rating was the second-lowest of his career.
"(It's) a very prideful group here, as a team, as an offense we want to perform better, whatever that takes," fullback Bruce Miller said.
The 49ers are tied for 25th at 19.3 points per game -- 6.1 fewer and 14 spots lower than last season. They've been held under 100 rushing yards in five of the last seven games, and totaled 130 in home games versus Washington and Seattle after gaining 292 the previous two on the road.
Harbaugh made no changes to his staff, and offensive coordinator Greg Roman will continue calling plays in the wake of the defeat and a tweet posted by the daughter of general manager Trent Baalke saying "Greg Roman can take a hike..the 49ers don't want you no more."
Baalke issued a statement that both had apologized to Roman for the "unfortunate matter."
"Nobody that's for us was happy about losing the game, losing a big game," Harbaugh said. "We're still not happy about it. Our job is, my job, let's talk about my job. My job is to get it right. That's what we're attacking, without excuse. Onward to the Raiders."
Meeting for the first time since Frank Gore rushed for 149 yards to lead the 49ers to a 17-9 home victory in 2010, the Raiders could provide them with an ideal opportunity to rebound.
Ten days after ending a 16-game skid with a 24-20 win over Kansas City, Oakland lost 52-0 at St. Louis on Sunday -- the second-worst defeat in the team's storied history.
Harbaugh, at least publicly, expects the Raiders to be more competitive.
"There's no bad teams in the National Football League," he said. "The NFL has done a great job making each game a test. And they've exceeded in expectations in that regard."
That wasn't the case last Sunday, when Oakland allowed the Rams to open with five straight touchdown drives and rack up 172 yards on the ground.
The Raiders committed a season-high five turnovers, and their 244 total yards marked the fifth time in seven games an offense that averages NFL lows of 279.9 and 14.7 points was held to fewer than 250. Now, they face a San Francisco team that has not yielded more than 20 points in three straight games and six of eight.
"This team's always been great about bouncing back, and they're really good about being resilient and they're really willing," interim Oakland coach Tony Sparano said. "That's one of the things I love the most about this group, is their will to kind of fight back. I don't anticipate that being a problem this week."
Oakland moves forward with Derek Carr still under center.
The rookie was pulled after going 24 of 39 for 173 yards and two interceptions. Carr has failed to throw for 200 yards in five straight games, and hasn't reached 175 in his last three.
Carr, however, remains a better option than veteran Matt Schaub, who was 5 of 9 for 57 yards with an INT that was returned for a TD and sacked three times in a relief role last Sunday.
Oakland rookie Latavius Murray has been cleared to play after he missed last week with a concussion suffered while running for 112 yards and two TDs on four carries against the Chiefs.
Though last week's performance might be the low point to an already terrible season, the Raiders understand the importance of what's ahead.
"Everybody in this area has been waiting for this game for a long time," defensive end Justin Tuck said. "I think that's the best thing that could have happened after a loss like that, is to have this type of game where all of your attention has to be focused on the 49ers going forward."
More from ESPN.com
49ers waive offensive lineman Jonathan Martin
The San Francisco 49ers released offensive lineman Jonathan Martin on Thursday, the team announced.
Muench: Top draft targets for the 49ers


How will the 49ers replace their latest departures? Steve Muench identifies six prospects San Francisco could target in the draft.
Goodell: Long-term fit vital for move to L.A.
NFL commissioner Roger Goodell told reporters at the conclusion of the league owners meetings here on Wednesday that speed is not driving the process in the inevitable return of professional football to Los Angeles.
Fox: McDonald must meet Bears' standard
Chicago Bears coach John Fox said Wednesday that defensive end Ray McDonald will be held accountable in all aspects after signing a one-year contract with the storied franchise a day earlier.
Matchup
SF

OAK

W-L
7-6
2-11
Avg Points
1.0
1.8
Avg Points Allowed
1.8
1.0
Home Record
3-3
2-5
Road Record
4-3
0-6
Division Record
1-3
1-3
Conference Record
6-4
1-8
Complete Standings
Team Averages & NFL Ranks
TEAM OFFENSE
TEAM
PER GAME AVERAGE
Total Yards
SF

327
OAK

282
Yards Passing
SF

191
OAK

205
Yards Rushing
SF

136
OAK

78
TEAM DEFENSE
TEAM
PER GAME AVERAGE
Yards Allowed
SF

321
OAK

358
Pass Yds Allowed
SF

221
OAK

238
Rush Yds Allowed
SF

101
OAK

119
Head to Head Matchups (Since 2001)
San Francisco leads 3-1
Oct 17, 2010
SF 17, OAK 9
Oct 8, 2006
SF 34, OAK 20
Nov 3, 2002
SF 23, @OAK 20
Research Notes
The 49ers are averaging 19.3 points per game this season. The last time they averaged fewer than 20 points per game for a season was in 2010 at 19.1, the year before Jim Harbaugh's arrival in San Francisco.
the 49ers have scored a touchdown on an NFL-low 38.9% of their red-zone trips, including 1 of 12 4th-quarter trips. They've only SCORED on 4 of their 12 red-zone trips in the 4th quarter (TD, 3 FG).
[+]
Colin Kaepernick
's pocket effectiveness has declined each season. He's thrown 53.3% (8/15) of his touchdowns inside the pocket this season, the lowest percentage of any QB in the NFL (min. 10 TD). He's also been sacked a league-high 38 times this season (26 times inside pocket).
Colin Kaepernick
completed the same number of passes to Raiders defenders (2) as 49ers receivers on passes traveling at least 15 yards downfield Sunday. Since Week 11, Kaepernick has the most interceptions on deep passes in the NFL (5).
[+]
The Raiders 11-point win is their largest since Week 15 of the 2012 season when they won 15-0 against the Chiefs.
Derek Carr
was 16-of-16 for 182 yards and 2 TDs targeting running backs and tight ends Sunday. Carr matched the most attempts without an incompletion to backs and tight ends by any quarterback in the last 9 seasons.
Colin Kaepernick
is 1-of-7 with an interception on passes traveling 15+ yards downfield in the first half.
The 49ers are averaging an NFL-low 14.7 PPG since Week 7 (3-4 during span). They've scored 17 or fewer points in 6 of those 7 games in that span.
The Raiders scored a touchdown on 3 of their 4 drives that reached the red zone Sunday. They have scored a touchdown on 77 percent of their red-zone drives, best in the NFL. Meanwhile, only the Jaguars have a worse red-zone conversion rate than the 49ers (1-for-2 Sunday).
[+]
Derek Carr
posted a 91.2 Total QBR against the 49ers, his first game with a QBR above 65. The 49ers have now allowed a 90 QBR in three games this season, matching their total from the previous 2 seasons combined.
ESPN Stats & Information