1:00 PM ET, December 7, 2014
EverBank Field, Jacksonville, FL
Top Performers
Passing: B. Bortles (JAX) - 205 YDS, 1 TD, 1 INT
Rushing: A. Foster (HOU) - 24 CAR, 127 YDS, 1 TD
Receiving: M. Lewis (JAX) - 3 REC, 69 YDS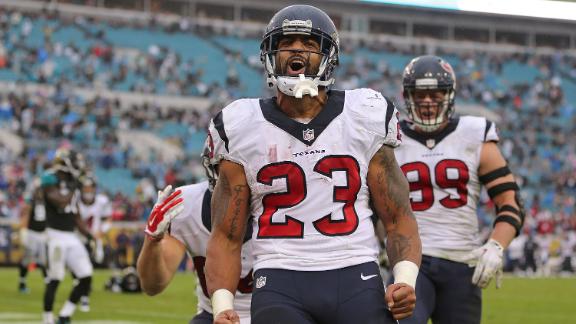 Sunday Blitz: Texans-Jaguars Recap
Jim Basquil and Ron Jaworski break down the Texans' 27-13 win over the Jaguars.
Sunday Blitz: Texans-Jaguars Recap
VIDEO PLAYLIST
Texans coach Bill O'Brien is eager to see if Ryan Fitzpatrick can follow up a record-setting performance by helping Houston build on the highest-scoring game in team history.
While attempting to do so Sunday, the visiting Texans will also look to prevent the Jacksonville Jaguars from winning back-to-back games for the first time in a year.
Fitzpatrick, who lost the starting job following a 31-21 loss to Philadelphia on Nov. 2, made the most of his return after Ryan Mallett suffered a season-ending chest injury. Fitzpatrick, who turned 32 last week, went 24 of 33 for 358 yards and threw a franchise-record six touchdowns without an interception in Sunday's 45-21 home rout of Tennessee.
He had 11 TDs, eight picks and an 87.1 rating while going 4-5 before being benched.
"Maybe it helped Fitz to take a step back," O'Brien said. "You never want to see anybody get hurt like Mallett did, but maybe it helped Fitz to see how the offense was operated and he went in there and did a good job.
"The trick is, can we do it again?"
Houston (6-6), which can be eliminated from the AFC South race with a loss and an Indianapolis victory at Cleveland, hasn't won two in a row since starting 2-0.
The Texans split the two games Mallett started, but Fitzpatrick's performance -- even against a Titans team allowing an NFL-high 28.2 points per contest -- reinforced the potential associated with their offense.
With a healthy Arian Foster totaling 105 yards and second-year receiver DeAndre Hopkins setting career highs with nine receptions, 238 yards and two TDs, the Texans set a record for points after scoring a season low in a 22-13 loss to Cincinnati a week earlier.
"I think it comes down to consistency," O'Brien said. "I think it's really important -- it's vitally important to go out there and have a great week of practice and I think that's what we did last week. Guys were really detailed and focused. That's what we have to do this week again."
Jacksonville (2-10) ranks 28th in both average yards (383.2) and points (27.4) allowed, but is coming off a 25-24 comeback victory over the New York Giants. The Jaguars also swept Houston as part of a three-game winning streak from Nov. 24-Dec. 5 last year.
"I don't care what (Jacksonville's) record is," O'Brien said. "I really don't. It's not coach-speak; it's the truth. This team is a talented team, well-coached."
The Jaguars had scored more than 20 points twice prior to Sunday, when they overcame an 18-point halftime deficit by outscoring the Giants 22-3 in the final two quarters.
"One thing that you can't take away from this football team is that we're fighters," said linebacker J.T. Thomas, who scored one of two defensive TDs versus New York.
Jacksonville knows the fight won't be easy against a defense led by J.J. Watt that's allowed 23 points while beating the Titans and Cleveland in their last two road contests.
Watt, who caught a TD pass for the third time this season while lined up in a goal-line formation last Sunday, also recorded two sacks to raise his total to 11 1/2. He has 5 1/2 in six career games against the Jaguars, who are without right tackle Austin Pasztor because of a ruptured hamstring.
The Texans could get a boost if cornerback Kareem Jackson returns from a three-game absence due to a knee injury, but overall No. 1 pick Jadeveon Clowney (knee) won't be available for the rest of the season.
Clowney will undergo another procedure on the right knee which has continued to bother him since having arthroscopic surgery Sept. 8. The knee injury and illness have limited Clowney to four games and brought about much scrutiny -- though not from O'Brien.
"I want to be real clear about this with him as it relates to us here and the Houston Texans," O'Brien said. "We think very highly of him. We know that he is going to be a really good player. He has been unlucky ... he is a good kid."
While Clowney never recorded a sack, third overall pick Blake Bortles has been sacked 34 times -- fourth-most in the league -- after a season-worst seven last Sunday. However, he didn't have an interception for the first time while throwing for 194 yards and his first TD in three games. He also rushed for 68 yards.
Though Bortles' statistics were far from spectacular, coach Gus Bradley was pleased with the way the rookie guided the offense in the second half, especially on the 11-play, 55-yard drive that ended with Josh Scobee's 43-yard field goal with 28 seconds left.
"You could just see him wanting to take over the game, and his mentality," Bradley said. "He didn't slide. When we needed a couple of extra yards, he went for it. That's what the guys are gravitating toward -- his competitiveness, his focus and his taking advantage of opportunities."
Matchup
HOU

JAX

W-L
7-6
2-11
Avg Points
2.1
1.0
Avg Points Allowed
1.0
2.1
Home Record
3-3
2-5
Road Record
4-3
0-6
Division Record
3-1
0-4
Conference Record
6-3
1-8
Complete Standings
Team Averages & NFL Ranks
TEAM OFFENSE
TEAM
PER GAME AVERAGE
Total Yards
HOU

345
JAX

290
Yards Passing
HOU

210
JAX

188
Yards Rushing
HOU

135
JAX

102
TEAM DEFENSE
TEAM
PER GAME AVERAGE
Yards Allowed
HOU

348
JAX

371
Pass Yds Allowed
HOU

243
JAX

244
Rush Yds Allowed
HOU

105
JAX

127
Head to Head Matchups (Since 2001)
Houston leads 15-11
Dec 5, 2013
HOU 20, @JAX 27
Nov 24, 2013
HOU 6, JAX 13
Nov 18, 2012
HOU 43, JAX 37
Sep 16, 2012
HOU 27, @JAX 7
Nov 27, 2011
HOU 20, @JAX 13
Oct 30, 2011
HOU 24, JAX 14
Jan 2, 2011
HOU 34, JAX 17
Nov 14, 2010
HOU 24, @JAX 31
Dec 6, 2009
HOU 18, @JAX 23
Sep 27, 2009
HOU 24, JAX 31
Dec 1, 2008
HOU 30, JAX 17
Sep 28, 2008
HOU 27, @JAX 30
Dec 30, 2007
HOU 42, JAX 28
Oct 14, 2007
HOU 17, @JAX 37
Nov 12, 2006
HOU 13, @JAX 10
Oct 22, 2006
HOU 27, JAX 7
Dec 24, 2005
HOU 20, JAX 38
Nov 6, 2005
HOU 14, @JAX 21
Dec 26, 2004
HOU 21, @JAX 0
Oct 31, 2004
HOU 20, JAX 6
Dec 7, 2003
HOU 0, @JAX 27
Sep 28, 2003
HOU 24, JAX 20
Nov 17, 2002
HOU 21, JAX 24
Oct 27, 2002
HOU 21, @JAX 19
Research Notes
The Texans lead the NFL in takeaways and are tied for the lead in points off turnovers. They were last in the NFL in each category last season.
The Jaguars, coming off a win vs Giants last week, have not won consecutive games since Weeks 12-14 of 2012 (3 straight).
J.J. Watt
has a TD catch and a sack in 2 of his last 3 games. Nobody in NFL history has 3 career games with a TD catch and a sack.
Blake Bortles
had his first career game without an interception in last week's win vs the Giants. (at least 1 in first 9 games)
J.J. Watt
has scored 5 TD this season. His 3 TD receptions have come on just 3 total targets on the year. The 3 receiving TD is 3rd-most on the Texans.
Blake Bortles
threw his 16th interception this season... His -6 TD-Int differential is the worst in the league.
J.J. Watt
disrupted 4 dropbacks (3 sacks, 1 batted passes) against the Jaguars, the 12th game of his career where he disrupted at least 3 dropbacks. No one else in the NFL has more than 6 such games in that span (since 2011). The Texans are 10-2 in games where Watt records at least 3 disrupted dropbacks (.833 win pct). They are 21-28 (.429 win pct) in games where he has less than 3.
This is the 4th 1,000-yd rushing season for
Arian Foster
. All other running backs in Texans history have combined for three such seasons (Domanick Williams - 2, Steve Slaton - 1)
ESPN Stats & Information