1:00 PM ET, December 7, 2014
Ford Field, Detroit, MI
Top Performers
Passing: M. Stafford (DET) - 311 YDS, 3 TD
Rushing: J. Bell (DET) - 18 CAR, 83 YDS, 1 TD
Receiving: V. Jackson (TB) - 10 REC, 159 YDS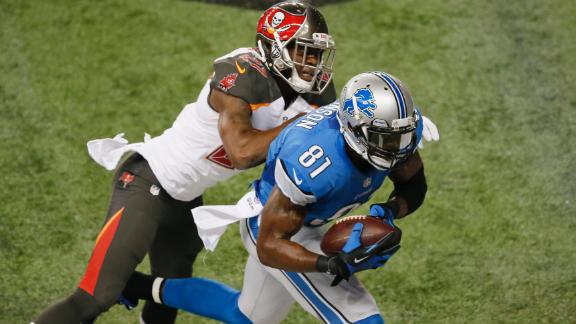 Sunday Blitz: Buccaneers-Lions Recap
Jim Basquil and Ron Jaworski break down the Lions' 34-17 win over the Buccaneers.
Sunday Blitz: Buccaneers-Lions Recap
VIDEO PLAYLIST
After a long-awaited breakout on offense, the Detroit Lions need to remain focused heading into what could be a key stretch in their playoff chase.
In the first of three straight against teams currently with losing records, the Lions seek a sixth win in seven home games Sunday against the NFC-worst Tampa Bay Buccaneers.
Detroit hadn't scored more than 24 points since an opening 35-14 win over the New York Giants before totaling a season-high 474 yards in a 34-17 home victory over the Bears on Thanksgiving Day.
The Lions also hadn't produced a touchdown over nine quarters spanning their first back-to-back losses until Calvin Johnson's 25-yard TD reception from Matthew Stafford in the second quarter.
Johnson finished with a season-high 11 catches for 146 yards and two touchdowns after totaling nine for 117 in his previous two games. He also became the fastest to surpass 10,000 receiving yards, needing only 115 career games.
The star wideout, who returned Nov. 9 after missing more than a month due to an ankle injury, has 23 catches for 355 yards and two scores over his last three against with Bucs.
Stafford is coming off one of his best performances of the season, completing 34 of 45 passes for a season-high 390 yards with two touchdowns against Chicago.
"It's something to build off of," he said. "Just being consistent with it, not having a bad quarter -- maybe a bad series here, one or two, but making sure that we were playing well in every quarter."
Now Reggie Bush is expected to return after missing four of the past five games with an ankle injury. Joique Bell filled in with season highs of 91 rushing yards and two touchdowns on 23 carries versus the Bears.
While Detroit (8-4) is tied with Seattle and Dallas in the race for two wild-card spots, the Lions and Seahawks hold the potential tiebreaker over the Cowboys. However, that may be looking too far ahead for Detroit, which is trying to extend its longest home winning streak since 2007 to four before taking on Minnesota and Chicago -- both 5-7.
"We know that trap, we've fallen into it," center Dominic Raiola said. "It's a work in progress. We're gonna keep the pressure on ourselves and keep the pedal down. It's a brand new week and a brand new challenge."
Since allowing 41.3 points and 466 total yards per game over a four-game stretch, the Bucs have limited opponents to an average of 18.3 and 299.7 in their last six. Behind Gerald McCoy's five sacks, they rank fifth with 16 since Week 9.
Tampa Bay sacked Andy Dalton twice and picked him off three times last Sunday, but a penalty for having too many men on the field cost the team an opportunity to attempt a potential winning field goal in a 14-13 loss.
The Bucs (2-10), who were flagged 13 times, are tied with Seattle for most penalties in the league and have let fourth-quarter leads slip away in five of their 10 defeats.
"Growing pains, learning situations, normally it doesn't take this many games to get the point across," coach Lovie Smith said.
Smith's club hasn't made much progress offensively, ranking 29th in rushing at 83.3 yards per game, 26th in total offense at 313.6 and 28th with 18.3 points per game.
Josh McCown completed 15 of 29 passes for 190 yards with his ninth interception in seven games last Sunday. He had thrown for an average of 310.0 yards in his first three games since returning to the starting role.
After racking up 21 receptions for 458 yards and five TDs in three games, rookie Mike Evans has been quiet with seven catches for 96 yards and one score in his last two.
Doug Martin will try to build on his best game after finishing with 58 yards and a touchdown against the Bengals, but that's not likely to be easy against Detroit's top-ranked run defense.
Even without defensive tackle Nick Fairley (knee), the Lions have limited opponents to 49.8 rushing yards per game and 2.7 per carry over their last four. They allowed 13 yards on eight carries last week -- the fewest they've given up since 1991.
"Everything is kind of working together now," defensive tackle Andre Fluellen said. "The main emphasis is stopping the run."
Stafford has thrown three touchdowns in each of his two games versus Tampa Bay, though he had four interceptions in a 24-21 road loss in the most recent matchup Nov. 24, 2013.
The Lions also have dropped five of the past six home meetings.
More from ESPN.com
Magee, cut by Bucs, off to Red Sox camp
Linebacker Brandon Magee was released by the Tampa Bay Buccaneers on Wednesday morning. It didn't take him long to find a new team -- in a different sport.
Lovie praises Winston: 'He can sell himself'
With five weeks remaining for the Tampa Bay Buccaneers to make a decision about their first overall pick, coach Lovie Smith gave effusive praise to Jameis Winston during his hour-long breakfast Wednesday with reporters at the NFL owners meetings.
Bucs' Glazer: Winston, Mariota OK as No. 1
Buccaneers co-chairman Joel Glazer says he has approved the team's drafting of Jameis Winston or Marcus Mariota with the No. 1 pick in this year's NFL draft.
Agent: Ex-Bucs LB Foster agrees with Bears
The Chicago Bears agreed to terms Tuesday with former Tampa Bay Buccaneers linebacker Mason Foster on a one-year deal, according to his agent, Steve Carric.
Matchup
TB

DET

W-L
2-11
9-4
Avg Points
1.3
2.6
Avg Points Allowed
2.6
1.3
Home Record
0-6
6-1
Road Record
2-5
3-3
Division Record
0-4
3-0
Conference Record
1-8
7-2
Complete Standings
Team Averages & NFL Ranks
TEAM OFFENSE
TEAM
PER GAME AVERAGE
Total Yards
TB

292
DET

341
Yards Passing
TB

206
DET

252
Yards Rushing
TB

86
DET

89
TEAM DEFENSE
TEAM
PER GAME AVERAGE
Yards Allowed
TB

369
DET

301
Pass Yds Allowed
TB

255
DET

232
Rush Yds Allowed
TB

114
DET

69
Head to Head Matchups (Since 2001)
Tampa Bay leads 6-4
Nov 24, 2013
TB 24, @DET 21
Sep 11, 2011
TB 20, DET 27
Dec 19, 2010
TB 20, DET 23
Nov 23, 2008
TB 38, @DET 20
Oct 21, 2007
TB 16, @DET 23
Oct 2, 2005
TB 17, DET 13
Dec 15, 2002
TB 23, @DET 20
Dec 9, 2001
TB 15, DET 12
Nov 11, 2001
TB 20, @DET 17
Research Notes
Lovie Smith has won 9 of his last 10 games coaching against the Lions. Smith's Bears teams went 13-5 against the Lions.
Matthew Stafford
is 1-5 in his career against teams coached by Lovie Smith. In those games he had 8 pass TD, 8 Int and a 52.6 Total QBR.
The Lions have lost 9 straight games in the month of December. Their last December win came on Christmas Eve in 2011 against the Chargers.
[+]
Matthew Stafford
has thrown 8 pass TD and 12 interceptions in his last 9 December games. It's his only month the last 3 seasons with more interceptions than touchdowns. Stafford has gone 3-11 (.214) in his career in December. That's the worst winning percentage for any quarterback with 10+ December starts since 2009.
[+]
The Buccaneers have played 8 games that were decided by 8 points or fewer this season, most in the NFL. The Buccaneers are 1-7 in those games, 2nd worst in the NFL (Giants: 0-3).
Entering today,
Josh McCown
had more success targeting
Mike Evans
than
Vincent Jackson
by far. - McCown targeting Evans: 31-49 (63.3%), 552 yds (11.3 per att), 4 TD, 0 Int - McCown targeting Jackson: 26-50 (52.0%), 346 yds (6.9 per att), 0 TD, 5 Int Today, Jackson was the more efficient option, though the TDs still went to Evans. McCown has 5 TD and 1 Int targeting Evans this season (0 TD, 6 Int targeting Jackson). - McCown targeting Evans Sunday: 4-12, 45 yds (3.8 yds per att), 2 TD, Int - McCown targeting Jackson Sunday: 10-15, 159 yds (10.6 yds per att), Int
Matthew Stafford
was 8-for-9 for 158 yards and a touchdown targeting
Calvin Johnson
Sunday, the 2nd-best catch percentage (88.9%) in a game with at least 4 targets of Johnson's career. Stafford averaged 17.6 yards per attempt targeting Johnson and 6.1 yards per attempt targeting his other receivers (18-of-25 for 153 yards). Sunday was Stafford's 1st game with 3 Pass TD and 0 Int since Week 7 of last year against the Bengals. Twenty-five quarterbacks have accomplished that this season before Stafford.
ESPN Stats & Information