1:00 PM ET, December 7, 2014
FirstEnergy Stadium, Cleveland, OH
Top Performers
Passing: A. Luck (IND) - 294 YDS, 2 TD, 2 INT
Rushing: I. Crowell (CLE) - 14 CAR, 54 YDS, 1 TD
Receiving: T. Hilton (IND) - 10 REC, 150 YDS, 2 TD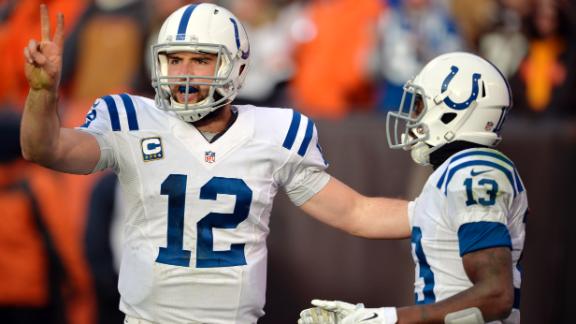 Sunday Blitz: Colts-Browns Recap
Jim Basquil and Ron Jaworski break down the Colts' 25-24 win over the Browns.
Sunday Blitz: Colts-Browns Recap
VIDEO PLAYLIST
The Cleveland Browns are sticking with Brian Hoyer over Johnny Manziel after a few days of deliberation.
They'll likely need Hoyer to play much better in order to stay alive in the playoff race and keep up with the Indianapolis Colts' explosive offense on Sunday.
Cleveland (7-5) announced Wednesday that Hoyer would remain the starter, keeping Manziel on the bench. Hoyer has started each game but was pulled in favor of Manziel with 12 minutes left Sunday against Buffalo after completing 18 of 30 passes for 192 yards with two interceptions.
Hoyer was solid if unspectacular in Cleveland's 6-3 start, posting a 90.4 passer rating with 10 touchdowns and four interceptions while completing 58.5 percent of his passes. He owns a 55.7 rating with one TD and six picks and a 50.8 completion percentage as Cleveland has dropped two of three, however.
"It wasn't perfect and he's made his share of mistakes, but he's gotten the lion's share of reps in practice and virtually all of them in games and has us in the thick of a playoff hunt," coach Mike Pettine said. "That, to me, was probably the biggest determining factor."
Manziel seemed to provide the Browns with a spark, going 5 for 8 for 63 yards and capping a 80-yard drive with a 10-yard TD run. The No. 22 overall pick has only attempted one other pass this season.
"Obviously, that's a decision that's made by Coach Pettine," Manziel said. "And this week his answer was, `No' so moving forward whatever transpires, maybe next time the answer will be, 'Yes.'"
The promise shown wasn't enough to convince Pettine, who added that Hoyer won't be on a "short leash" -- but one has to wonder if he'll stand by those words if Hoyer can't turn things around.
Hoyer is 10-5 as Cleveland's starter, though the team's upcoming games hold more significance with the franchise seeking its first playoff appearance since 2002. The Browns are tied with Baltimore and Pittsburgh for second in the AFC North, while Cincinnati leads the pack at 8-3-1.
Cleveland has responded with victories following each of its losses, and perhaps playing at home can help Hoyer get back on track. He has a 90.1 passer rating at home compared to 70.1 on the road.
"I always have a fire lit," Hoyer said. "Anytime someone questions you, you want to prove them wrong. I'm sure there are people questioning me all along, not just this week, throughout the entire season."
Indianapolis (8-4) comes off an impressive offensive performance, scoring six touchdowns of 30-plus yards in Sunday's 49-27 win over Washington -- the first team to do so since the 1966 Redskins. Andrew Luck, who leads the league with 4,011 yards, threw for a career-high five TDs. He's 81 yards shy of passing Peyton Manning (12,287) for the most in a player's first three seasons.
The Colts, who own a two-game edge over Houston in the AFC South, lead the league with 6.2 yards per play and 69 plays of 20-plus yards.
"They're so hard (to get), you don't see it. Teams are too good and guys always seem to be in the right spot, but obviously fans love it, we love it, everybody loves it," coach Chuck Pagano said of the long scoring plays. "I think going into the game we were No. 1 in the National Football League in explosive plays, plays over 20 yards, and I'm sure we'll end up staying there after yesterday."
New weapons are emerging in the offense with Donte Moncrief, Coby Fleener and Daniel Herron accounting for five of those plays.
Moncrief finished with a season-high 134 receiving yards after previously averaging 23.3 on the season. Fleener is averaging 94.0 receiving yards over his last four games and has played a more prominent role with fellow tight end Dwayne Allen missing the last two games with a right ankle injury. Herron has 20 carries for 153 yards over the last two weeks after previously running for 74 yards on the season.
Allen could be back in the mix, too, after returning to practice Wednesday -- and opponents still have to worry about T.Y. Hilton, who ranks fifth in the league with 1,145 receiving yards.
"Once you throw the ball up for a big play, you want to be that guy," said Reggie Wayne, who has 54 catches for 636 yards and two TDs. "We had a lot of guys that were able to capitalize on that (Sunday). Moncrief today showed what he is capable of. We got a lot of guys. We are pretty loaded."
Trent Richardson is set to face his former club for the first time since being traded to the Colts on Sept. 18, 2013, but has only 54 yards on 27 carries over his last three games.
The status of Cleveland's Isaiah Crowell -- who is tied for fourth in the NFL with seven rushing TDs -- could be in jeopardy after he didn't practice Wednesday due to a hip injury.
Indianapolis has won six of the last seven meetings, most recently taking a 17-13 home victory on Oct. 21, 2012.
More from ESPN.com
Report: Colts will wait on new deal for Pagano
The Indianapolis Colts and coach Chuck Pagano will not reach a deal on a contract extension before the season, according to a media report.
Sources: Browns, Falcons told of discipline
Cleveland Browns and Atlanta Falcons officials were informed at this week's NFL owners meetings in Phoenix of the discipline they face for violating league policies, league sources told ESPN NFL Insider Adam Schefter.
Matchup
IND

CLE

W-L
9-4
7-6
Avg Points
1.9
1.8
Avg Points Allowed
1.8
1.9
Home Record
5-2
4-3
Road Record
4-2
3-3
Division Record
4-0
2-2
Conference Record
7-3
4-6
Complete Standings
Team Averages & NFL Ranks
TEAM OFFENSE
TEAM
PER GAME AVERAGE
Total Yards
IND

407
CLE

325
Yards Passing
IND

306
CLE

217
Yards Rushing
IND

101
CLE

108
TEAM DEFENSE
TEAM
PER GAME AVERAGE
Yards Allowed
IND

343
CLE

366
Pass Yds Allowed
IND

229
CLE

225
Rush Yds Allowed
IND

113
CLE

142
Head to Head Matchups (Since 2001)
Indianapolis leads 6-1
Oct 21, 2012
IND 17, CLE 13
Sep 18, 2011
IND 19, CLE 27
Nov 30, 2008
IND 10, @CLE 6
Sep 25, 2005
IND 13, CLE 6
Sep 7, 2003
IND 9, @CLE 6
Dec 15, 2002
IND 28, @CLE 23
Research Notes
This season,
Andrew Luck
is 6-0 with an 85.3 Total QBR against teams currently with a losing record. He is 2-4 with a 54.7 Total QBR against teams that currently have a winning record.
The Colts are averaging 31.8 points per game this season, the highest in the NFL. The Browns have scored 30 points in a game once this season, tied with the 49ers and Buccaneers for the fewest 30-point games in the NFL in 2014
Brian Hoyer
didn't rely on his receivers nearly as much through the first 9 games. But over the last 3 games, Cleveland's receivers have been targeted a whopping 41 times per game, and they haven't delivered. They've had 7 drops over last 3 games after only having 9 through the first 9.
[+]
The Browns have used 20 different starting QBs since the franchise returned to Cleveland in 1999, most in the NFL in that time. Of those 20,
Brian Hoyer
is the only one with a winning record.
The Browns have lost 8 straight games in the month of December
Brian Hoyer
was intercepted in the red zone for the 2nd time in the last 3 weeks. Hoyer has gone 0-of-9 with 2 Int in the red zone his last 3 games.
Andrew Luck
just scored his 8th scramble TD since entering the league in 2012, most in the NFL over that span.
The Colts dropped 6 passes Sunday, including 3 by
Reggie Wayne
and 1 by
T.Y. Hilton
that led to an
Andrew Luck
interception. The 6 drops were tied for the most in a game this season, and were the most for the Colts in a game since Week 14 of the 2006 season.
Following the loss to the Colts, the Browns have scored just one offensive TD on their last 29 drives with
Brian Hoyer
at QB.
Andrew Luck
went 1-of-8 passing and had 2 turnovers returned for touchdowns when facing the blitz on the Colts 1st 10 drives Sunday. Luck was pressured on 6 of those 1st 9 dropbacks. Luck was pressued only twice on the blitz after the pick-6, and responded with a pair of scores of his own, including the game-winner.
[+]
The Browns defense outscored its offense Sunday as
Brian Hoyer
continued to struggle. Hoyer had his 3rd straight game with 0 pass TD and 2+ Int. - The Browns have scored just 1 offensive TD on their last 29 drives with Hoyer at QB. - Hoyer went 0-of-1 with an interception in the red zone Sunday. He is now 0-of-9 with 2 Int in the red zone his last 3 games. - Hoyer was 2-of-7 targeting
Josh Gordon
Sunday, with no completions after the 1st quarter. Hoyer has completed 44.4% of his passes to Gordon this season with 0 TD and 3 Int. - Hoyer went 3-of-7 passing 15+ yards downfield Sunday, and has completed just 28.6% of those attempts with 0 TD and 4 Int in his last 4 games. Hoyer led the NFL in completion percentage 15+ yards downfield through Week 10 (55.4%).
Reggie Wayne
has 3 drops in a game for the 1st time since Week 12, 2010
ESPN Stats & Information