1:00 PM ET, December 7, 2014
TCF Bank Stadium, Minneapolis, MN
Top Performers
Passing: T. Bridgewater (MIN) - 309 YDS, 2 TD, 1 INT
Rushing: C. Ivory (NYJ) - 16 CAR, 73 YDS
Receiving: P. Harvin (NYJ) - 6 REC, 124 YDS, 1 TD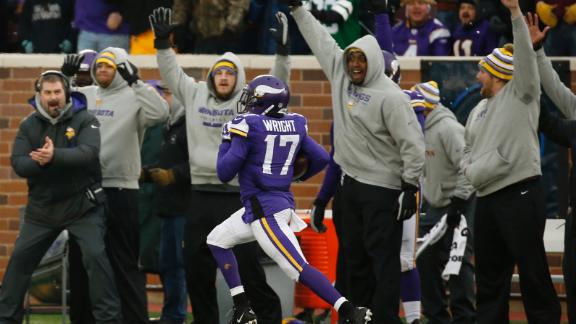 Sunday Blitz: Jets-Vikings Recap
Jim Basquil and Ron Jaworski break down the Vikings 30-24 overtime win against the Jets.
Sunday Blitz: Jets-Vikings Recap
VIDEO PLAYLIST
Brash and bold, Rex Ryan became a media darling while leading the New York Jets to back-to-back AFC title games.
With four weeks left in a fourth straight season out of the playoffs, his tenure looks to be coming to an end with a whimper.
Ryan is again turning to Geno Smith at quarterback, but could employ another run-heavy scheme as the Jets face the Minnesota Vikings on Sunday.
Ryan won 20 regular-season games in his first two seasons at the helm of the Jets, becoming a larger-than-life figure known for his bold predictions and talk, combined with a jovial personality.
There's been nothing jovial about the Jets' 2-10 record, and a much more muted Ryan knows it.
"I'm embarrassed for myself, absolutely," Ryan said Tuesday. "It's an embarrassment. It's definitely embarrassing to me. I feel like I've let my owner down. I've let our fan base down.
"The year hasn't gone anywhere close to what we were thinking. I'm going to focus on beating Minnesota. I'm not worried about anything else but that."
Ryan insists he's not thinking about his future, as he's almost expected to be fired at the end of the season.
"I don't think that way," Ryan said. "My job is not to worry about myself. My job is to get this team prepared to the best of my ability, and that's what I plan on doing."
Ryan isn't the only member of the Jets on the hot seat, as general manager John Idzik continues to draw the ire of fans, who have gone so far as to put up billboards calling for his ouster.
New York did little to quiet those detractors Monday, squandering a 10-point, first-half lead to fall 16-13 at home to Miami. Afterword, Ryan felt the need to quell speculation that limiting Smith to 13 passes had nothing to do with losing faith in the second-year signal caller.
Smith finished with seven completions for 65 passing yards and an interception on the final drive after losing his job for three games to Michael Vick. In lieu of a passing attack, the Jets had 49 rushes for 277 yards -- their most since 2009 -- with Chris Johnson and Chris Ivory totaling 33 carries for 167 yards.
"I understand the fact that we didn't win and the passing attempts weren't there," Ryan said. "But it had nothing to do with us not having confidence in Geno Smith. That's completely false."
Smith's season is doing little to back that up, compiling a 65.8 passer rating that ranks last in the NFL for qualifying quarterbacks. His 5.91 yards per attempt and 11 interceptions are also among the worst in the league, while he's only completed seven touchdown passes -- none in his past three games.
Ryan may limit Smith by design against the Vikings (5-7), who allow an average of 219.1 passing yards to rank sixth in the league. However, their rushing defense gives up 123.8 yards per games -- 157.0 over the last three contests.
Unlike Smith, Teddy Bridgewater knows he's likely to be a starter next season, and the rookie QB has tossed four touchdown passes compared to one INT in the past two weeks.
He completed 15 of 21 passes for 138 yards and two scores with a season-high 120.7 rating in leading Minnesota to a 31-13 win over Carolina last week.
"I think I'm better at just making quicker decisions," Bridgewater said. "Earlier in the year, I talked about getting rid of the ball faster. That wasn't the issue. I think I just made quicker decisions, and if I'm able to make quicker decisions I'm able to get the ball out faster."
Bridgewater had Cordarrelle Patterson at his disposal for only three snaps against the Panthers, and offensive coordinator Norv Turner confirmed Thursday that Charles Johnson has replaced Patterson as the starter at the "X" position.
Patterson has five catches for 51 yards with no touchdowns in four games after hauling in a season-high six passes for 86 yards in a win at Tampa Bay in Week 8.
"I have high hopes for him. I'm in his corner. I want him to be a good player," coach Mike Zimmer said. "It would help this football team, it would help me, it would help everybody around that he becomes a great player. It may be not right away."
The Jets hold an 8-1 advantage in the all-time series, winning seven straight meetings since a loss at Minnesota on Oct. 12, 1975.
More from ESPN.com
Source: Greenway takes pay cut for Vikings
Minnesota Vikings linebacker Chad Greenway has taken a pay cut that will give Minnesota more than $3 million in salary cap space, a league source told ESPN's Field Yates.
CB Newman joins Vikings on one-year deal
The Minnesota Vikings and cornerback Terence Newman have agreed to terms on a one-year contract.
Wilfs pledge $19.5M more to Vikings' stadium
The Wilf family is pledging another $19.5 million toward the Minnesota Vikings' stadium project to cover more of the costs in several aspects of building and surrounding areas.
Advanced scouting: Vikes ink OL from Poland
The Minnesota Vikings announced Thursday the signing of offensive tackle Babatunde Aiyegbusi, an undrafted free-agent tackle, who never played college ball but most recently spent time in the Polish American Football League and the German Football League
Matchup
NYJ

MIN

W-L
2-11
6-7
Avg Points
1.8
2.3
Avg Points Allowed
2.3
1.8
Home Record
2-5
4-3
Road Record
0-6
2-4
Division Record
0-4
0-4
Conference Record
2-7
5-5
Complete Standings
Team Averages & NFL Ranks
TEAM OFFENSE
TEAM
PER GAME AVERAGE
Total Yards
NYJ

327
MIN

316
Yards Passing
NYJ

184
MIN

203
Yards Rushing
NYJ

143
MIN

113
TEAM DEFENSE
TEAM
PER GAME AVERAGE
Yards Allowed
NYJ

327
MIN

345
Pass Yds Allowed
NYJ

234
MIN

223
Rush Yds Allowed
NYJ

93
MIN

121
Head to Head Matchups (Since 2001)
NY Jets leads 3-1
Oct 11, 2010
NYJ 29, MIN 20
Dec 17, 2006
NYJ 26, @MIN 13
Oct 20, 2002
NYJ 20, MIN 7
Research Notes
The Jets are averaging 148.2 rush yards per game this season, the second most in the NFL, but are just 1-2 when rushing for 200 yards in a game (rest of NFL is 18-2).
The Jets only have 8 takeaways this season, tied with the Raiders for the fewest in the NFL and on pace to be their fewest in franchise history.
[+]
Teddy Bridgewater
has 4 wins this season, more than all other rookie quarterbacks combined, and he's 4-1 in non-divisional games.
[+]
The Vikings returned 2 blocked punts for touchdowns last week and the team is gaining 8.2 points from their special teams in the last 3 weeks, the most in the NFL.
[+]
Percy Harvin
's 1st TD of the season was on a pass thrown 35 yards past the line of scrimmage. It was just Harvin's 2nd reception on a pass thrown 30+ yards downfield since 2012.
Jarius Wright
caught an 87-yard TD pass to give the Vikings the win in overtime. It's the 3rd-longest OFFENSIVE TD in overtime in NFL history, and the longest since 1998.
[+]
Geno Smith
had an interception returned for a TD on his 1st pass attempt of the game Sunday. It was his 8th pick-6 of his career, which is 3 more than any other QB the last 2 seasons.
ESPN Stats & Information