1:00 PM ET, December 21, 2014
Mercedes-Benz Superdome, New Orleans, LA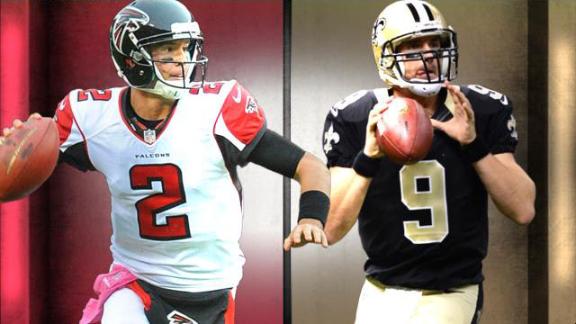 Inside Edge: Falcons-Saints
ESPN NFL Insider Mike Sando delivers stats to help you make a pick for Atlanta at New Orleans.
Inside Edge: Falcons-Saints
VIDEO PLAYLIST
Although their records may be lousy, the New Orleans Saints and Atlanta Falcons control their playoff destinies.
Hoping to represent the downtrodden NFC South in the postseason, these sub-.500 teams meet Sunday at the Superdome.
After losing four of five, New Orleans (6-8) took over first place with Monday's 31-15 road win over reeling Chicago. The Saints bounced back from a 41-10 home loss to Carolina (5-8-1), which sits right behind New Orleans in the South. The Falcons (5-9) trail the Saints by one game.
"I think we've shown a couple times we can handle adversity, let's make sure we can handle success, too," said Drew Brees, who threw for 375 yards to reach the 4,000-yard mark for an NFL record ninth straight year. "The tendency after success is to relax, and it's not time to relax."
The Saints, who finished second in the division last season despite an 11-5 record, can win the South for the first time since 2011 with a victory over the Falcons and a Carolina loss at home to Cleveland.
"It sets us up for no bigger game than what's coming up next week against Atlanta," Brees said.
The playoffs have essentially already started for the Falcons, who must beat the Saints and defeat Carolina at home in the season finale to clinch a postseason berth.
"We all understand where we're at," Atlanta coach Mike Smith said. "We know we control our own destiny. It doesn't matter what anyone else does. The first thing we have to do is go down and play very well and win the game in New Orleans."
The problem for the Falcons is they haven't had much success in that department lately.
Since the Saints acquired Brees ahead of the 2006 season, New Orleans is 7-1 against Atlanta at the Superdome. Brees has a 103.8 rating in those contests, and he's averaged 320.7 yards with nine touchdowns during a three-game home win streak in the series.
He threw for 333 yards with a touchdown and an interception in Atlanta in Week 1, but New Orleans lost 37-34 on Matt Bryant's 52-yard field goal in overtime. Bryant kicked a tying 51-yard field goal on the final play of regulation.
Matt Ryan went 31 of 43 for a franchise-record 448 yards with three TDs in the opener, and is averaging 362.7 yards with six touchdowns and two interceptions during the skid in New Orleans. He has totaled 1,046 passing yards with eight TDs over the last three weeks but has been hurt by costly interceptions.
Ryan had an interception returned 52 yards for a touchdown in last Sunday's 27-20 home loss to Pittsburgh and threw one that led to a Green Bay touchdown four plays later in a 43-37 road loss the previous week.
"We can't worry about anything other than this week," he said. "We know what's in front of us. We know what we've got to do."
Ryan should benefit from having Julio Jones back after the star wide receiver sat out against the Steelers with a hip injury suffered late against the Packers. Smith said Jones, who had a team-record 259 yards in Green Bay and ranks second in the NFL with 1,428, will be "ready to go" Sunday.
"It's tough when he's not in," Ryan said of Jones, who had seven catches for 116 yards in the opener. "He's such a special player, such a dynamic player for us."
The Saints' offense appears to be firing on all cylinders again after getting Jimmy Graham back in the mix. Graham had five catches for 87 yards Monday after a three-catch, 25-yard performance followed a game in which he wasn't targeted.
Brees was 29 of 36 on Monday against the NFL's 31st-ranked passing defense, and now looks to pick apart an Atlanta team that is allowing a league-worst 292.5 passing yards per game -- 20.3 more than the Bears.
New Orleans' defense has a renewed confidence after limiting Chicago to 278 yards while intercepting Jay Cutler three times to go with seven sacks. The Saints had surrendered at least 400 yards in each of their previous four games.
"I think there's a sense of urgency that we need to create each week, and we need to be mindful of how important that edge is to play well," coach Sean Payton said.
More from ESPN.com
Falcons brush off Saints' 'funeral' trash talk
Roddy White and his Atlanta Falcons teammates collectively brushed off trash talk by New Orleans Saints cornerback Keenan Lewis in advance of Sunday's NFC South clash at the Superdome.
Going to the Game?

398 tickets available from $102 to $800 per ticket.
Buy on StubHub »
Matchup
ATL

NO

W-L
5-9
6-8
Avg Points
24.9
26.0
Avg Points Allowed
26.4
26.7
Home Record
3-4
3-4
Road Record
2-5
3-4
Division Record
4-0
2-2
Conference Record
5-5
5-5
Complete Standings
Team Averages & NFL Ranks
TEAM OFFENSE
TEAM
PER GAME AVERAGE
Total Yards
ATL

383
NO

423
Yards Passing
ATL

286
NO

302
Yards Rushing
ATL

97
NO

121
TEAM DEFENSE
TEAM
PER GAME AVERAGE
Yards Allowed
ATL

410
NO

390
Pass Yds Allowed
ATL

293
NO

257
Rush Yds Allowed
ATL

117
NO

133
Head to Head Matchups (Since 2001)
New Orleans leads 17-10
Sep 7, 2014
ATL 37, NO 34
Nov 21, 2013
ATL 13, NO 17
Sep 8, 2013
ATL 17, @NO 23
Nov 29, 2012
ATL 23, NO 13
Nov 11, 2012
ATL 27, @NO 31
Dec 26, 2011
ATL 16, @NO 45
Nov 13, 2011
ATL 23, NO 26
Dec 27, 2010
ATL 14, NO 17
Sep 26, 2010
ATL 27, @NO 24
Dec 13, 2009
ATL 23, NO 26
Nov 2, 2009
ATL 27, @NO 35
Dec 7, 2008
ATL 25, @NO 29
Nov 9, 2008
ATL 34, NO 20
Dec 10, 2007
ATL 14, NO 34
Oct 21, 2007
ATL 16, @NO 22
Nov 26, 2006
ATL 13, NO 31
Sep 25, 2006
ATL 3, @NO 23
Dec 12, 2005
ATL 36, NO 17
Oct 16, 2005
ATL 34, @NO 31
Dec 26, 2004
ATL 13, @NO 26
Nov 28, 2004
ATL 24, NO 21
Nov 16, 2003
ATL 20, @NO 23
Oct 19, 2003
ATL 17, NO 45
Nov 17, 2002
ATL 24, NO 17
Oct 27, 2002
ATL 37, @NO 35
Dec 9, 2001
ATL 10, NO 28
Oct 21, 2001
ATL 20, @NO 13
Research Notes
Saints have lost 4 straight at home for 1st time since dropping 4 in a row in a streak overlapping the 2006-07 seasons. It's their longest IN THE SUPERDOME since they lost 4 in a row in 1999
Saints clinch the NFC South with a win and a Panthers loss. If they do clinch, it would be the 6th postseason berth since coach Sean Payton's arrival in 2006. From their inception in 1967 to 2005, the Saints had a total of 5 playoff appearances.
[+]
The Falcons have allowed a league-worst 95 points in the final 3 minutes of each half this season. They've allowed the most points overall in the 2nd and 4th quarters at 253 this season.
[+]
Julio Jones
owns Falcons single-season record for receiving yards at 1,428 despite missing last week's game. Jones needs 7 catches to be the 5th Falcons player all-time to have 100 in a single season (last was
Roddy White
with 100 in 2011)
ESPN Stats & Information