1:00 PM ET, December 7, 2014
Mercedes-Benz Superdome, New Orleans, LA
Top Performers
Passing: D. Brees (NO) - 235 YDS, 1 TD, 1 INT
Rushing: J. Stewart (CAR) - 20 CAR, 155 YDS, 1 TD
Receiving: G. Olsen (CAR) - 10 REC, 72 YDS, 1 TD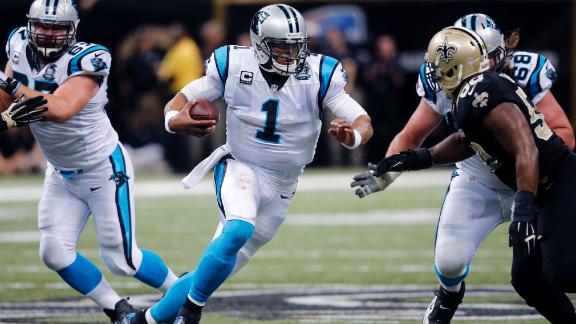 Sunday Blitz: Panthers-Saints Recap
Jim Basquil and Ron Jaworski break down the Panthers' 41-10 win over the Saints.
Sunday Blitz: Panthers-Saints Recap
VIDEO PLAYLIST
Amid growing speculation that he and defensive coordinator Rob Ryan are at odds, New Orleans Saints coach Sean Payton seems to be encouraged with the progress on that side of the ball.
Carolina Panthers coach Ron Rivera, meanwhile, isn't finding many positives with his club struggling in every phase.
New Orleans will try to keep pace in the dismal NFC South by ending its worst home losing streak in nine years Sunday against Carolina, which hopes to avoid its longest winless stretch since 2002.
A perceived feud between Payton and Ryan has been a hot topic with the two having been caught on camera arguing on the sideline several times. The latest occurrence came in last Sunday's 35-32 win at Pittsburgh when the Saints were flagged for having 12 men on the field in the third quarter.
Payton has dismissed reports that he's going to let Ryan go after the season and called their relationship "outstanding."
"Yeah, I get upset when there's 12 guys on the field," he said. "That doesn't mean I'm looking for another defensive coach."
New Orleans (5-7), however, has plummeted to 31st defensively with 390.5 yards allowed per game after ranking fourth in 2013. The Saints have given up averages of 464.0 yards and 31.0 points in their last three contests.
Pittsburgh racked up 538 yards last Sunday, but Payton said his defense came through with a "really well-played game." The Steelers scored on late drives of 95 and 98 yards after the Saints had built a 19-point fourth-quarter advantage.
New Orleans intercepted Ben Roethlisberger twice and often kept him from extending plays. Payton believes that's something to build on heading into a matchup with Carolina's Cam Newton.
"There are similarities in the styles of difficulty, big arms, hard to sack, extends plays," he said.
The Saints look to replicate their performance against Newton in Week 9 as they try to snap their longest home losing streak since a six-game skid in 2005. They fell into a first-place tie with three straight losses at the Superdome before winning in Pittsburgh.
New Orleans held Newton to a career-worst 10 of 28 passing for 151 yards while sacking him four times in a 28-10 road victory Oct. 30. Newton had two turnovers in that game and has thrown six interceptions in three games since that loss.
It certainly hasn't helped that he's been sacked 25 times in the last six contests.
"When we keep trying to point and find excuses, we're going to keep getting those types of results," Newton said. "It will start by all 11 guys on that field taking full responsibility and accepting coaching and getting better."
The Panthers (3-8-1) sat atop the NFC South after Week 5, but they've since gone 0-6-1 as Newton has posted a league-worst 70.5 passer rating. They're now on the verge of their longest winless stretch since an eight-game losing streak 12 years ago.
Carolina has averaged 14.0 points over its last five games and has given up a league-worst 31.0 per game since Week 3. The Panthers also allowed Minnesota to return two blocked punts for touchdowns in last Sunday's 31-13 loss.
Rivera said he wasn't going to make any drastic changes in the wake of his team's sixth straight defeat, though the club did waive starting cornerback Antoine Cason and sign corner Carrington Byndom from the practice squad Tuesday.
"It's not like we don't know what happening," Rivera said.
Running back DeAngelo Williams broke a bone in his right hand last Sunday and will miss this game. Jonathan Stewart finished with a season-high 85 yards on 12 carries.
New Orleans' Mark Ingram ran for 100 yards and two touchdowns on 30 carries in the first meeting, and he's second in the league with 101.3 yards per game since Week 8.
Drew Brees has completed 77.0 percent of his attempts for nine touchdowns and one interception in his last three games after throwing for a season-high five TDs last Sunday. The eight-time Pro Bowler has thrown for an average of 348.2 yards with 19 touchdowns and four picks in his last six home games versus Carolina.
Jimmy Graham is likely to be more involved after he wasn't targeted for the first time since his rookie season. The star tight end has 53 catches for 675 yards and eight touchdowns against the Panthers -- his best numbers versus any opponent.
Second-year wideout Kenny Stills has become one of Brees' new favorite targets with 13 catches for 260 yards in the last two games.
New Orleans has won four of the past five meetings at the Superdome.
Matchup
CAR

NO

W-L
4-8-1
5-8
Avg Points
3.2
.8
Avg Points Allowed
.8
3.2
Home Record
2-4
3-4
Road Record
2-4-1
2-4
Division Record
2-2
2-2
Conference Record
4-6
4-5
Complete Standings
Team Averages & NFL Ranks
TEAM OFFENSE
TEAM
PER GAME AVERAGE
Total Yards
CAR

347
NO

411
Yards Passing
CAR

219
NO

298
Yards Rushing
CAR

127
NO

114
TEAM DEFENSE
TEAM
PER GAME AVERAGE
Yards Allowed
CAR

340
NO

384
Pass Yds Allowed
CAR

228
NO

251
Rush Yds Allowed
CAR

112
NO

133
Head to Head Matchups (Since 2001)
Carolina leads 15-13
Oct 30, 2014
CAR 10, NO 28
Dec 22, 2013
CAR 17, NO 13
Dec 8, 2013
CAR 13, @NO 31
Dec 30, 2012
CAR 44, @NO 38
Sep 16, 2012
CAR 35, NO 27
Jan 1, 2012
CAR 17, @NO 45
Oct 9, 2011
CAR 27, NO 30
Nov 7, 2010
CAR 3, NO 34
Oct 3, 2010
CAR 14, @NO 16
Jan 3, 2010
CAR 23, NO 10
Nov 8, 2009
CAR 20, @NO 30
Dec 28, 2008
CAR 33, @NO 31
Oct 19, 2008
CAR 30, NO 7
Nov 25, 2007
CAR 6, NO 31
Oct 7, 2007
CAR 16, @NO 13
Dec 31, 2006
CAR 31, @NO 21
Oct 1, 2006
CAR 21, NO 18
Dec 18, 2005
CAR 27, @NO 10
Sep 11, 2005
CAR 20, NO 23
Jan 2, 2005
CAR 18, NO 21
Dec 5, 2004
CAR 32, @NO 21
Oct 26, 2003
CAR 23, @NO 20
Oct 5, 2003
CAR 19, NO 13
Dec 29, 2002
CAR 10, @NO 6
Nov 10, 2002
CAR 24, NO 34
Dec 2, 2001
CAR 23, @NO 27
Oct 14, 2001
CAR 25, NO 27
Research Notes
Cam Newton
ranks 30th out of 34 qualified passers this season in completion percentage (57.9%), largely because of a tendency to overthrow receivers.
[+]
The Saints have lost 3 straight at home, something they hadn't done in a single season since 2005, the last season before bringing in
Drew Brees
and Sean Payton. The Saints lost 5 straight home games in 2005.
[+]
Brees is just 252 pass yards shy of 4,000 yards on the season. Brees threw for 4,000 yards in each of his 1st 8 seasons with the Saints, which is an NFL record.
[+]
The Panthers are 1 of 2 teams this season that have not recorded a snap from an offensive lineman drafted in the 1st round (Raiders). The Panthers started 3 undrafted offensive linemen in Week 13, including both of their tackles. The Panthers most common grouping of offensive linemen has played 22% of the team's overall snaps (Bell, Silatolu, Kalil, Turner, Chandler). Only the Dolphins (19%) have a lower percentage of snaps from their most common offensive line unit.
[+]
For the 2nd time this season, the Saints had 2 turnovers in the 1st quarter. Both times, it's come against the Panthers.
Jimmy Graham
was targeted 10 times Sunday, but he had just as many receptions (3) as drops (3) on those targets. Graham's 1st reception of the game didn't even come until 2:03 of the 2nd quarter when the Saints were already down 24-3. - The 3 receptions on 10 targets equates to a 30.0 reception percentage, which is the 2nd worst of Graham's career (min. 5 targets). He was held without a catch on 6 targets last season against the Patriots. - The 3 drops for Graham are the most in his career for a single game. Graham had dropped 2 passes on 88 targets this season entering Sunday.
The Panthers lead the Saints 24-3 at halftime... The Panthers scored 25 first-half points in their previous 6 games COMBINED (they lost all 6 games)
Drew Brees
went just 1-of-8 on passes thrown at least 15 yards downfield Sunday, his worst performance on such throws this season. Brees had 5 of his 8 attempts either defended or intercepted Sunday.
[+]
The Saints are down 21 points in the 1st half at home for the first time since 2006 Week 8 against the Ravens
Following his rush TD in the 1st quarter,
Cam Newton
had 46 rush yards, all of which were on designed rushes. The 46 yards are already Newton's 3rd most in a single game this season.
The Panthers 24 points are their most in the 1st half of a game since Week 15 of 2012 at SD (24)
Cam Newton
had 10 designed rushes for 72 yards and a TD Sunday against the Saints. The only game Newton had more designed rushing yards in was the tie to the Bengals, which featured an extra 15 minutes of overtime. As a team the Panthers ran the ball 40 times for 271 yards Sunday. The Panthers gained 200 of those rushing yards before initial contact (5.0 yards per rush before contact). It was the Panthers highest rushing totals before contact since Week 17 of the 2012, also against the Saints (205, 5.3 per rush).
The 9-yard TD pass to
Kelvin Benjamin
was only
Cam Newton
's 2nd pass TD in the 1st quarter this season... The Panthers entered Sunday tied for the fewest 1st quarter pass TDs in the league (1).
Jonathan Stewart
's 69-yard TD run was the longest rush of his career. Stewart hadn't had a 30-yard rush since Week 16 of 2011, and his previous long was 67 yards in Week 17 of 2009. Today is Stewart's 1st 100-yard rushing game since Week 15 of the 2010 season.
Cam Newton
posted a season-high 90.0 Total QBR Sunday, the highest he's ever posted in a game against the Saints. His 3 Pass TD today were more than his 1st 3 road games against the Saints combined (2).
ESPN Stats & Information