1:00 PM ET, December 14, 2014
M&T Bank Stadium, Baltimore, MD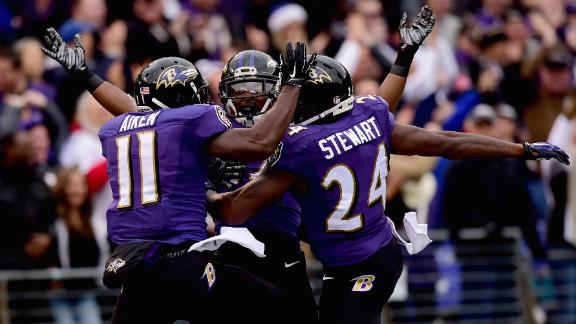 Sunday Blitz: Jaguars-Ravens Recap
Jim Basquil and Merril Hoge break down the Ravens' 20-12 win over the Jaguars.
Sunday Blitz: Jaguars-Ravens Recap
VIDEO PLAYLIST
Bruised, but certainly not battered, the Baltimore Ravens are confident heading into the final three weeks of the season knowing they control their playoff fate.
The Ravens can build on a comeback victory by keeping the Jacksonville Jaguars winless on the road Sunday.
Baltimore (8-5) has the same record as Pittsburgh and San Diego in the race for the two AFC wild-card spots, but would lose out to those teams due to tiebreakers. However, the Ravens would earn a playoff spot if they go 3-0 against Jacksonville (2-11), Houston and Cleveland.
"We could sit here and say we wish we'd be another game or two better, and we could say we're happy we're not a game or two worse," coach John Harbaugh said. "We're pleased with the fact that we're in the hunt and control our own destiny. It's just our job to make the most of it."
The Ravens are in this position despite a strange season that began with the suspension and eventual release of running back Ray Rice. They've lost tight end Dennis Pitta and cornerback Jimmy Smith to injuries and won't have defensive tackle Haloti Ngata for the rest of the regular season after he was suspended last Thursday for violating the NFL's policy on performance-enhancing substances.
"We've got a resilient bunch," Harbaugh said. "They're mentally tough, they don't get caught up in the noise, they don't get easily distracted. We say turn neither to the left or the right, eyes straight ahead."
Baltimore showed that resiliency last Sunday by overcoming a 10-0 deficit to win 28-13 over Miami. Joe Flacco threw two touchdowns, ran for one and engineered TD drives of 80 and 81 yards in the fourth quarter, helping the Ravens rebound from blowing a 10-point fourth-quarter lead in the previous week's 34-33 home loss to the Chargers.
"(The San Diego defeat) just took a lot out of us," said receiver Steve Smith, who had seven catches for 70 yards and a TD against the Dolphins. "But you can't sit there and throw a party if you won, and you can't throw a pity party if you lose. You just got to get back on the horse and just hold on."
The Ravens continue to show the ability to handle just about any challenge that comes their way.
A knee injury limited receiver Torrey Smith to 15 snaps last week, and leaves his status for this week uncertain. Third-year pro Kamar Aiken could again see more time after recording nine receptions for 116 yards and a TD in the last two games.
Even without Ngata, Baltimore recorded a season-high six sacks against Miami. Elvis Dumervil had 3 1/2 to increase his season total to a franchise-record 16.
Jacksonville rookie Blake Bortles has been sacked 38 times, including 19 in the last four contests.
Flacco has completed 67.5 percent of his passes and posted a 101.3 rating while throwing eight TDs and two INTs in the last five games.
"We've got a team that's playing pretty well right now and gaining some confidence," he said.
Behind 71 yards on 13 carries from ex-Jaguar Justin Forsett, Baltimore rushed for 183 against the Dolphins. The Ravens have averaged 168.5 yards and 5.2 per carry while winning three of the last four.
Forsett's string of three straight 100-yard games ended last week but he's averaged 6.0 yards per carry and scored five TDs in the last four.
There's a good chance Forsett can continue that success Sunday. His former team has allowed an average of 159.0 rushing yards in six games since losing star linebacker Paul Posluszny to a season-ending pectoral injury. The Jaguars yielded 110.3 in the seven games with him.
Their 15 plays of 20 or more rushing yards allowed are the most in the NFL.
"We've been a lot better in certain aspects of the run game, but we've given up some big numbers on certain plays," linebacker J.T. Thomas said after the Jaguars allowed 173 on the ground, including a 51-yard run to Arian Foster, during last Sunday's 27-13 home loss to Houston.
"I think everyone is doing everything in their power to make sure we get better in that aspect of the run game."
The Jaguars have two more chances to avoid going winless on the road for the first time since 2003. They've dropped five straight at Baltimore, last playing there in 2008.
Jacksonville led 13-10 at halftime Sunday but managed 73 of its 262 total yards in the second half, including four in the third quarter.
"I can't pinpoint a reason right now," left tackle Luke Joeckel said. "It needs to get fixed."
The Jaguars have been shut out in the third quarter seven times, and their 32 points in that period are the second fewest in the NFL.
Baltimore has allowed three third-quarter points in the last five contests.
Bortles was intercepted for a league-high 16th time against the Texans.
Matchup
JAX

BAL

W-L
2-12
9-5
Avg Points
.9
1.4
Avg Points Allowed
1.4
.9
Home Record
2-5
5-2
Road Record
0-7
4-3
Division Record
0-4
2-3
Conference Record
1-9
5-5
Complete Standings
Team Averages & NFL Ranks
TEAM OFFENSE
TEAM
PER GAME AVERAGE
Total Yards
JAX

290
BAL

365
Yards Passing
JAX

188
BAL

239
Yards Rushing
JAX

102
BAL

126
TEAM DEFENSE
TEAM
PER GAME AVERAGE
Yards Allowed
JAX

371
BAL

337
Pass Yds Allowed
JAX

244
BAL

249
Rush Yds Allowed
JAX

127
BAL

88
Head to Head Matchups (Since 2001)
Baltimore leads 6-2
Oct 24, 2011
JAX 12, BAL 7
Dec 28, 2008
JAX 7, @BAL 27
Nov 13, 2005
JAX 30, BAL 3
Nov 2, 2003
JAX 17, @BAL 24
Oct 20, 2002
JAX 10, @BAL 17
Nov 25, 2001
JAX 21, BAL 24
Oct 28, 2001
JAX 17, @BAL 18
Research Notes
Blake Bortles
had 10 dropbacks against the Ravens' blitz Sunday, and Jacksonville gained minus-17 yards on those dropbacks. Bortles was 2-6 passing for 14 yards and lost 31 yards on 4 sacks. Bortles' -1.7 yards per dropback average against at least 5 pass rushers is the 3rd-lowest average by any quarterback with at least 10 dropbacks in the last 9 seasons.
ESPN Stats & Information