1:00 PM ET, December 14, 2014
Lucas Oil Stadium, Indianapolis, IN
Top Performers
Passing: A. Luck (IND) - 187 YDS, 2 TD, 1 INT
Rushing: A. Foster (HOU) - 26 CAR, 99 YDS
Receiving: D. Hopkins (HOU) - 5 REC, 77 YDS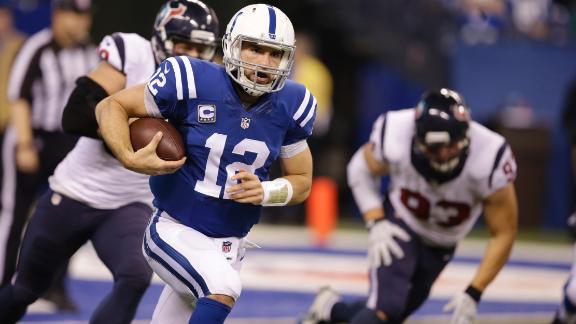 Sunday Blitz: Texans-Colts Recap
Jim Basquil and Merril Hoge break down the Colts' 17-10 win over the Texans.
Sunday Blitz: Texans-Colts Recap
VIDEO PLAYLIST
The Indianapolis Colts are on the verge of another AFC South title after winning three straight games, though they've committed an unsettling number of turnovers in that stretch.
The Colts will try to cut down on the miscues Sunday and clinch the division while remaining unbeaten at home against the Houston Texans, who might not have star receiver Andre Johnson available.
Indianapolis (9-4) can capture its second straight AFC South crown with a victory, which would be its ninth title in the 13 seasons the division has been in existence. The Colts took another step toward doing so with a 25-24 victory at Cleveland on Sunday.
Indianapolis rallied from a 14-point deficit in the third quarter with Andrew Luck providing the go-ahead touchdown with his 1-yard pass to T.Y. Hilton with 32 seconds remaining.
The Colts, though, also matched a season high for turnovers with two interceptions and two fumbles.
In the past three weeks, Indianapolis has lost seven of 13 fumbles and had three passes picked off. The team has a minus-4 turnover margin, and only Kansas City (minus-5) and Philadelphia (minus-6) have worse marks among clubs with winning records.
"We've got to get it cleaned up," coach Chuck Pagano said. "You credit the opponent for stripping the ball and making plays, but it's still no excuse. ... We've got to get it cleaned up, period."
The Colts have won two straight and five of six at home. They'll seek a 10th win in 12 games overall as they face a team they've dominated.
Indianapolis has taken four in a row and 21 of 25 matchups with Houston (7-6), and is 12-0 all-time at home in the series. The Colts can become the fourth team in NFL history to win their first 13 home games against an opponent and will have the second-longest active streak against a team with a victory Sunday.
"We're well aware that we have not won there," Texans coach Bill O'Brien said.
O'Brien's team will try to keep their faint division hopes alive by securing their first three-game win streak since 2012. Houston is also one game behind the AFC wild-card leaders, but is among eight teams in contention for those two spots and one of five clubs with 7-6 records.
"Everybody knows that this is our shot," quarterback Ryan Fitzpatrick said. "You know what will happen if we lose a game, so every game is even more important than the last one. This one was huge for us and now we can look ahead to the next one, which will also be very big."
The Texans might have not have Johnson on the field after he suffered a concussion in a 27-13 victory at Jacksonville on Sunday. He has a team-leading 69 receptions for 737 yards and two TDs for Houston, winner of three straight road games.
Houston has also lost No. 1 overall draft pick Jadeveon Clowney for the year after he underwent microfracture surgery on his right knee Tuesday. The procedure was the second this season for the outside linebacker, as he had arthroscopic surgery on the same knee after being injured in Week 1.
The Colts have an ailing player of their own, but star receiver Reggie Wayne has managed to play through a torn left triceps. Wayne, though, has just eight receptions for 46 yards in the past three games, and he finished with one catch for five yards last Sunday, snapping an NFL-record string of 82 games with three or more receptions.
Hilton has picked up the slack and had 10 receptions -- one shy of matching a personal best -- for 150 yards and two scores against the Browns. He had a career-high 223 yards on nine catches in a 33-28 victory in Houston on Oct. 9.
J.J. Watt returned a Luck fumble for a touchdown and recorded two sacks in that game. He has a league high-tying 12 1/2 sacks in the past eight contests, including a combined five in the back-to-back wins.
Luck threw for 370 yards and three scores Oct. 9 and needs 70 yards to top his career high of 4,374, set during his 2012 rookie season. His 36 TDs are a career best by 13.
Matchup
HOU

IND

W-L
7-7
10-4
Avg Points
.7
1.2
Avg Points Allowed
1.2
.7
Home Record
3-3
6-2
Road Record
4-4
4-2
Division Record
3-2
5-0
Conference Record
6-4
8-3
Complete Standings
Team Averages & NFL Ranks
TEAM OFFENSE
TEAM
PER GAME AVERAGE
Total Yards
HOU

345
IND

407
Yards Passing
HOU

210
IND

306
Yards Rushing
HOU

135
IND

101
TEAM DEFENSE
TEAM
PER GAME AVERAGE
Yards Allowed
HOU

348
IND

343
Pass Yds Allowed
HOU

243
IND

229
Rush Yds Allowed
HOU

105
IND

113
Head to Head Matchups (Since 2001)
Indianapolis leads 22-4
Oct 9, 2014
HOU 28, IND 33
Dec 15, 2013
HOU 3, @IND 25
Nov 3, 2013
HOU 24, IND 27
Dec 30, 2012
HOU 16, @IND 28
Dec 16, 2012
HOU 29, IND 17
Dec 22, 2011
HOU 16, @IND 19
Sep 11, 2011
HOU 34, IND 7
Nov 1, 2010
HOU 17, @IND 30
Sep 12, 2010
HOU 34, IND 24
Nov 29, 2009
HOU 27, IND 35
Nov 8, 2009
HOU 17, @IND 20
Nov 16, 2008
HOU 27, @IND 33
Oct 5, 2008
HOU 27, IND 31
Dec 23, 2007
HOU 15, @IND 38
Sep 23, 2007
HOU 24, IND 30
Dec 24, 2006
HOU 27, IND 24
Sep 17, 2006
HOU 24, @IND 43
Nov 13, 2005
HOU 17, @IND 31
Oct 23, 2005
HOU 20, IND 38
Dec 12, 2004
HOU 14, IND 23
Nov 14, 2004
HOU 14, @IND 49
Dec 28, 2003
HOU 17, IND 20
Oct 26, 2003
HOU 21, @IND 30
Dec 1, 2002
HOU 3, @IND 19
Sep 22, 2002
HOU 3, IND 23
Research Notes
Could there be a little concern with the Indy QB? Luck's certainly had a great season, but turnovers have been an issue; he's got 13 before halftime this year, 3 more than any other quarterback in the league.
[+]
ESPN Stats & Information