1:00 PM ET, December 7, 2014
FedEx Field, Landover, MD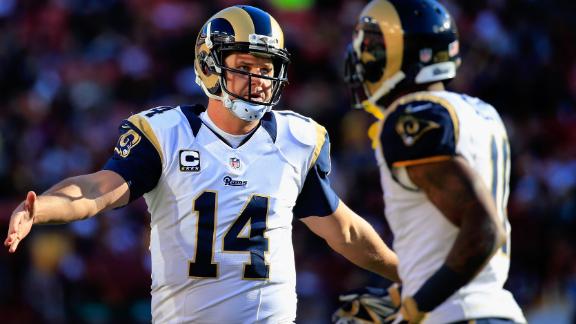 Sunday Blitz: Rams-Redskins Recap
Jim Basquil and Ron Jaworski break down the Rams' 24-0 win over the Redskins.
Sunday Blitz: Rams-Redskins Recap
VIDEO PLAYLIST
A week after embarrassing the NFL's worst team, the St. Louis Rams have a prime opportunity to string together two victories for the first time this season.
That chance comes Sunday with a visit to the dejected Washington Redskins, who are on the verge of a five-game losing streak as they continue to work through personnel issues.
The Rams (5-7) led by 38 at halftime and dismantled Oakland 52-0 last Sunday with the defense forcing five turnovers while the offense took care of the ball through 60 minutes for the second time in three games.
They've relied heavily on turnovers with at worst an even differential in each win for a plus-7 margin in those five games against a minus-5 mark in losses. The Redskins have a minus-7 differential for the season.
After a 1-4 start, the Rams have traded wins and losses over a 4-3 stretch. Even in their victories, they've remained modest offensively. Their 348 yards against Oakland was a season high among their victories.
Tre Mason has emerged in the backfield, cracking 100 yards in two of the last three games and running for a personal-best 117 yards and two touchdowns on 14 carries against Oakland. The rookie added another score on three catches for 47 yards.
"My mindset is that if I've done it once, why not do it again?" Mason told the team's official website. "I told myself coming into the league to be the best, to be the greatest. And I'm trying to do it."
Greatness has been a bit more abundant against the Raiders than the rest of the league. Mason averaged 3.69 yards per carry in his previous four starts and might find running room more difficult to come by against Washington.
The Redskins (3-9) rank ninth against the run, limiting opponents to 102.8 yards per game, while the defense as a whole ranks 11th (344.0). Still, that hasn't translated to the scoreboard, where Washington's 26.8 points allowed per game ranks 27th.
That defense might feel it has something to prove after becoming the latest to be shredded by Andrew Luck, surrendering a season-high 487 yards in Sunday's 49-27 loss in Indianapolis to secure a second four-game skid this season.
"They've got to go out and make some plays," coach Jay Gruden said. "We need leaders to stand up defensively and take them by the throat, make sure they are playing fast."
That's been difficult with cornerback DeAngelo Hall and linebacker Brian Orakpo gone for the year, and safety Brandon Meriweather will likely miss this week with a sprained big toe. Even so, Gruden looks at his roster and sees holes where they weren't expected.
"I am concerned," he said, "because we're in Week 12, and we're still having some of these breakdowns with some key players who we're going to count on for the future."
Offensively, the Redskins took a slight step forward behind Colt McCoy. In his second start of the season and first since Gruden's benching of Robert Griffin III, McCoy was 31 of 47 for 392 yards and three TDs, one more than Griffin's total in five games.
McCoy has thrown one interception in three games and his 1.1 interception percentage would be among the league leaders with the requisite attempts, though he fumbled four times against the Colts and lost one.
"The most important thing is to find a way to get a win," McCoy told the team's official website. "We're going back home this week, so I'll put my best foot forward and keep going."
McCoy will have to contend with defensive end Chris Long, who returned against the Raiders after missing 10 games with an ankle injury. He had an immediate impact with a sack and a fumble recovery as part of an improved pass rush.
The Rams had six sacks against the Raiders, giving them 22 in five November games -- one behind Philadelphia for the league lead since the start of Week 9. They started the season with one sack in five games.
"It felt really good," said Long of being a part of a defense that's held opponents to 15.0 points at 65.0 rushing yards over five games. "It's tough. You prepare for the season and then you've got to watch your buddies out there going through good and bad. I just was really happy to be a part of it."
Like the Redskins, the Rams have shuffled quarterbacks. Shaun Hill has started the last three games and will be out to string together consistent starts, which he's yet to do with the Rams. He was 13 of 22 for 183 yards and two TDs for a 116.3 rating against the Raiders after going 18 of 35 for 198 yards, a TD and two INTs for a 54.2 rating the previous week in a loss at San Diego.
Matchup
STL

WSH

W-L
6-7
3-10
Avg Points
1.8
.0
Avg Points Allowed
.0
1.8
Home Record
3-3
2-4
Road Record
3-4
1-6
Division Record
2-2
1-2
Conference Record
4-5
1-8
Complete Standings
Team Averages & NFL Ranks
TEAM OFFENSE
TEAM
PER GAME AVERAGE
Total Yards
STL

315
WSH

359
Yards Passing
STL

213
WSH

253
Yards Rushing
STL

102
WSH

106
TEAM DEFENSE
TEAM
PER GAME AVERAGE
Yards Allowed
STL

352
WSH

357
Pass Yds Allowed
STL

241
WSH

249
Rush Yds Allowed
STL

110
WSH

108
Head to Head Matchups (Since 2001)
St. Louis leads 5-4
Sep 16, 2012
STL 31, WSH 28
Oct 2, 2011
STL 10, WSH 17
Sep 26, 2010
STL 30, WSH 16
Sep 20, 2009
STL 7, @WSH 9
Oct 12, 2008
STL 19, @WSH 17
Dec 24, 2006
STL 37, WSH 31
Dec 4, 2005
STL 9, WSH 24
Nov 24, 2002
STL 17, @WSH 20
Research Notes
Since the beginning of last season, the Redskins have a record of 6-22, tied for the 2nd-worst record in the NFL. They are only 1 game better than the Raiders, who own the worst record at 5-23.
The Rams have 27 sacks in their last 7 games, after just 1 in their first 5 games. Redskins quarterbacks have been sacked 39 times this season, 2nd-most in the NFL.
Robert Quinn
has all 9.0 of his sacks this season in the last 7 games.
Aaron Donald
leads all rookies with 6.0 sacks this season, including 1.0 in 3 straight games
[+]
With news that Redskins tickets are selling for $4 for Sunday's game against the Rams () Per Stubhub, the cheapest available ticket for Sunday's Seahawks-Eagles game is $140. Consider that it costs: - $106 for 2 round-trip Amtrak tickets from Philadelphia-to-Washington - $8 for 2 game tickets for Rams-Redskins - $19 for 2 beers at FedEx Field at $9.50 each Total cost (2 train tickets, 2 game tickets, 2 beers): $133 2 of the cheapest available tickets to SEA-PHI: $280 TWO Philly fans could go to the Rams-Redskins game for less than it would cost ONE fan to get in Lincoln Financial Field.
The Rams with consecutive shutouts -- the 1st team to do so a single season since the 2009 Cowboys ... 5th in a single season since 2000. The 2009 Cowboys, 2000 Titans, 2000 Steelers, 2000 Ravens were the others
The Redskins were shut out for the 1st time since Week 8 in 2011 (at Buffalo) and shut out for the 1st time AT HOME since Week 16 in 2009 (against Dallas)
Alfred Morris
gained 12 yards on his 1st rush Sunday, running for 10 yards before taking contact. After that, Morris rushed 7 times for minus-6 yards, never making it past the line of scrimmage without taking contact. Morris was hit in the backfield on 5 of his 8 rushes Sunday.
The Rams have recorded back-to-back shutouts for the 1st time since their first 2 games in 1945... They won the NFL Championship that season as the Cleveland Rams, beating the Redskins in the title game.
The Rams blitzed on half of the Redskins 44 dropbacks Sunday, generating 5 sacks with such pressure. The Rams blitz has helped key the team during their shutout streak.
[+]
This is only the 1st time this season the Redskins were shut out at the half. The last time Washington didn't score in the 1st half was Week 11 of last year (at Eagles).
ESPN Stats & Information