1:00 PM ET, December 14, 2014
Arrowhead Stadium, Kansas City, MO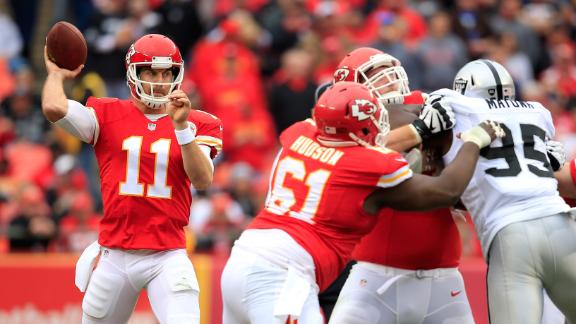 Sunday Blitz: Raiders-Chiefs Recap
Jim Basquil and Merril Hoge break down the Chiefs' 31-13 win over the Raiders.
Sunday Blitz: Raiders-Chiefs Recap
VIDEO PLAYLIST
The Kansas City Chiefs are alive in the AFC playoff hunt despite losing three in a row.
The last two of those defeats came against division leaders, but the first one gave the Oakland Raiders their first victory.
The Chiefs are hoping to have running back Jamaal Charles available as they try to avenge that embarrassing display Sunday at Arrowhead Stadium.
Kansas City had won five straight before falling 24-20 at Oakland in Week 12 as the Raiders snapped a 16-game losing streak. The Chiefs allowed 179 rushing yards -- the most by Oakland this season -- and watched Derek Carr cap a 17-play, 80-yard drive with a go-ahead nine-yard touchdown pass to James Jones with 1:42 to go.
"We've just got to play better team defense as a whole," Chiefs defensive tackle Dontari Poe said. "Everybody has to fit their gaps, contain the edge and stuff like that. It's not specific. We've just got to come to play."
Kansas City went on to lose 29-16 to Denver the following week before falling 17-14 at Arizona last Sunday. Charles compiled 111 yards from scrimmage and two touchdowns, but the Chiefs were outscored 11-0 in the second half.
"We obviously need to do a better job, take care of our business. It's my responsibility that takes place," coach Andy Reid told the team's official website. "We put an emphasis on finishing and so now you're down to the three games and so you put the clutter of the playoffs and all that out of your mind. You focus in on how you take care of the game you can control and that's the one that's taking place this week."
The Chiefs are one of five 7-6 teams in the mix for the conference's two wild-card spots currently occupied by Pittsburgh (8-5) and San Diego (8-5). Kansas City visits the Steelers next week before closing the season against the Chargers.
"I don't know all the (playoff) scenarios and really don't care," quarterback Alex Smith said. "It's not our deal. ... We have to get a win this week."
Charles, the NFL leader with 14 touchdowns missed Wednesday's practice with knee and ankle injuries. Kansas City is 6-2 when he has at least 14 carries.
"It was scary at first," Charles said after spraining his ankle last Sunday. "I thought I tore it up."
Charles has racked up 465 yards from scrimmage and eight touchdowns over a three-game stretch against Oakland. Kansas City had dropped six straight in the series at home before winning 24-7 on Oct. 13, 2013.
The Raiders (2-11) followed their win over the Chiefs with a 52-0 loss at St. Louis, but they bounced back to beat San Francisco 24-13 last Sunday. Carr threw for 254 yards and three touchdowns while Oakland allowed a season-low 248 yards.
"People had us dead and buried last week," interim coach Tony Sparano said. "I mean, we were done. It was 52-0, everybody quit. This team is a resilient team. I've said it all along. For some reason or another, nobody wants to listen, but I've been saying it. This is the type of team they are.
"We need to make sure that we just focus on us right now going into this. We need to understand and learn from what happened to us two weeks ago."
Rookie Latavius Murray carried the ball 23 times for 76 yards after sitting out the previous week with a concussion suffered against the Chiefs. He ran for 112 yards and two touchdowns on just four carries before getting knocked out in that one.
"He's real good -- fast, explosive, finds the hole real well," Poe said. "We've got to kind of put a hat on him and then try to keep him out of each hole."
Murray will again try to take advantage of a Chiefs team that's been gashed for 164.7 rushing yards per game since Oct. 30, the NFL's second-worst mark during that time. Despite its struggles against the run, Kansas City has allowed an NFL-low two touchdowns on the ground.
A full year has passed since a Chiefs wide receiver found the end zone. Dwayne Bowe was the last to do it with a 22-yard score against Washington on Dec. 8, 2013.
The Raiders are 0-6 on the road for the first time since losing all eight games in 2006. They are 2-20 away from home over the last three seasons, though one of those victories was 26-16 at Arrowhead on Oct. 28, 2012.
More from ESPN.com
Trashed: KC stadiums' food safety boss fired
The food safety manager at Kansas City's Kauffman and Arrowhead stadiums, home to the Royals and the Chiefs, was fired after sharing details of health concerns with ESPN.
Goodell: Long-term fit vital for move to L.A.
NFL commissioner Roger Goodell told reporters at the conclusion of the league owners meetings here on Wednesday that speed is not driving the process in the inevitable return of professional football to Los Angeles.
Matchup
OAK

KC

W-L
2-12
8-6
Avg Points
.9
2.2
Avg Points Allowed
2.2
.9
Home Record
2-5
5-2
Road Record
0-7
3-4
Division Record
1-4
2-3
Conference Record
1-9
6-4
Complete Standings
Team Averages & NFL Ranks
TEAM OFFENSE
TEAM
PER GAME AVERAGE
Total Yards
OAK

282
KC

319
Yards Passing
OAK

205
KC

199
Yards Rushing
OAK

78
KC

120
TEAM DEFENSE
TEAM
PER GAME AVERAGE
Yards Allowed
OAK

358
KC

331
Pass Yds Allowed
OAK

238
KC

203
Rush Yds Allowed
OAK

119
KC

127
Head to Head Matchups (Since 2001)
Kansas City leads 16-12
Nov 20, 2014
OAK 24, KC 20
Dec 15, 2013
OAK 31, KC 56
Oct 13, 2013
OAK 7, @KC 24
Dec 16, 2012
OAK 15, KC 0
Oct 28, 2012
OAK 26, @KC 16
Dec 24, 2011
OAK 16, @KC 13
Oct 23, 2011
OAK 0, KC 28
Jan 2, 2011
OAK 31, @KC 10
Nov 7, 2010
OAK 23, KC 20
Nov 15, 2009
OAK 10, KC 16
Sep 20, 2009
OAK 13, @KC 10
Nov 30, 2008
OAK 13, KC 20
Sep 14, 2008
OAK 23, @KC 8
Nov 25, 2007
OAK 20, @KC 17
Oct 21, 2007
OAK 10, KC 12
Dec 23, 2006
OAK 9, KC 20
Nov 19, 2006
OAK 13, @KC 17
Nov 6, 2005
OAK 23, @KC 27
Sep 18, 2005
OAK 17, KC 23
Dec 25, 2004
OAK 30, @KC 31
Dec 5, 2004
OAK 27, KC 34
Nov 23, 2003
OAK 24, @KC 27
Oct 20, 2003
OAK 10, KC 17
Dec 28, 2002
OAK 24, KC 0
Oct 27, 2002
OAK 10, @KC 20
Dec 9, 2001
OAK 28, KC 26
Sep 9, 2001
OAK 27, @KC 24
Research Notes
De'Anthony Thomas
81-yard punt return TD was the 1st special teams TD surrendered by the Raiders this year.
Alex Smith
threw for a season-high 297 yards Sunday and was 3-of-8 for 106 yards on throws at least 15 yards downfield, his most such attempts and yards since Week 1. Smith's 30 attempts Sunday traveled an average of 8.5 yards downfield, also his highest since Week 1. Coming into the game, he was averaging a league-low 5.4 average throw distance.
Alex Smith
was 10-of-13 for 125 yards and a touchdown off play-action Sunday, including 4-of-5 for 46 yards and a touchdown targeting
Travis Kelce
. Smith has completed a league-high 104 passes following a play fake this season.
ESPN Stats & Information