4:05 PM ET, November 30, 2014
Georgia Dome, Atlanta, GA
Top Performers
Passing: M. Ryan (ATL) - 361 YDS, 2 TD, 1 INT
Rushing: S. Jackson (ATL) - 18 CAR, 101 YDS
Receiving: J. Jones (ATL) - 10 REC, 189 YDS, 1 TD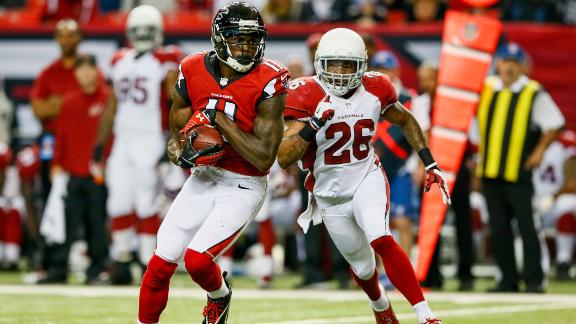 Sunday Blitz: Cardinals-Falcons Recap
Jim Basquil and Eric Allen break down the Falcons' 29-18 win over the Cardinals.
Sunday Blitz: Cardinals-Falcons Recap
VIDEO PLAYLIST
The Arizona Cardinals defense is playing at a very high level. The offense is a different story, potentially putting the NFC West lead in jeopardy down the stretch.
Heading to the Georgia Dome on Sunday seemingly provides that unit a good opportunity to get going despite facing a fellow division leader.
Not only do the Atlanta Falcons have a record five games worse than Arizona -- with wins solely against fellow sub-.500 NFC South teams -- but they own the league's worst defense and have been dreadful at home lately.
The Cardinals (9-2) maintain the NFC's best record but had their West lead cut to two games with last Sunday's 19-3 loss in Seattle. Considering that game came in what is possibly the NFL's toughest venue, not to mention against the defending champion Seahawks, coach Bruce Arians and his players weren't too devastated.
"I think when you peak, you get momentum and you just ride it, and we've been riding it pretty good," Arians said. "We got knocked off the horse, so figure out why, get back on and let's go."
Plus, his team gets another crack at the Seahawks in three weeks. Arizona's only other loss was to last season's Super Bowl loser, 41-20 at Denver in Week 5.
"When we lost to Denver, we lost pretty bad, but we bounced back, won six straight," Pro Bowl special teamer Justin Bethel told the Cardinals' official website. "... We'll come back and regroup. I just feel like it'll give us more fuel to get ready for the next game and continue what we were doing before. There is definitely no panic."
While panic is too strong a word, there is major concern about the offense since the season-ending injury to quarterback Carson Palmer along with the ongoing struggles of the ground game.
Arizona has been held to a field goal over its last seven quarters and had a season-low 204 yards last week as Larry Fitzgerald (sprained knee) sat out. He'll be a game-time decision after practicing on a limited basis Friday, and Drew Stanton clearly had problems without the star receiver as he finished 14 of 26 for 149 yards.
The Cardinals are 25th in the NFL with 321.3 yards per game and average an NFC-low 78.4 rushing.
Andre Ellington has a dreadful 89 yards on 47 carries over the past three weeks. He's yet to produce a 100-yard game despite having the league's third-most attempts (196).
"I've never been in a situation like this," offensive coordinator Harold Goodwin said of the anemic rushing attack. "We just have to deliver. It's about coaches and players being on the same page, and once we get to the grass, execute."
It's possible Michael Bush gets some carries after being signed Tuesday. The seven-year veteran spent the past two seasons with Chicago but averaged 3.4 yards per carry.
Arizona's rushing attack isn't really in worse shape than that of Atlanta, which has run for 100 yards once in the past seven games. Steven Jackson has 75 yards on 30 carries over the last two.
That limited ground game is among a bevy of problems for coach Mike Smith, whose job could be at stake over the next five weeks. Atlanta (4-7) is tied with New Orleans atop the South, even after last week's 26-24 loss to Cleveland for which Smith again received criticism for late-game clock management.
"I didn't do the things that needed to be done to put our guys in the best position to win the game," Smith admitted after his team's third consecutive home loss.
This is Atlanta's worst skid at the Georgia Dome since 2007 and has seen the Falcons average just 297.7 yards.
They haven't had a 100-yard rusher in 35 consecutive regular-season games -- the longest current drought in the NFL.
Arizona's defense hasn't allowed one in 21 straight. That unit has held each of its last four opponents below 300 yards and is allowing 17.7 points per game this season, tied for second-best in the NFL.
The pass rush has been huge lately with 17 sacks in the past three games -- five by Calais Campbell and four by Alex Okafor. Plus, the Cardinals' 15 interceptions are tied for second-most in the NFL.
That doesn't bode well for Matt Ryan, who had the two highest interception totals of his career against the Cardinals in the past two meetings. He had five in a 23-19 win in 2012 and four in a 27-13 loss last season.
Atlanta is 0-6 this season when Ryan has an interception.
"I think probably the biggest thing is you have to be patient," Ryan said. "You have to understand they're going to make some plays, they're going to get you off-schedule at certain times, but you've got to take what's there and I've got to do a better job than I've done the previous two times against them."
The Falcons pass defense has surrendered more than 320 yards in each of the past three home losses and is allowing a league-worst 284.1 per game. Atlanta ranks last in total defense (409.9), has an NFC-low 14 sacks and allows opponents to convert on 47.0 percent of third downs -- third-worst in the NFL.
"There should be no finger-pointing," safety Dwight Lowery said. "Your job is on the line every day. There's somebody else that's qualified to have your job. We approach it in the manner that this is our job, and we can lose this job quickly."
Ellington had his only 100-yard rushing performance in the last meeting with 154 and a TD on 15 carries.
That game, though, came in Arizona. The Cardinals have lost six straight in Atlanta since a win to close the 1993 regular season.
Falcons strong safety William Moore is set to return from a shoulder injury after missing seven straight games.
More from ESPN.com
Neurologist lauds NFL's medical timeout rule
Dr. Javier Cardenas said the NFL's new injury-stoppage rule is a major advancement for sports medicine.
Sources: Browns, Falcons told of discipline
Cleveland Browns and Atlanta Falcons officials were informed at this week's NFL owners meetings in Phoenix of the discipline they face for violating league policies, league sources told ESPN NFL Insider Adam Schefter.
Zimmer: Peterson trade not in Vikings' plans
Minnesota Vikings coach Mike Zimmer said Wednesday that his team has no plans to trade Adrian Peterson and that he expects the star running back to honor his contract.
Yates: Cards should trade for Peterson


Field Yates explains why a trade for Vikings running back Adrian Peterson would make the Cardinals one of the top contenders in the NFC.
Matchup
ARI

ATL

W-L
9-3
5-7
Avg Points
1.5
2.4
Avg Points Allowed
2.4
1.5
Home Record
6-0
3-3
Road Record
3-3
2-4
Division Record
2-1
4-0
Conference Record
7-2
5-4
Complete Standings
Team Averages & NFL Ranks
TEAM OFFENSE
TEAM
PER GAME AVERAGE
Total Yards
ARI

320
ATL

378
Yards Passing
ARI

238
ATL

285
Yards Rushing
ARI

82
ATL

94
TEAM DEFENSE
TEAM
PER GAME AVERAGE
Yards Allowed
ARI

368
ATL

398
Pass Yds Allowed
ARI

260
ATL

280
Rush Yds Allowed
ARI

109
ATL

118
Head to Head Matchups (Since 2001)
Atlanta leads 6-3
Oct 27, 2013
ARI 27, ATL 13
Nov 18, 2012
ARI 19, @ATL 23
Sep 19, 2010
ARI 7, @ATL 41
Jan 3, 2009
ARI 30, ATL 24
Dec 23, 2007
ARI 30, ATL 27
Oct 1, 2006
ARI 10, @ATL 32
Sep 26, 2004
ARI 3, @ATL 6
Sep 30, 2001
ARI 14, ATL 34
Research Notes
In Week 3, the Falcons scored 56 points in a home blowout win over the Buccaneers. Since then, the Falcons have scored a total of 58 points in their last 3 home games combined (total includes "home" game in London).
[+]
Among the 30 teams in the last 10 seasons to start at least 9-2, the Cardinals have the lowest point differential at +45
[+]
The Cardinals have been held to 138 Rush yds over the last 3 games combined, last in the NFL. By comparison,
Justin Forsett
(182) and
C.J. Anderson
(167) rushed for more yards in Week 12 themselves respectively than what the Cardinals team has rushed for in the last 3 weeks.
Among QB with 150 pass attempts,
Drew Stanton
leads the NFL with 11.6 air yards per attempt this season. Since ESPN Stats & Info tracked distance thrown downfield in 2006, it would be the 3rd-highest in a single season for any QB with 150 attempts. The highest belongs to Tim Tebow at 12.3 in 2011.
[+]
Matt Ryan
completed 7-of-8 passes for 167 yards, a touchdown and an interception on balls thrown at least 15 yards downfield Sunday, including 5-of-6 for 130 yards, a touchdown and an interception when targeting
Julio Jones
. Jones' five deep receptions tie a career high. Coming into the game, the Cardinals had allowed opposing quarterbacks to complete 32.1% of passes thrown at least 15 yards downfield, third best in the league.
Matt Ryan
's first-half interception was his 8th of the season on throws 15+ yards downfield. That ties
Geno Smith
and
Jay Cutler
for most in the league.
Matt Ryan
threw his 10th interception in his last 3 games against Cardinals.
Rashad Johnson
returned it for the INT for a TD for Arizona. Johnson has 4 interceptions in his last 3 games against Ryan. It's also the Cardinals' 3rd interception return for a touchdown this season, tied for the most in the league.
Steven Jackson
had 101 yards rushing Sunday, making him the first 100-yard rusher for the Falcons since Michael Turner in Week 9 of 2012 (35-game stretch without one)
Matt Ryan
is: 7-of-9 for 94 yards and a TD using play action 9-of-11 for 173 yards, TD, INT and 7 first downs targeting
Julio Jones
Ryan is also 5-of-6 for 133 yards, TD, Int on throws 15+ yards. The Cardinals defense allowed a 32.1 completion percentage on throws at least 15 yards downfield, 3rd-best in the league entering today.
Julio Jones
had 132 receiving yards in the 1st half, his most in any half in his career.
Matt Ryan
was 8-of-10 with a TD targeting Jones, including 6 first downs.
How big of a loss was
Andre Ellington
for the Cardinals? He accounted for nearly 30% of the Cardinals offense.
[+]
Through the end of the 3rd quarter, the Cardinals offense has gone 10 consecutive quarters without scoring a touchdown. Arizona has failed to score a TD on its last 26 offensive drives.
Steven Jackson
rushed for 101 yards Sunday, including 72 yards after contact, his most in a game since Week 8 of 2009 (79 against Lions). Jackson had not reached 40 rush yards after contact in any of his first 23 games as a Falcon. Jackson's 72 rush yards after contact are the second most allowed by the Cardinals this season (
Joique Bell
- 76 in Week 11).
The Cardinals are trailing 17-0 at the end of the 1st quarter. It is their largest 1st-half deficit this season.
Matt Ryan
completed 11-of-18 passes for 166 yards and two touchdowns when facing five or more pass rushers Sunday. Ryan has now thrown 13 touchdowns and two interceptions against the blitz this season, tied for the second-best TD-Int differential (+11) in the league. The Cardinals entered the game as the only team in the league with more interceptions (6) than passing touchdowns allowed (5) when blitzing this season.
ESPN Stats & Information