1:00 PM ET, November 30, 2014
TCF Bank Stadium, Minneapolis, MN
Top Performers
Passing: C. Newton (CAR) - 194 YDS, 1 TD, 1 INT
Rushing: J. Stewart (CAR) - 12 CAR, 85 YDS
Receiving: G. Olsen (CAR) - 5 REC, 59 YDS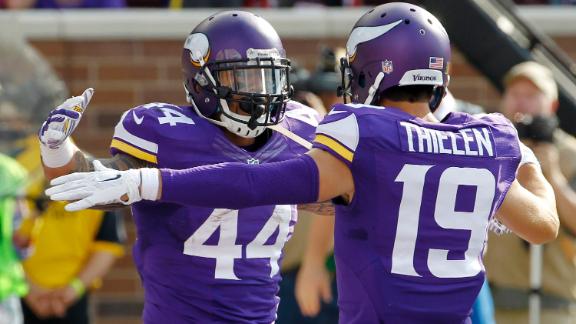 Sunday Blitz: Panthers-Vikings Recap
Jim Basquil and Merril Hoge break down the Vikings' 31-13 win over the Panthers.
Sunday Blitz: Panthers-Vikings Recap
VIDEO PLAYLIST
Minnesota coach Mike Zimmer already is taking questions on whether he plans to coach the rest of 2014 with an eye on next season.
Despite having an even worse record than the Vikings, the Carolina Panthers are still in the mix for a second straight division title.
Carolina turned around its season with a victory in Minnesota last year, and it will look to do the same in 2014 by ending a six-game winless streak Sunday.
The Panthers lost three of their first four to start 2013, but a 35-10 win over the Vikings began a stretch of 11 victories over their final 12 to win the NFC South and earn a first-round bye in the playoffs.
Carolina (3-7-1) could again wind up hosting a postseason game if it can jump atop a weak division led by Atlanta and New Orleans, which both stand at 4-7.
The Panthers have lost five straight since a 37-all tie with Cincinnati on Oct. 12. Cam Newton threw touchdown passes to Kelvin Benjamin and Philly Brown in the fourth quarter of their latest game, but Carolina lost 19-17 to Atlanta on a late field goal Nov. 16.
"Our margin for error right now is zero," tight end Greg Olsen said. "We have five games. Fortunately the rest of the division is playing as poorly as we are."
That's one of the reasons coach Ron Rivera still is confident after his club rested during the bye week.
"As crazy as it seems, we still have an opportunity," Rivera said. "We play each of (the division foes) one more time, and if we take care of our business and put ourselves in position, we have a chance to win the NFC South. We're in the middle of a division race, and I don't believe it's faint hope. I believe it's strong hope. That's how I feel about our team."
Zimmer also is focusing on the present despite the Vikings (4-7) sitting four games behind Green Bay in the NFC North. Minnesota has experienced plenty of adversity -- namely the suspension of Adrian Peterson -- but Zimmer isn't counting his team out by any means.
"It's way too early to be thinking about next year," Zimmer said. "I'm still trying to build this team the way I want it to be. Just because we have some losses doesn't mean we step back. All I care about is trying to win.
"I know what the records are but I don't focus on that. I know what (the Panthers') mindset is, but our mindset should be the same -- we're trying to win."
Rookie Teddy Bridgewater tossed a season-best two touchdown passes and also rushed for a season-high 32 yards in last week's 24-21 loss to the Packers that snapped a two-game winning streak.
Bridgewater has been thrust into the starting job due to Matt Cassel's season-ending foot injury, but he's thrown at least one touchdown pass in each of his last five games. He's hoping the Vikings can get off to a better start this week after falling behind early against Green Bay.
"(Offensive coordinator Norv) Turner said that through the first 10 minutes of the game we're feeling things out and trying to see if we can play with our opponents," Bridgewater said. "That's really been the issue. We just have to go out and bring it to our opponents right away. We have to go into each game with confidence."
He also doesn't feel this game is any less important to the Vikings than it is for the playoff-hopeful Panthers.
"This is the same team that was 12-4 last year," Bridgewater said. "We have a lot to play for too because we can continue to get better."
Bridgewater will have to succeed behind a frustrated and beat-up offensive line. Left tackle Matt Kalil has had a down season and knocked the hat off a fan heckling him after last week's loss, a relatively minor incident that was dealt with in-house.
Starting right tackle Phil Loadholt was placed on injured reserve after tearing his left pectoral muscle, leading to the re-signing of J'Marcus Webb for depth. Mike Harris will replace Loadholt as the starter.
Zimmer also is focused on stopping Newton, who threw for three touchdowns and ran for another in last season's win over the Vikings. Newton, though, has been battling various injuries all season and has thrown five of his 10 interceptions over the last two games.
"He's hard to get down once you get your hands on him," Zimmer said. "They do a good job with their protections keeping you off balance, so it makes it difficult."
Panthers fullback Mike Tolbert returns after missing the last eight games with a left knee injury. Tolbert also ran for a touchdown in last season's win.
"When you have a pure fullback in there, you know the ball is only going to one person," Rivera said. "With Tolbert in there as kind of a hybrid fullback, you don't know if he's going to get the ball running it, catching it, or if he's going to block."
Matchup
CAR

MIN

W-L
3-8-1
5-7
Avg Points
1.1
2.6
Avg Points Allowed
2.6
1.1
Home Record
2-4
3-3
Road Record
1-4-1
2-4
Division Record
1-2
0-4
Conference Record
3-6
5-5
Complete Standings
Team Averages & NFL Ranks
TEAM OFFENSE
TEAM
PER GAME AVERAGE
Total Yards
CAR

347
MIN

316
Yards Passing
CAR

219
MIN

203
Yards Rushing
CAR

127
MIN

113
TEAM DEFENSE
TEAM
PER GAME AVERAGE
Yards Allowed
CAR

340
MIN

345
Pass Yds Allowed
CAR

228
MIN

223
Rush Yds Allowed
CAR

112
MIN

121
Head to Head Matchups (Since 2001)
Carolina leads 5-4
Oct 13, 2013
CAR 35, @MIN 10
Oct 30, 2011
CAR 21, MIN 24
Dec 20, 2009
CAR 26, MIN 7
Sep 21, 2008
CAR 10, @MIN 20
Sep 17, 2006
CAR 13, @MIN 16
Oct 30, 2005
CAR 38, MIN 13
Sep 22, 2002
CAR 21, @MIN 14
Sep 9, 2001
CAR 24, @MIN 13
Research Notes
Cam Newton
was 6-of-18 for 120 yards, a touchdown and an interception on throws deeper than 5 yards downfield Sunday, tying his fewest completions in a game this season. Newton entered today with a 50.2 completion percentage on those throws, 29th among qualified quarterbacks. The only quarterbacks who entered today with a worse completion percentage than Newton on those throws are
Geno Smith
,
Jay Cutler
,
Kirk Cousins
and
Derek Carr
.
The Vikings punt return unit has as many multi-TD games this year as
Teddy Bridgewater
(1).
From Elias: The Vikings had 2 blocked punt TD returns in the 1st half. This is just the 4th time in NFL history where there were 2 blocked punt return TD in any half. The last time it happened was September 21, 1975 when the Lions had 2 in the 1st half against the Packers. The last time a team had 2 blocked punt return TD IN A GAME was on Sept. 30, 1990 when the Chiefs had 2 against the Browns.
The Vikings' special teams units added 16.9 expected points Sunday, the highest in a game by any team this season. Entering the game, the Vikings were ranked 13th in specials teams efficiency (expected points added per game). After Sunday's performance, they're ranked 7th.
Minnesota's most-targeted player was
Greg Jennings
, who caught all 5 targets for 45 yards Sunday and a touchdown.
Kelvin Benjamin
led the Panthers with 12 targets, but the
Cam Newton
-to-Benjamin combination was inefficient at best (5-of-12 for 56 yards) and averaged almost half the yards per attempt as
Teddy Bridgewater
did targeting Jennings.
[+]
ESPN Stats & Information