8:25 PM ET, December 20, 2014
Levi's Stadium, Santa Clara, CA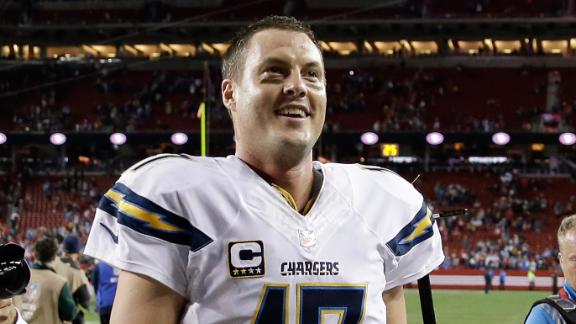 Game Balls: 49ers vs. Chargers
ESPN Chargers reporter Eric Williams' game ball goes to quarterback Philip Rivers, who passed for 356 yards and four touchdowns while throwing three interceptions. With 158 rushing yards, Niners running back Frank Gore gets Paul Gutierrez's game ball.
Game Balls: 49ers vs. Chargers
VIDEO PLAYLIST
Game Balls: 49ers vs. Chargers

Game Balls: 49ers vs. Chargers

ESPN Chargers reporter Eric Williams' game ball goes to quarterback Philip Rivers, who passed for 356 yards and four touchdowns while throwing three interceptions. With 158 rushing yards, Niners running back Frank Gore gets Paul Gutierrez's game ball.
The San Diego Chargers already face a difficult task in trying to get back into playoff position with just two weeks left. Making it even more challenging is an expanding list of injured players.
The Chargers won't have leading receiver Keenan Allen available and running back Ryan Mathews' status is unclear for Saturday night's visit to the eliminated San Francisco 49ers.
San Diego (8-6) was in control of the AFC's final playoff spot even after a 23-14 loss to New England on Dec. 7, but lost that distinction with a 22-10 defeat to another one of the conference's top teams, Denver, on Sunday.
The Chargers are one-game behind the current wild-card leaders, Pittsburgh and a Baltimore team they beat 34-33 on Nov. 30. San Diego also sits second out of three teams with 8-6 records and visits the top one, Kansas City, in its regular-season finale Dec. 28.
"We've got two big games coming up, and we've got to turn our focus to that," wide receiver Eddie Royal said. "That will be a great time to get going."
The Chargers, though, will have to play this game without Allen, who broke his right collarbone and hurt his right ankle last weekend. The second-year pro has a career-high 77 catches for 783 yards and four touchdowns.
"There's no doubt it hurts," said quarterback Philip Rivers, who is dealing with chest and back injuries but expects to play.
San Diego will have to lean on a receiving corps that features three other players with at least 45 receptions and 585 yards in Royal, Malcom Floyd and tight end Antonio Gates. The Chargers might also get tight end Ladarius Green (19 catches, 226 yards) back from concussion and ankle injuries.
"I do feel like they will get the job done," Allen told the team's official website. "We will have a playoff seed, and I will hopefully come back and play."
Mathews sat out against Denver with a severely sprained ankle, and wasn't at practice to begin this shortened week.
Punter Mike Scifres also has a broken collarbone, and San Diego has placed second-leading tackler Donald Butler on injured reserve because of a dislocated elbow.
Injuries have played a role in San Francisco (7-7) missing the playoffs for the first time since 2010 with Patrick Willis (toe) and NaVorro Bowman (knee) among the most notable. Running back Frank Gore suffered a concussion in Sunday's 17-7 loss in Seattle that officially eliminated the 49ers, and his status is unclear.
Linebacker Ahmad Brooks is dealing with a dislocated thumb, and it's unknown if right tackle Anthony Davis will return after missing four games because of a concussion. Leading tackler and rookie linebacker Chris Borland, however, is likely done for the season after hurting his ankle Sunday.
The 49ers released defensive lineman Ray McDonald on Wednesday amid an investigation by San Jose police into McDonald on suspicion of sexual assault. San Francisco general manager Trent Baalke said CEO Jed York and coach Jim Harbaugh also were involved in the decision.
This is the second time in recent months McDonald has been the subject of a police investigation.
The 49ers have also dealt with the uncertainty of coach Jim Harbaugh's future. Harbaugh, who led the team to a Super Bowl two seasons ago and two other NFC championships games in his tenure, has one season left on a five-year contract.
Among the rumored landing spots for Harbaugh next season are his alma mater Michigan or the Oakland Raiders.
"I would rather talk about how proud I am of them. There's been a lot taken away from them and the way they've been playing," said Harbaugh, who won 36 games over the previous three seasons. "I hate to keep contributing to that."
Colin Kaepernick has also struggled mightily as the 49ers have totaled two touchdowns during a three-game skid -- the franchise's longest since an 0-5 start in 2010. He has posted a 54.3 quarterback rating -- significantly lower than his 92.1 in the first 11 games -- with four interceptions to just one touchdown and has been sacked 15 times, bringing his total to an NFL-worst 49.
"Regardless of the situation, we're going out to win," Kaepernick said. "There's no one on this team that's going to step on that field and say, 'Hey, our season is over. We're not going out to compete.' We're going to compete until the end."
Kaepernick is set to face San Diego for the first time, and try to prevent the Chargers from claiming a series-best fourth consecutive victory. Rivers had three TDs in the last matchup, a 34-7 win Dec. 16, 2010.
More from ESPN.com
Ex-Cards DE Dockett signs with rival 49ers
Defensive end Darnell Dockett will stay in the NFC West next season, signing with the San Francisco 49ers, his agent Drew Rosenhaus announced Thursday on Twitter.
L.A. stadium supporters file ballot paperwork
Organizers behind a proposed stadium for the Oakland Raiders and the San Diego Chargers in a Los Angeles suburb filed paperwork Wednesday to bring their plan before voters.
Chargers fans support new Qualcomm stadium
Most Chargers fans in attendance at a meeting of the mayor-appointed citizens' stadium advisory group clearly supported building a new stadium at Qualcomm.
Rugby league player Hayne to join 49ers
Jarryd Hayne, the National Rugby League's Player of the Year in 2014, will start his journey to a potential NFL roster spot with the San Francisco 49ers on a futures/reserves contract.
Matchup
SD

SF

W-L
9-6
7-8
Avg Points
2.5
2.3
Avg Points Allowed
2.3
2.5
Home Record
5-3
3-4
Road Record
4-3
4-4
Division Record
2-3
1-4
Conference Record
6-5
6-5
Complete Standings
Team Averages & NFL Ranks
TEAM OFFENSE
TEAM
PER GAME AVERAGE
Total Yards
SD

342
SF

327
Yards Passing
SD

256
SF

191
Yards Rushing
SD

85
SF

136
TEAM DEFENSE
TEAM
PER GAME AVERAGE
Yards Allowed
SD

338
SF

321
Pass Yds Allowed
SD

214
SF

221
Rush Yds Allowed
SD

124
SF

101
Head to Head Matchups (Since 2001)
San Diego leads 4-0
Dec 16, 2010
SD 34, SF 7
Oct 15, 2006
SD 48, @SF 19
Nov 17, 2002
SD 20, SF 17
Research Notes
Philip Rivers
is 33-8 in his career in regular-season games in December or January. Since 2004, only
Tom Brady
has a better record.
The 49ers current 3-game losing streak is longest of Harbaugh era.
FROM ELIAS: Jim Harbaugh's 43 wins are tied for 4th-most all-time in an NFL head coaches first 4 seasons. With a win Saturday he would tie his brother John for 2nd-most in NFL history through 4 seasons.
[+]
This is the 1st time that the Chargers have allowed over 300 rush yards in a game since allowing 378 against the Vikings in 2007 (Week 9). In that game,
Adrian Peterson
set the NFL single-game rushing record with 296 on the ground.
Colin Kaepernick
(SF): 90-yard Rush TD, longest by QB in 49ers history; 2nd-longest Rush TD by any player in 49ers history (Garrison Hearst 96-yard Rush TD in 1998)
[+]
The Chargers outscored the 49ers 31-7 after halftime, erasing a 21-point deficit. It's tied for the 2nd-largest comeback win this season, and it's their largest comeback victory since 2006 (Week 10 against the Bengals).
[+]
The 49ers ran for 88 yards after contact in the 1st half, already their most in a game this season.
Frank Gore
eclipsed 100 rushing yards on his first rush of the 2nd quarter. The 49ers have won their last 14 regular-season games when Gore has rushed for 100+ yards.
San Francisco ran for 355 yards Saturday, the 3rd-most in a game in franchise history and the 49ers' most since 1948. -
Frank Gore
totaled 158 yards on the ground, including 93 after contact. Gore's 93 yards after contact were his most in last 5 seasons. - The 49ers were especially effective between the tackles. San Francisco's 243 yards inside the tackles were its most in last 5 seasons. - Gore and
Colin Kaepernick
both ran for 100+ yards becoming the first 49er duo to each top 100 rushing yards in a game since Nov. 13 1977 (Wilbur Jackson & Delvin Williams).
Philip Rivers
had as many interceptions as completions (2) in the 1st half on throws more than 5 yards downfield. Rivers completed 7 passes at least 15 yards downfield in the 2nd half and overtime, matching his most in a game this season. Rivers and the Chargers were a perfect 3-for-3 on 4th-down conversions in the 2nd half, including two on their game-tying drive to force overtime. The Chargers entered the game 1-for-5 (20%) on 4th-down attempts, the worst conversion rate in the league this season.
For the 2nd time this season, the 49ers lost a game in which they led by at least 17 points (Week 2 vs Bears). The 49ers are the 4th team in the last 10 seasons to lose multiple games when leading by at least 17.
[+]
From Elias: The Chargers 21-point comeback was the 5th comeback win from at least 20 points in the NFL this season. That's 1 shy of the most in a single season in NFL history (6 in 2011). It's the 40th double-digit comeback win in the NFL this season, 3 shy of the single-season record set in 2013.
[+]
Frank Gore
eclipsed 100 rushing yards on his first rush of the 2nd quarter. The 49ers have won their last 14 regular-season games when Gore has rushed for 100+ yards.
Frank Gore
ran for a 52-yard touchdown, his longest TD run in the last 5 seasons. Gore had 43 yards after contact on the run, more than he had in any game this season.
Prior to their 3rd-quarter conversion, the Chargers converted only 20% of their 4th-down attempts, the lowest rate in the league this season.
Robert Griffin
III and
Colin Kaepernick
ranked 5th and 6th in the NFL in Total QBR during their first season's as starters in 2012. They've both declined each season since - RG-3 has the worst drop off in QBR from 2012 to 2013 of any QB and now Kaepernick has the worst dropoff from 2013 to 2014 (min. 300 action plays each season).
[+]
ESPN Stats & Information