1:00 PM ET, November 30, 2014
Edward Jones Dome, Saint Louis, MO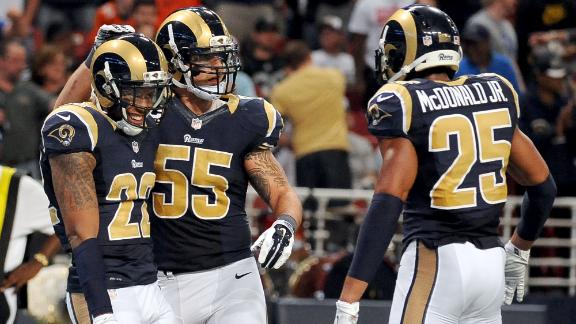 Sunday Blitz: Raiders-Rams Recap
Jim Basquil and Merril Hoge break down the Rams' 52-0 win over the Raiders.
Sunday Blitz: Raiders-Rams Recap
VIDEO PLAYLIST
It took the Oakland Raiders more than a year to win a game. It's been even longer since they've won two in a row.
The visiting Raiders look to accomplish that feat for the first time in two seasons Sunday against the inconsistent St. Louis Rams.
Moments after Oakland (1-10) snapped a 16-game losing streak with last Thursday's 24-20 home victory over Kansas City, interim coach Tony Sparano and his team were getting greedy.
"Hopefully there's many more to come because I like this feeling better than the other one, that's for sure," said rookie Derek Carr, whose 9-yard go-ahead touchdown pass to James Jones with 1:42 left capped a 17-play, 80-yard drive.
The victory came 368 days after the Raiders' previous win, 28-23 at Houston. Oakland hasn't won two straight since Oct. 21-28, 2012, but hopes the momentum built will help spur a positive run.
"It's contagious," Sparano said. "You want to be able to go out and try to get as many of those as you can right now."
Though the Raiders finally had something to show for their efforts, they'd made strides by being within a score in the fourth quarter in five of the first six games since Sparano replaced the fired Dennis Allen on Sept. 29. Oakland didn't score more than 14 points in any of the first four under Allen but has averaged 17.9 and scored at least 24 three times for Sparano.
"He's one of the bright spots out of this season," offensive tackle Donald Penn said. "Even though our record doesn't show it, everybody has to see that since he's taken over, we've gotten better and better."
Oakland's 73.5-yard rushing average is the lowest in the league, but it ran for a season-high 179 against the Chiefs. Rookie Latavius Murray had four carries for 112 yards, 90 of which came on his second touchdown run of the game.
"We finally said as a line enough is enough," Penn said. "We came out and we did it. We can't just do it one game. We have to do it more. I want more. This isn't enough. We need more."
Sparano won't be able to give more carries to Murray this week, as he failed to pass the final test of the mandated concussion protocol.
The Raiders could have receiver Rod Streater on the field for the first time since he broke his foot during a 16-9 loss at New England on Sept. 21. Streater had nine receptions for 84 yards and a TD through three games.
Though Oakland has some new-found confidence, it doesn't expect to have an easy time against a St. Louis team that's beat Seattle, San Francisco and Denver.
The Rams (4-7), however, were unable to build on that 22-7 home victory over the Broncos in Week 11 as they fell 27-24 at San Diego last Sunday. St. Louis had the ball on the Chargers' 4-yard line when Shaun Hill was intercepted with 1:03 left.
"We've got a great locker room, and a great group of guys who have every right to be disappointed," said coach Jeff Fisher, whose team has alternated wins and losses in the last six games.
"They'll come back."
Fisher appears content to stick with Hill, who threw a TD plus another pick in his second start since replacing the struggling Austin Davis.
"I think the mark of a true pro is somebody that can take all the pats on the back one week and then take all the ridicule the next week and still be the same guy after both," said the 34-year-old Hill, who has completed 59.7 percent of his passes with two TDs and three INTs while going 1-2 as a starter this season.
"Hopefully, that's the example I'm going to set for this team and I think this team is built to do just that," he added. "That's been the way we've picked ourselves up in the past and I wouldn't expect anything different."
On 12 occasions over the last two games, Hill targeted second-year receiver Stedman Bailey, who recorded career highs of seven receptions and 89 yards with his first NFL touchdown last weekend.
Darren McFadden ran for 145 yards as Oakland beat the visiting Rams 16-14 in the last meeting Sept. 19, 2010.
More from ESPN.com
Raiders to release injury-plagued Branch
Tyvon Branch, one of the few recent Oakland Raiders draft picks the team kept from leaving in free agency by giving him a lucrative contract, will be released by the team.
Rams cut DT Langford in cost-cutting move
In search of some much-needed salary cap space heading toward free agency, the St. Louis Rams released defensive tackle Kendall Langford on Thursday afternoon.
Inglewood OKs fast-tracking of NFL stadium
The Inglewood City Council late Tuesday night approved plans to build a football stadium that includes St. Louis Rams owner Stan Kroenke as a partner, clearing a path for a return to the Los Angeles area of the NFL for the first time in two decades.
Michael Sam on 'Dancing With The Stars' cast
Michael Sam, the first openly gay player drafted into the NFL, is a member of the cast for the latest season of ABC's "Dancing With The Stars."
Matchup
OAK

STL

W-L
1-11
5-7
Avg Points
.0
4.3
Avg Points Allowed
4.3
.0
Home Record
1-5
3-3
Road Record
0-6
2-4
Division Record
1-3
2-2
Conference Record
1-8
3-5
Complete Standings
Team Averages & NFL Ranks
TEAM OFFENSE
TEAM
PER GAME AVERAGE
Total Yards
OAK

282
STL

315
Yards Passing
OAK

205
STL

213
Yards Rushing
OAK

78
STL

102
TEAM DEFENSE
TEAM
PER GAME AVERAGE
Yards Allowed
OAK

358
STL

352
Pass Yds Allowed
OAK

238
STL

241
Rush Yds Allowed
OAK

119
STL

110
Head to Head Matchups (Since 2001)
St. Louis leads 3-1
Sep 19, 2010
OAK 16, STL 14
Dec 17, 2006
OAK 0, STL 20
Oct 13, 2002
OAK 13, @STL 28
Research Notes
The Raiders have lost 12 straight games vs NFC teams, with their last win coming vs the Bears in Week 12 of 2011. That's tied for the longest active losing streak for any team vs a conference. The Jaguars have also lost 12 straight vs the NFC.
[+]
Tre Mason
had a 89-yard rushing touchdown for the Rams. It's the 2nd-longest run in Rams franchise history. The only one that was longer was a 92-yard TD run by Kenny Washington on November 2, 1947 at the Chicago Cardinals.
The Rams with 21 points in 1st quarter. It's the 4th time since 2000 they've scored at least 21 points in the 1st quarter and 1st time since Week 12 of 2013
Tre Mason
scored on an 89-yard TD run... Rams previous longest rush this season was 28 yards. Mason had 1 touchdown in 7 games entering today... He has 2 already against the Raiders (35-yd rec TD).
The Rams added 7.0 expected points when rushing Sunday, their highest total since Week 12 of last season (11.4). In their previous 11 games, the Rams' running game added a total of -21.1 expected points, which ranked 23rd in the league
ESPN Stats & Information