1:00 PM ET, December 14, 2014
Georgia Dome, Atlanta, GA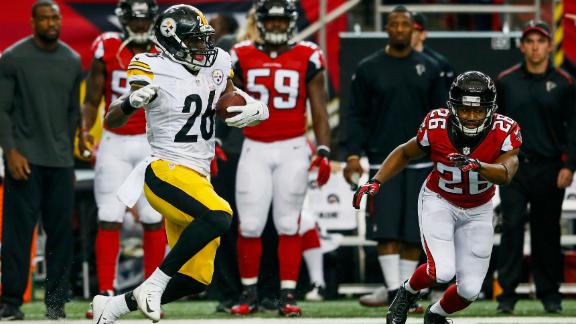 Sunday Blitz: Steelers-Falcons Recap
Jim Basquil and Merril Hoge break down the Steelers' 27-20 win over the Falcons.
Sunday Blitz: Steelers-Falcons Recap
VIDEO PLAYLIST
It's hard to imagine where the Pittsburgh Steelers would be without Le'Veon Bell, who continues to carry the load with the postseason approaching.
Atlanta Falcons receiver Julio Jones has also put up monster numbers of late, but his status remains a bit murky heading into Sunday's crucial showdown.
The Steelers try to continue their success against the Falcons as these playoff hopefuls square off at the Georgia Dome.
Pittsburgh (8-5) moved within one-half game of Cincinnati for the AFC North lead after a 42-21 road win over the Bengals last Sunday. Bell racked up 235 yards from scrimmage and three touchdowns as the Steelers outscored Cincinnati 25-0 in the fourth quarter.
"We have a great opportunity in front of us, so I'm going to embrace it," Bell said. "This is the part of the year where things get a little tight, they get more exciting. Everybody in the locker room is excited about this last couple of weeks."
Bell joined Hall of Famer Walter Payton as the only running backs to post at least 200 yards from scrimmage in three consecutive games, a stretch during which he's totaled 711 and five scores. He's second in the NFL at his position and second on the team with 693 receiving yards.
"As long as he stays healthy, we'll keep feeding him," quarterback Ben Roethlisberger said. "I've said for many, many weeks now that he's one of the best all-around backs in the game. I think every week he continues to prove that."
Bell has another favorable matchup against a Falcons defense that's allowed an NFL-worst 17 rushing scores. The Steelers improved to 12-2 with one tie in the series with a 15-9 win in overtime Sept. 12, 2010.
"Every week is kind of a playoff week for us," said Roethlisberger, whose team is clinging to a wild-card spot. "We're going to give it everything we have every week. And it doesn't get any easier moving forward."
Atlanta (5-8) is still tied with New Orleans atop the NFC South after falling 43-37 at Green Bay on Monday night. Matt Ryan threw for 375 yards and a season-high four touchdowns as the Falcons outscored the Packers 30-12 in the second half.
Ryan found Jones 11 times for a franchise-record 259 yards and a touchdown, giving the Pro Bowl wideout 21 catches for 448 yards in the last two games.
"When they're in sync, it really is very difficult to slow those guys down," coach Mike Smith said. "Julio is an outstanding wide receiver. In my mind he's the best in the NFL. In the last few weeks, you're not going to get anyone who can put games together back to back like that. Of course for a receiver to have a big game, the quarterback has to be able to distribute the ball and Matt has done a very good job."
While Jones has been wreaking havoc on opposing secondaries, it remains to be seen if he'll suit up after leaving with a hip injury in the fourth quarter Monday. Safety William Moore is also uncertain to be available due to a foot issue.
Jones hasn't practiced this week, and Moore only worked on the side during Friday's practice. Both are listed as questionable, though Smith sounds optimistic.
"I'm still confident those guys will be ready to go," Smith said Friday.
Jones leads the NFL with 1,428 receiving yards while Pittsburgh's Antonio Brown ranks second at 1,375. Brown has at least five catches and 50 yards in all 29 games since the start of last season, the longest such stretch in NFL history.
Atlanta could lean on Steven Jackson if Jones can't go. The Falcons average 96.7 rushing yards to rank 23rd in the NFL, but they're 5-1 when running the ball at least 25 times.
The Falcons have averaged 30.0 points in splitting six home games while Pittsburgh has managed 21.7 on the road, nearly two touchdowns lower than its home mark of 35.0.
The Steelers, however, have won four of their last six as the visiting team. They have alternated wins and losses in their last five overall.
"I feel like this time of the year, you're not allowed to have those slip-ups anymore," linebacker Arthur Moats said. "If we want to be a team like we're trying to be, we have to be successful this week. ... If you lose a game now, you're talking about losing the division, missing the playoffs."
The Steelers are on pace to set a franchise record for points, needing 19 per game over the final three to pass the 416 scored by the 1979 Super Bowl champions.
Matchup
PIT

ATL

W-L
9-5
5-9
Avg Points
1.9
1.4
Avg Points Allowed
1.4
1.9
Home Record
4-2
3-4
Road Record
5-3
2-5
Division Record
3-2
4-0
Conference Record
7-3
5-5
Complete Standings
Team Averages & NFL Ranks
TEAM OFFENSE
TEAM
PER GAME AVERAGE
Total Yards
PIT

411
ATL

378
Yards Passing
PIT

302
ATL

285
Yards Rushing
PIT

110
ATL

94
TEAM DEFENSE
TEAM
PER GAME AVERAGE
Yards Allowed
PIT

353
ATL

398
Pass Yds Allowed
PIT

253
ATL

280
Rush Yds Allowed
PIT

100
ATL

118
Head to Head Matchups (Since 2001)
Pittsburgh leads 2-1
Sep 12, 2010
PIT 15, ATL 9
Oct 22, 2006
PIT 38, @ATL 41
Nov 10, 2002
PIT 34, ATL 34
Research Notes
The Falcons are just 1-8 this season against non-division opponents (4-0 in division). The Falcons are 0-3 against the AFC North.
[+]
Le'Veon Bell
is 76 yards away from becoming the 2nd Steelers player to reach 2,000 scrimmage yards in a single season, joining Barry Foster (2,034) in 1992
[+]
Le'Veon Bell
has 1,924 yards from scrimmage this season. He needs 111 more yards to break the Steelers single-season mark, set by Barry Foster in 1992 (2,034 yards). As long as
Antonio Brown
avoids injury, he'll likely set Steelers franchise marks for receptions, receiving yards and receiving touchdowns this season.
[+]
The Steelers are 12-2-1 all-time against the Falcons (.833), which is tied for their best win percentage against a single franchise (Panthers). Despite the one-sided nature of the series, the last 3 meetings between the 2 teams each went to overtime and the last 5 were each decided by 6 or fewer points.
Ben Roethlisberger
was 12-of-14 for 191 yards against at least 5 pass rushers, converting 1st downs on 8 of his 15 dropbacks (1 sack). The Falcons blitzed at their 3rd-highest percentage in a game this season, and the results didn't justify the approach.
[+]
After connecting with
Devin Hester
,
Matt Ryan
in the red zone this year has 17 TD Pass and 0 Int... The only QB with more red-zone TD passes without a pick is
Peyton Manning
(23).
Matt Ryan
was 26-of-37 for 310 yards, 2 TD and an Int Sunday, playing without top wideout
Julio Jones
(inactive with a hip injury). Ryan leaned heavily on
Harry Douglas
, whose 10 catches on 14 targets were both 2nd-highest in his career.
[+]
Ben Roethlisberger
was 10-for-10 for 123 yards targeting
Antonio Brown
, the 3rd game of Brown's career with a perfect catch percentage on at least 10 targets. Roethlisberger was 3-for-3 for 61 yards targeting Brown on throws at least 15 yards downfield, tying Brown's career high with 3 catches without an incompletion on deep throws.
ESPN Stats & Information