1:00 PM ET, November 30, 2014
Raymond James Stadium, Tampa, FL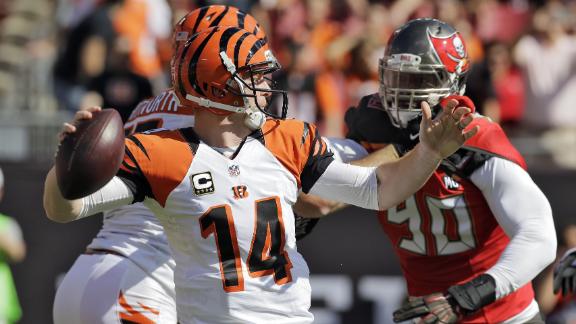 Sunday Blitz: Bengals-Buccaneers Recap
Jim Basquil and Merril Hoge break down the Bengals' 14-13 win over the Buccaneers.
Sunday Blitz: Bengals-Buccaneers Recap
VIDEO PLAYLIST
The AFC North's domination of the NFC South this season has left the Cincinnati Bengals atop a jumbled division of playoff contenders.
It also have given the 2-9 Tampa Bay Buccaneers a chance to play meaningful games in late November.
Cincinnati can sweep a three-game road stretch by beating Tampa Bay for the first time in 25 years Sunday.
The AFC North has gone 10-1-1 against the NFC South, with the South's lone victory being the Bucs' 27-24 win at Pittsburgh on Sept. 28. The tie came when Mike Nugent missed a 36-yard field goal at the end of overtime against Carolina on Oct. 12 during the Bengals' three-game winless stretch following a 3-0 start.
Cincinnati (7-3-1) has won four of five since that rough patch, though. Andy Dalton threw for 233 yards and a touchdown while A.J. Green had a career-high 12 receptions for 121 yards in last week's 22-13 win at Houston.
Baltimore, Pittsburgh and Cleveland all sit at 7-4 behind the Bengals in the division race.
"The only one that matters is (this week's game), because we control everything, and that's all we have to worry about," coach Marvin Lewis said. "This is what you play for. This is the way it's supposed to be every year. That's the only thing we can control. Our guys have earned an opportunity to be in this position, and now to take advantage of this position."
The Bucs, looking to avoid their first 0-6 start at home since 1983, also are in a tight division race, but whether they've actually earned their position is a different story. They're two games behind Atlanta and New Orleans -- both 4-7 -- but also are tied for the NFL's third-worst record.
Tampa Bay ended a five-game slide with a 27-7 win over Washington on Nov. 16, but it committed four turnovers and blew a 10-point halftime lead in last week's 21-13 loss at Chicago.
Josh McCown threw two interceptions and lost a fumble against his former team while completing just 25 of a career-high 48 pass attempts. He's not about to apologize for the Bucs still being in the playoff race despite their poor record.
"Listen, it's crazy. I would say (no) team in our division expected to be where we're all sitting right now and it's unfortunate," McCown said. "But the reality of our division right now is that it is still up for grabs, and we're not in the favorable position but we're not out.
"You don't want it to come like this, with this kind of record. Hopefully we can continue to put ourselves in position to do that and it starts by beating Cincinnati."
That's something the Bucs have done in all six meetings since the Bengals' last victory in the series in 1989. This Cincinnati team is beginning to find its offensive rhythm, though, now that Green is at full strength.
Green injured his right big toe in the season opener against Baltimore and missed most of the following week against Atlanta and three games in October. He caught only six passes in his first two games back, but he had 127 yards and a touchdown in a win over the Saints on Nov. 16 before his big effort against the Texans.
"It's been big," Dalton said of Green being healthy. "For him to have a performance like he did -- at least that's what we expect from him. He's so talented we feel like he matches up with almost anybody."
Mohamed Sanu is having a breakout year with team highs of 719 yards and five touchdown catches, while rookie second-round pick Jeremy Hill has been solid for a running game that ranks seventh with 125.6 yards per game.
Hill, averaging 5.5 yards per rush in his last four, had 87 yards and a touchdown on 18 carries last week even as Giovani Bernard returned after missing three games with hip and shoulder injuries. Bernard chipped in 67 total yards, but he and Hill will be missing a key blocker as tackle Andre Smith has been placed on injured reserve with a torn left triceps suffered last week.
"We're starting to find a groove and I think that's very important," Hill said. "We're finding our spots at the right time in the season. We're finally getting our groove back."
The Bucs' running game hasn't been nearly as good lately, averaging 2.7 yards per carry over the last two. Doug Martin has battled ankle and knee injuries for most of the season and has played in only six games with a 2.8 average per rush.
Martin finished third in the NFL with 1,926 yards from scrimmage as a rookie in 2012, but was limited to six games last season with a torn labrum.
"Since I've been here, the injuries have stopped Doug's progress," coach Lovie Smith said. "But I haven't seen anything to say that he can't get back to form. Injuries would stop anyone. He's back healthy now, so we're looking for him to finish up strong these last five-plus games."
Cincinnati allowed 4.5 yards per rush through its first nine but has been much better over the last two, giving up 3.1.
More from ESPN.com
Fist bump! Still reveals daughter in remission
Nearly 10 months to the day that 4-year-old Leah Still was diagnosed with a rare pediatric cancer that gave her a 50-50 chance of surviving, doctors informed her and her father, Bengals defensive tackle Devon Still, that she is officially in remission.
Magee, cut by Bucs, off to Red Sox camp
Linebacker Brandon Magee was released by the Tampa Bay Buccaneers on Wednesday morning. It didn't take him long to find a new team -- in a different sport.
Lovie praises Winston: 'He can sell himself'
With five weeks remaining for the Tampa Bay Buccaneers to make a decision about their first overall pick, coach Lovie Smith gave effusive praise to Jameis Winston during his hour-long breakfast Wednesday with reporters at the NFL owners meetings.
Bucs' Glazer: Winston, Mariota OK as No. 1
Buccaneers co-chairman Joel Glazer says he has approved the team's drafting of Jameis Winston or Marcus Mariota with the No. 1 pick in this year's NFL draft.
Matchup
CIN

TB

W-L
8-3-1
2-10
Avg Points
1.2
1.1
Avg Points Allowed
1.1
1.2
Home Record
4-1-1
0-6
Road Record
4-2
2-4
Division Record
2-1
0-4
Conference Record
5-3
1-7
Complete Standings
Team Averages & NFL Ranks
TEAM OFFENSE
TEAM
PER GAME AVERAGE
Total Yards
CIN

348
TB

292
Yards Passing
CIN

214
TB

206
Yards Rushing
CIN

134
TB

86
TEAM DEFENSE
TEAM
PER GAME AVERAGE
Yards Allowed
CIN

359
TB

369
Pass Yds Allowed
CIN

243
TB

255
Rush Yds Allowed
CIN

116
TB

114
Head to Head Matchups (Since 2001)
Tampa Bay leads 4-1
Oct 10, 2010
CIN 21, TB 24
Oct 15, 2006
CIN 13, @TB 14
Sep 29, 2002
CIN 7, TB 35
Dec 2, 2001
CIN 13, TB 16
Research Notes
Jeremy Hill
has averaged 4.9 yards per rush, 7th best among qualified RB this season. Teammate
Giovani Bernard
has averaged only 3.9 yards per rush.
A.J. Green
has 19 100-yard receiving games in his career. Randy Moss is the only player in NFL History with more in his 1st 4 seasons (23).
Mike Evans
has caught at least 1 Rec TD in 4 straight games, tied for the longest streak by a rookie in the last 10 seasons.
The Bengals defense has sacked quarterbacks on only 3 percent of their dropbacks, the worst rate in the league. The other 2 teams with a sack percentage lower than 4% (Raiders and Falcons) are a combined 5-17 this year.
Josh McCown
was unable to get the ball to his wide receivers Sunday. McCown went 7-of-20 for 80 yards and an interception.
Mike Evans
alone had been averaging 84.1 receiving yards per game this season.
Andy Dalton
's 2nd-quarter interception was on a pass thrown to
A.J. Green
. Both of Dalton's interceptions today have been on passes to Green. Green has been the target on 16 interceptions since the start of the 2013 season, most in the NFL.
Andy Dalton
threw 3 interceptions in the 1st half Sunday, all on passes thrown 10+ yards downfield. Dalton had only 1 game with as many interceptions on those passes entering the day, but found his form in the 2nd half.
[+]
Doug Martin
's 7-yard rush TD gave him 48 rush yards on the day. His season-high entering the week was 45 rush yards. It was also his 2nd TD of the season and 1st since Week 4.
Andy Dalton
's interception on first play of the game was on a pass to
A.J. Green
. Green has been the targeted receiver on 15 interceptions since the start of last season, tied for the most in the NFL (
Vincent Jackson
).
ESPN Stats & Information