1:00 PM ET, November 30, 2014
M&T Bank Stadium, Baltimore, MD
Top Performers
Passing: P. Rivers (SD) - 383 YDS, 3 TD, 1 INT
Rushing: J. Forsett (BAL) - 24 CAR, 106 YDS
Receiving: K. Allen (SD) - 11 REC, 121 YDS, 2 TD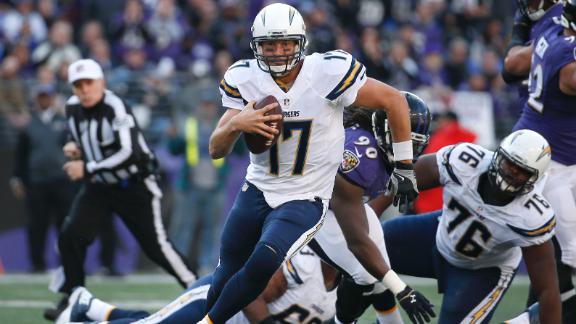 Sunday Blitz: Chargers-Ravens Recap
Jim Basquil and Merril Hoge break down the Chargers' 34-33 win over the Ravens.
Sunday Blitz: Chargers-Ravens Recap
VIDEO PLAYLIST
If the San Diego Chargers make the playoffs, they're going to be able to look back on the final five weeks of the season and boast some impressive victories.
That stretch begins Sunday in Baltimore, where the Ravens have won four straight and made things incredibly difficult on opposing offenses.
The Chargers (7-4) and Ravens (7-4) have aspirations for division titles, but Baltimore's might be the more realistic despite being in an AFC North with all four teams at least three games over .500. That's because San Diego's remaining schedule includes the Ravens, visits from New England and AFC West-leading Denver, and trips to San Francisco and Kansas City.
Emerging with an AFC West title might trump last season's four-game winning streak to squeak into the playoffs, and cornerback Brandon Flowers is remaining optimistic.
"We feel like we're in playoff mode right now because every team we're going to be playing the rest of the season feels they can't lose a game the rest of the season just to try to keep their playoff hopes alive," Flowers said.
"I guess it's good in a sense. We don't have any so-called trap games. Every team is coming in trying to win a game, so we're going to feel like we have to give every team our best shot and we're going to get everybody's best shot."
A trip to Baltimore may appear to be one of the more winnable games, but the Ravens have won four straight at home while limiting opponents to 7.5 points and 270.0 yards per game of total offense.
That's bad news for a San Diego offense that's often struggled to move the ball on the road. The Chargers are 2/3 away and have been held to averages of 18.2 points and 306.0 yards.
They could, however, have found something to build on in Sunday's 27-24 home win over St. Louis, which has emerged as a bit of a defensive pest. The Chargers put up 410 yards after averaging 258.8 in the preceding 1/3 stretch.
Philip Rivers was 29 of 35 for 291 yards, but it was the rushing attack that experienced the greatest awakening. In his second game back after a seven-game absence due to a sprained knee, Ryan Mathews gained 105 yards on 12 carries.
A repeat effort could be difficult against a fifth-rated rush defense (88.3 yards per game) that hasn't allowed a 100-yard rusher in 21 straight games -- tied with Arizona for the longest active streak. Still, there's room for optimism after the team's 5.82 per carry average against the Rams, which was easily San Diego's best of the season after entering with an AFC-worst 3.15 mark.
That's about the number the Ravens grew familiar with a season ago (3.14), but they've blown past it this year and find themselves ranked seventh in the NFL (4.62).
Even that number is an insult to Justin Forsett, who ran for a career-high 182 yards in Monday's 34-27 win in New Orleans. The first-year starter leads all running backs with 5.83 yards per carry.
"It's crazy, man. You think about where I was this time last year, mostly doing a lot of scout team work and coming in (to play) every once in a while," said Forsett, who had six carries with Jacksonville a season ago. "To just get the opportunity when I thought I would never get it again, it's a blessing."
The running game has allowed Joe Flacco to pick his spots and settle into what's thus far been his highest-rated season (92.6) since 2010 after dipping to a career-worst 73.1 mark a season ago. His current number is particularly significant because Baltimore is 43-7 when his rating is at least 90.0.
It was 120.7 against the Saints, and Flacco went 18 of 24 for 243 yards and a touchdown while going a second straight game without throwing an interception. Dating to last season, the Ravens have won the last seven games in which he hasn't thrown an INT.
He'd be wise to let the running game dictate things again versus the Chargers, who boast the sixth-rated pass defense in the league (221.3 ypg), while their run defense comes in at 15th (108.8). San Diego is 1-4 when it allows 109 yards or more.
San Diego has won the last eight games in which Rivers hasn't thrown in INT, and if he can protect the ball and handle the road environment, he might have a shot at a big day. The Ravens' defense ranks 29th against the pass (264.6).
The teams have split the last four meetings, but they've all been played in San Diego. The Chargers have lost both of their trips to Baltimore.
More from ESPN.com
Ravens cut former Super Bowl hero Jones
The Baltimore Ravens cut receiver-returner Jacoby Jones on Wednesday after a difficult season for the former Super Bowl hero.
Inglewood OKs fast-tracking of NFL stadium
The Inglewood City Council late Tuesday night approved plans to build a football stadium that includes St. Louis Rams owner Stan Kroenke as a partner, clearing a path for a return to the Los Angeles area of the NFL for the first time in two decades.
Chargers LB Johnson retires after 12 years
Outside linebacker Jarret Johnson announced his retirement from the NFL on Tuesday, ending a 12-year professional football career, including the final three seasons spent with the San Diego Chargers.
Ravens owner: 2014 'absolute crappy year'
Baltimore Ravens owner Steve Bisciotti called the 2014 season an "absolute crappy year" due to the yearlong Ray Rice scandal and multiple arrests within the organization.
Matchup
SD

BAL

W-L
8-4
7-5
Avg Points
2.8
2.8
Avg Points Allowed
2.8
2.8
Home Record
5-1
4-2
Road Record
3-3
3-3
Division Record
2-2
2-3
Conference Record
6-3
3-5
Complete Standings
Team Averages & NFL Ranks
TEAM OFFENSE
TEAM
PER GAME AVERAGE
Total Yards
SD

342
BAL

365
Yards Passing
SD

256
BAL

239
Yards Rushing
SD

85
BAL

126
TEAM DEFENSE
TEAM
PER GAME AVERAGE
Yards Allowed
SD

338
BAL

337
Pass Yds Allowed
SD

214
BAL

249
Rush Yds Allowed
SD

124
BAL

88
Head to Head Matchups (Since 2001)
Baltimore leads 4-3
Nov 25, 2012
SD 13, BAL 16
Dec 18, 2011
SD 34, BAL 14
Sep 20, 2009
SD 26, BAL 31
Nov 25, 2007
SD 32, BAL 14
Oct 1, 2006
SD 13, @BAL 16
Sep 21, 2003
SD 10, BAL 24
Research Notes
Justin Forsett
leads all running backs averaging 5.83 yards per rush this season. IF he finished the season with that average, it would be tied for the 7th-highest by any player since the 1970 NFL/AFL Merger (min. 150 rushes). Justin Forsett is coming off a career-high 182 rushing yards and has consecutive 100-yard rushing games. The last time a Ravens player rushed for 100 yards in 3 straight games was Jamal Lewis in 2003 (Weeks 14-17) when he ended up rushing for over 2,000 yards.
[+]
The Ravens offense has increased their yards per play in each of their last 3 games. No team in Week 12 had more yards per play than the Ravens at 7.9.
[+]
Torrey Smith
: 5th career multi-TD game (2nd this season after 0 in 2013)
San Diego's 4th center of this season (
Chris Watt
) just left with an injury, leaving
Trevor Robinson
at center (5th different C for SD). Entering today, the Chargers and 49ers were the only teams to use 4 centers this season.
Joe Flacco
posted a 93.6 Total QBR in 41 action plays during the Ravens loss to the Chargers Sunday. It's the 2nd-highest QBR posted by an QB in a loss in the last 9 seasons (min. 40 action plays).
Trent Dilfer just said "nobody is better amidst chaos than
Philip Rivers
" The numbers would agree. While the numbers below are low, keep in mind that the league average total QBR under pressure among the 27 players with at least 50 attempts when pressured is just 5.2 Which means Rivers is roughly 5 times better than the average QB under pressure this season.
[+]
- ELIAS: The combined win percentage of the Chargers final 5 opponents is .691, the toughest remaining schedule in the NFL.
[+]
Philip Rivers
was 34-of-45 for 383 yards, 3 touchdowns and 1 interception, a big performance as San Diego improved its position in the AFC playoff picture. - Rivers was 14-of-16 for 117 yards and 2 touchdowns against at least 5 rushers Sunday. - Rivers was 12-of-13 for 172 yards and 2 touchdowns when the Ravens sent at least 1 defensive back pass rusher. - Rivers was 8-of-8 for 156 yards on 3rd-down, and converted 1st downs on 8 of his 10 3rd-down dropbacks.
Torrey Smith
caught a season-high 6 of his 8 targets for 65 yards and 2 touchdowns Sunday, his 2nd multi-TD game of the season and 5th of his career. Flacco was 13-of-27 for 160 yards (5.9 yards per attempt) targeting all other players Sunday, and completed 54.2% of his passes targeting Smith this season entering Sunday.
Philip Rivers
was 8-8 passing with 156 yards, and a nearly perfect Total QBR on 3rd down Sunday. He had struggled in his previous 5 games on 3rd down, throwing 0 touchdowns with 3 picks, while posting a 17.3 Total QBR.
[+]
ESPN Stats & Information