1:00 PM ET, November 30, 2014
Ralph Wilson Stadium, Buffalo, NY
Top Performers
Passing: B. Hoyer (CLE) - 192 YDS, 2 INT
Rushing: F. Jackson (BUF) - 21 CAR, 70 YDS
Receiving: M. Austin (CLE) - 7 REC, 86 YDS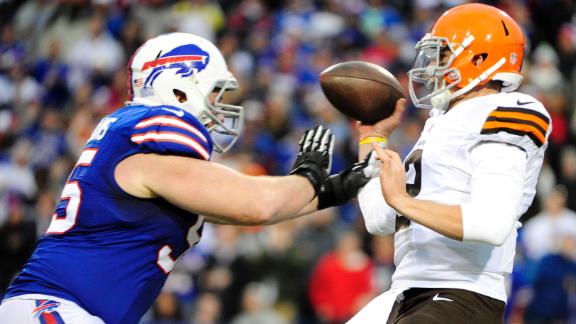 Sunday Blitz: Browns-Bills Recap
Jim Basquil and Merril Hoge break down the Bills' 26-10 win over the Browns.
Sunday Blitz: Browns-Bills Recap
VIDEO PLAYLIST
Mike Pettine received the opportunity to coach the Cleveland Browns after one successful season running the Buffalo Bills' defense.
Thanks to an expedited snow thaw, Pettine returns to suburban Buffalo for the first time Sunday as the Browns and Bills each try to improve their playoff chances.
After more than 6 feet of snow fell on the Buffalo area and forced the Bills to play last Sunday's scheduled home game a day later some 270 miles west in Detroit, Ralph Wilson Stadium is expected to be operational enough to host these surprising AFC playoff contenders.
"I'm just happy we're home," Bills president Russ Brandon said after the team returned from Monday's 38-3 victory over the New York Jets.
It will be a homecoming of sorts for Pettine, who after four seasons as Rex Ryan's defensive coordinator with the Jets held the same role in Buffalo in 2013. Under Pettine's guidance, the Bills ranked 10th by allowing 333.4 yards per game -- 29.5 yards fewer and 12 spots higher than 2012.
"He did an excellent job of improving our defense," current Buffalo coach Doug Marrone told the team's official website.
While Pettine's Browns rank 20th in total defense this season (367.1 ypg), the Bills under defensive coordinator and former Detroit coach Jim Schwartz are fourth (312.2).
Cleveland (7-4), however, is one game ahead of the Bills (6-5), though both remain outside of playoff position.
"The bottom line is that you've got to keep winning," Pettine said. "Each week presents a new week of challenges."
The Browns' defense took a big hit during last Sunday's 26-24 victory at Atlanta when safety Tashaun Gipson suffered a knee sprain that could end his season. He leads the NFL with six interceptions.
While Gipson's season might have ended at Georgia Dome, Josh Gordon's began as he caught eight passes for 120 yards in his first appearance after serving a 10-game league suspension for violating the drug policy.
Gordon, who led the NFL with 1,646 receiving yards in 2013, will continue to get his looks from Brian Hoyer.
The sixth-year quarterback remains the starter despite throwing two of his three interceptions in the fourth quarter last Sunday. Hoyer's final pick led to a field goal that gave Atlanta a one-point lead with 44 seconds left.
However, Hoyer completed four passes on the next drive to help set up a 37-yard Billy Cundiff field goal that sent Cleveland to its sixth win in eight contests.
With 322 yards, Hoyer has thrown for at least 300 in three of the last four games but also has six INTs with three TDs during that span. Hoyer's teammates, though, remain committed to him as their starter.
"I've said it before: I don't think there's ever a time during a game when we think we're out of it because we have No. 6 running the show," said Andrew Hawkins, who had five catches for 93 yards at Atlanta. "It's not just him. The guys around him are all busting their butts."
Pettine said he never thought about pulling Hoyer in favor of rookie Johnny Manziel, who garnered some off-field attention after a Browns fan claimed he was struck by a member of the quarterback's entourage at a downtown Cleveland hotel early Saturday morning.
Hoyer, who was hard on himself during the post-game press conference, should be eager to bounce back and play the same opponent he faced while suffering a season-ending knee injury in the Browns' 37-24 victory over the visiting Bills on Oct. 3 of last year.
He was injured on a hit by Buffalo linebacker Kiko Alonso while sliding at the end of an 11-yard run. Alonso, ironically, hasn't played this season after suffering a severe knee injury over the summer.
Hoyer can stay healthy by handing off to rookie Isaiah Crowell, who rushed for 88 yards and two TDs on 12 carries against the Falcons. With 149 yards in the last two contests and Ben Tate gone, Crowell appears to be Cleveland's main option ahead of fellow rookie Terrance West.
The Bills allowed an NFL-low average of 2.79 yards per rush through their first six games but have surrendered a league-worst 5.25 per carry in their last five.
Buffalo allowed a season-low 218 total yards against the Jets, though, and increased its NFL-leading sack total to 46 with seven during its most-lopsided victory since a 38-0 rout of Indianapolis on Sept. 20, 1992.
"It was just a busy, hectic week. And really this win was for the city of Buffalo, giving back for everything that they've been through," said second-year receiver Robert Woods, who set career highs with nine catches and 118 yards while also scoring the game's first TD.
"It feels good, especially after a win. Now we've just got to get another one."
Buffalo has a winning record after 11 games for the first time since 2008 and only the third time since last reaching the playoffs in 1999.
Kyle Orton, who went 24 of 32 for 230 yards with two touchdowns Monday, has seven TDs and no INTs in his last four games.
Gordon had four receptions for 86 yards and a TD against the Bills last season. Buffalo's Fred Jackson totaled 93 yards and ran for two scores in that contest.
Matchup
CLE

BUF

W-L
7-5
7-5
Avg Points
.8
2.2
Avg Points Allowed
2.2
.8
Home Record
4-2
4-3
Road Record
3-3
3-2
Division Record
2-2
3-2
Conference Record
4-5
4-5
Complete Standings
Team Averages & NFL Ranks
TEAM OFFENSE
TEAM
PER GAME AVERAGE
Total Yards
CLE

325
BUF

319
Yards Passing
CLE

217
BUF

226
Yards Rushing
CLE

108
BUF

93
TEAM DEFENSE
TEAM
PER GAME AVERAGE
Yards Allowed
CLE

366
BUF

312
Pass Yds Allowed
CLE

225
BUF

206
Rush Yds Allowed
CLE

142
BUF

106
Head to Head Matchups (Since 2001)
Series tied 4-4
Oct 3, 2013
CLE 37, BUF 24
Sep 23, 2012
CLE 14, BUF 24
Dec 12, 2010
CLE 6, @BUF 13
Oct 11, 2009
CLE 6, @BUF 3
Nov 17, 2008
CLE 29, @BUF 27
Dec 16, 2007
CLE 8, BUF 0
Dec 12, 2004
CLE 7, @BUF 37
Research Notes
The Browns were the only team this season with 4 members of the secondary playing at least 96% of the team's defensive snaps. No other member of the Browns secondary had played more than 34% of the team's snaps.
[+]
Both the Bills (6-5) and Browns (7-4) are above .500 and in the hunt for a playoff spot. It's been over 10 years since either team has made the postseason.
[+]
Over the last 4 weeks,
Brian Hoyer
has the 2nd-worst completion percentage of any qualifying QB at 53.7%. His 6 interceptions trail only
Eli Manning
for the most in that span. Hoyer does have 4 game-winning drives this season, tied with
Tony Romo
for most in the NFL.
[+]
Josh Gordon
played 49 snaps in his Week 12 return, or 69.0% of the Browns' offensive snaps. He was targeted on 17 of the 34 pass routes he ran in the game. Hoyer was 8 of 17 (47.1%) with 2 interceptions targeting Gordon in his return to action in Week 12. Hoyer has struggled more than other Browns QBs targeting Gordon the past 2 seasons.
[+]
If there's any consolation to 1 TD and 6 interceptions in his last 3 games: Hoyer has faced 2 of the top 5 defenses in terms of efficiency in his last 3 games (Bills #1, Texans #5)
In 2 games with
Josh Gordon
this season,
Brian Hoyer
threw 0 TD passes and 5 interceptions, 3 of which were on targets to Gordon.
[+]
Johnny Manziel
was 3-for-4 for 54 yards and a 10-yard TD run on his first drive of the game. He was 2-for-2 on passes traveling at least 15 yards downfield.
The Bills scored 2 TD in a 10-second span in the 3rd quarter after being held scoreless for the first 36:56 of the game.
Kyle Orton
's 2nd quarter interception snapped a streak of 166 consecutive passes without an interception, the 2nd longest streak of his career (205 in 2008).
Johnny Manziel
was in motion often on his dropbacks Sunday, breaking the pocket 5 of the 10 times he dropped back to pass. He went 1-of-3 for 12 yards on passes out of the pocket Sunday, and scrambled twice for 13 yards and a touchdown. It was the first rush TD for a Browns quarterback since Week 9 of the 2010 season (
Colt McCoy
).
Brian Hoyer
went 1-of-6 with 2 interceptions on passes thrown 15+ yards downfield Sunday, and struggled on those passes in the last 3 games.
Johnny Manziel
went 2-of-2 on those passes in the 4th quarter.
[+]
Johnny Manziel
's rush TD was the 1st by a Browns QB since
Colt McCoy
in Week 9 of the 2010 season. The Browns had gone 67 straight games without a rush TD from their QB.
Brian Hoyer
intercepted targeting
Josh Gordon
. 3 of his 4 interceptions the past 2 weeks have been while targeting Gordon.
Brian Hoyer
in his last 2 games completed 58.7% of his passes with 0 TD and 5 Int. He was relieved by
Johnny Manziel
in the 4th quarter Sunday.
ESPN Stats & Information