1:00 PM ET, November 30, 2014
NRG Stadium, Houston, TX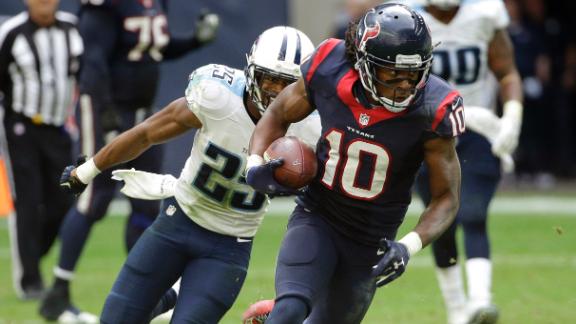 Sunday Blitz: Titans-Texans Recap
Jim Basquil and Merril Hoge break down the Texans' 45-21 win over the Titans.
Sunday Blitz: Titans-Texans Recap
VIDEO PLAYLIST
The Houston Texans need to be nearly perfect from here on out to have any chance at the playoffs. They'll also need Ryan Fitzpatrick to step up.
If the Texans are to make a last-ditched bid for the postseason, they'll have to succeed through another quarterback change as Fitzpatrick resumes the starting role Sunday against the visiting Tennessee Titans.
Houston (5-6) stands as a longshot in the playoff picture but has a chance to put itself in the mix with four AFC South games remaining. One is against first-place Indianapolis, which is 7-5, but two are against league-worst Jacksonville and this one is at home against a Tennessee team which has lost five in a row.
However, any potential playoff run will be without quarterback Ryan Mallett, who suffered a torn right pectoral muscle in last Sunday's 22-13 loss to Cincinnati and will miss the rest of the season.
Fitzpatrick was benched in favor of Mallett following a Week 9 loss to Philadelphia in which he completed 13 of 27 passes for 203 yards, two touchdowns and one interception. He won his first two starts without getting picked off or being sacked, but he had eight interceptions and was sacked 20 times in his next seven, going 2-5.
"I don't think so," Fitzpatrick said when asked whether it is difficult to move from the bench to the starter position. "I think it's like riding a bike.
"That's what being a quarterback is. That's what kind of my whole career has been."
Fitzpatrick's only win in his past five games came against the Titans, for whom he made nine starts last season. That's also the only time in his last seven games he didn't commit a turnover, going 19 of 35 for 227 yards and a touchdown in a 30-16 road win Oct. 26.
Neither Fitzpatrick nor Mallett had been particularly successful in igniting a Texans passing attack that features receivers Andre Johnson and DeAndre Hopkins. Houston ranks 28th with 207.5 passing yards per game.
The primary source of Houston's offense has been the running game, consisting of Arian Foster and Alfred Blue. Foster, averaging 102.8 rushing yards per game and 5.1 per carry, has missed Houston's last two games with a groin injury but could return Sunday.
"I think there is a potential that he could play," coach Bill O'Brien said. "He feels better today. Hopefully he'll be out there at practice. Hopefully that's something that he'll be able to help us on game day."
Blue has performed admirably in Foster's absence, rushing 52 times over the past two contests for 202 yards. The Texans are averaging an AFC-best 137.3 rushing yards, and they're facing a Titans run defense which has allowed more than 150 in four straight games.
Tennessee (2-9) also is badly struggling to run the ball with 88.8 yards per game. Rookie Bishop Sankey has not surpassed 61 rushing yards in any game despite getting the bulk of the workload in recent weeks, providing little support to Zach Mettenberger.
The rookie quarterback has thrown for seven touchdowns and an average of 271.5 yards in four games since taking over as the starter, but he's lost them all. He completed 20 of 39 passes for 345 yards with two touchdowns and one interception in last Sunday's 43-24 loss to Philadelphia.
"I think I remember Peyton Manning being 3-13 his first year," coach Ken Whisenhunt said. "Not that I'm saying that it's OK not to win games. We need to win a game as a football team, and that would certainly help with Zach, but he's making progress in areas that you like to see from a young quarterback."
Mettenberger's starting debut came against Houston, and he struggled in the first half but would finish 27 of 41 for 299 yards and two TDs.
J.J. Watt sacked him twice and imitated the rookie by taking a mock "selfie." Mettenberger had posted photos of himself to his social media accounts prior to his first start.
"It's just kind of a reminder, this is the National Football League, not high school," Watt said following the Week 8 win. "Welcome to the show."
Tennessee enters the rematch having dropped nine of 10 and mired in its longest losing streak since a six-game skid in 2010.
"It's not a lot of fun," Whisenhunt said. "I enjoy working with these guys. I enjoy being here. The fans have been good with me, but it's not fun.
"I love doing this job, but you still feel sick when you don't do what you're supposed to do."
The Titans have lost four of the last five meetings, including the past two in Houston.
Matchup
TEN

HOU

W-L
2-10
6-6
Avg Points
1.8
3.8
Avg Points Allowed
3.8
1.8
Home Record
1-4
3-3
Road Record
1-6
3-3
Division Record
1-3
2-1
Conference Record
2-7
5-3
Complete Standings
Team Averages & NFL Ranks
TEAM OFFENSE
TEAM
PER GAME AVERAGE
Total Yards
TEN

304
HOU

345
Yards Passing
TEN

213
HOU

210
Yards Rushing
TEN

90
HOU

135
TEAM DEFENSE
TEAM
PER GAME AVERAGE
Yards Allowed
TEN

373
HOU

348
Pass Yds Allowed
TEN

236
HOU

243
Rush Yds Allowed
TEN

137
HOU

105
Head to Head Matchups (Since 2001)
Tennessee leads 15-11
Oct 26, 2014
TEN 16, HOU 30
Dec 29, 2013
TEN 16, HOU 10
Sep 15, 2013
TEN 24, @HOU 30
Dec 2, 2012
TEN 10, HOU 24
Sep 30, 2012
TEN 14, @HOU 38
Jan 1, 2012
TEN 23, @HOU 22
Oct 23, 2011
TEN 7, HOU 41
Dec 19, 2010
TEN 31, HOU 17
Nov 28, 2010
TEN 0, @HOU 20
Nov 23, 2009
TEN 20, @HOU 17
Sep 20, 2009
TEN 31, HOU 34
Dec 14, 2008
TEN 12, @HOU 13
Sep 21, 2008
TEN 31, HOU 12
Dec 2, 2007
TEN 28, HOU 20
Oct 21, 2007
TEN 38, @HOU 36
Dec 10, 2006
TEN 26, @HOU 20
Oct 29, 2006
TEN 28, HOU 22
Dec 11, 2005
TEN 13, HOU 10
Oct 9, 2005
TEN 34, @HOU 20
Nov 28, 2004
TEN 21, @HOU 31
Oct 17, 2004
TEN 10, HOU 20
Dec 21, 2003
TEN 27, @HOU 24
Oct 12, 2003
TEN 38, HOU 17
Dec 29, 2002
TEN 13, @HOU 3
Nov 10, 2002
TEN 17, HOU 10
Research Notes
Ryan Fitzpatrick
will start as
Ryan Mallett
suffered a torn pectoral muscle that ended his season last week. Fitzpatrick is 2-5 in his last 7 starts after going 2-0. He's thrown 8 interceptions and has been sacked 20 times after not throwing a pick and not being sacked in those first 2 games.
[+]
The one thing QB in the NFL cannot do is turnover the ball on 1st down. Two QB who recently got their starting jobs back for different reasons have a huge issue with this,
Ryan Fitzpatrick
with the season-ending injury to
Ryan Mallett
and
Geno Smith
, with the benching of
Michael Vick
.
[+]
From Elias:
Ryan Fitzpatrick
(Harvard) is the 2nd Ivy League QB with 6 Pass TD in a single game in NFL history. The other was Sid Luckman (Columbia) , who threw 7 Pass TD on Nov. 14, 1943.
Ryan Fitzpatrick
threw 4 pass TD Sunday on passes that traveled no more than 10 yards past the line of scrimmage. He's the 5th QB this season with 4 such TD in a game. Fitzpatrick also threw 2 pass TD on passes thrown 30+ yards downfield Sunday. He's just the 3rd QB this season with multiple TD on those passes in a game.
Ryan Fitzpatrick
was 9-of-9 for 238 yards and 2 TD targeting
DeAndre Hopkins
Sunday, including 5-of-5 10+ yards downfield. It's the most targets without an incompletion for Hopkins in his career. 4 of Hopkins receptions gained at least 30 yards Sunday. He had 6 such receptions entering the week.
Ryan Fitzpatrick
(HOU): 2 TD passes in 1st quarter; 4th time with 2 pass TD in the 1st quarter in his career. (1st since Week 3 2012)
Jake Locker
took over at QB for the injured Zach Mettennberger Sunday. Both quarterbacks threw an Int on their first pass attempt Sunday.
Home teams outscored road teams 72-16 in the 1st quarter of the 1p ET kickoffs.
From Elias:
J.J. Watt
is the first player with 3 offensive TD and 2 defensive TD in a single season -- regardless of position since Joe Golding in 1948 (4 Rec TD & 2 Int Ret TD)
This is
J.J. Watt
's 2nd game in the last 3 weeks with a forced fumble, fumble recovery AND receiving TD. No other player in the last 5 seasons had one.
ESPN Stats & Information