4:25 PM ET, September 28, 2014
Levi's Stadium, Santa Clara, CA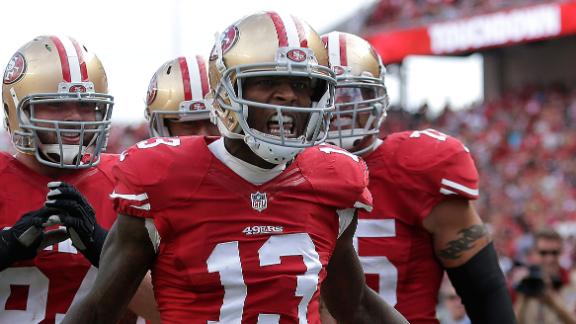 Sunday Blitz: Eagles-49ers Recap
Jim Basquil and Eric Allen talk about how the 49ers handed the Eagles their first loss of the season.
Sunday Blitz: Eagles-49ers Recap
VIDEO PLAYLIST
Sunday Blitz: Eagles-49ers Recap

Sunday Blitz: Eagles-49ers Recap

Jim Basquil and Eric Allen talk about how the 49ers handed the Eagles their first loss of the season.
The Philadelphia Eagles have overcome repeated deficits -- and substantial offensive line attrition -- for their best start in 10 years.
The San Francisco 49ers have opened in disappointing fashion for the second consecutive season.
They're hoping Week 4 again proves to be the start of a turnaround Sunday when Philadelphia visits San Francisco.
The Eagles (3-0) are one of three remaining undefeated teams following last Sunday's 37-34 home win over Washington. They became the first club in league history to win its first three games despite trailing by at least 10 points in each.
"We stick together and there's a great camaraderie," said Nick Foles, who leads the NFL with 326.0 passing yards per game. "In the locker room during games like that, we lean on each other instead of blaming each other."
Philadelphia amassed 379 yards of offense against a Redskins defense that had previously given up an NFL-leading average of 234.5. Jeremy Maclin continued his strong start, catching eight passes for 154 yards and a touchdown, and rookie Jordan Matthews scored on two of his eight receptions.
The Eagles are second in the league with 33.7 points per game.
"We can score quick and we can score in bunches," said Maclin, who is averaging 98.7 receiving yards -- fifth-most in the NFL.
Despite being 3-0 for the first time since a 7-0 start in 2004, Philadelphia has had to deal with a lack of continuity along the offensive line after no starter missed a game in 2013.
Center Jason Kelce is the latest to be hit by injury and will undergo sports hernia surgery, likely sidelining him for at least eight weeks. Right tackle Lane Johnson is serving the last of a four-game suspension after testing positive for a banned substance. Allen Barbre, his initial fill-in, broke his ankle in the opener against Jacksonville, and left guard Evan Mathis is set to miss at least six more weeks with a knee injury.
"I don't have a level of concern," coach Chip Kelly said. "I just ask who's available, and let's play."
The beleaguered unit hasn't allowed a sack in back-to-back games but could be making things more difficult for LeSean McCoy, who carried the ball 19 times for 22 yards against the Redskins. The 1.2 yards-per-carry average was the worst of his career in a game in which he ran at least 10 times.
The 49ers (1-2) own the same three-game record for the second straight year after last Sunday's 23-14 loss at Arizona and are looking to avoid their worst start since going 0-5 in 2010.
They rebounded last year to win 11 of their final 13 games en route to an NFC championship appearance, but it's not clear if this group has the same resolve after blowing two second-half leads.
The 49ers led 14-6 at halftime against the Cardinals and 20-7 after three quarters of the previous week's 28-20 defeat to Chicago. They remain the league's only team yet to score in the fourth quarter.
"We've been in this position before where there is an ebb and a flow to the season. We're in it now," coach Jim Harbaugh said. "That's the great challenge for our football team and I have great confidence that we'll attack it."
San Francisco may want to get back to establishing the run after having just nine carries by its running backs against the Cardinals and 18 against the Bears. The team's backs ran 25 times for 116 yards in the opener versus Dallas.
Frank Gore's six carries against Arizona matched his fewest in his last 51 regular-season games. His 276 rushes last year tied for eighth-most in the league.
Offensive coordinator Greg Roman said Gore's lack of carries was a function of San Francisco's game plan, which intended to use the pass early to set up the rushing attack later.
"In a perfect world, you're letting Frank and the offensive line take over the game at the end of the game," Roman told the team's official website. "But we weren't in that situation, so we were never really able to transition into that."
Foles owns a 127.8 passer rating over his last seven road games with 21 TDs compared to two picks, helping Philadelphia go 6-1.
The 49ers are looking to avoid back-to-back home losses for the first time since 2010.
San Francisco leads the all-time series 17-12-1 and snapped a five-game skid to the Eagles in the last meeting, winning 24-23 in Philadelphia on Oct. 2, 2011. Gore had 127 yards rushing while McCoy was held to 18.
More from ESPN.com
Fantasy; LeSean McCoy a top-10 RB in Buffalo
Christopher Harris on the Buffalo Bills' and Philadelphia Eagles' backfields once LeSean McCoy is traded for Kiko Alonso.
Free-agency buyer's guide: Eagles


Biggest free-agency needs, top targets and predictions on how everything will play out for the Philadelphia Eagles.
Matchup
PHI

SF

W-L
3-1
2-2
Avg Points
5.3
6.5
Avg Points Allowed
6.5
5.3
Home Record
2-0
1-1
Road Record
1-1
1-1
Division Record
1-0
0-1
Conference Record
1-1
2-2
Complete Standings
Team Averages & NFL Ranks
TEAM OFFENSE
TEAM
PER GAME AVERAGE
Total Yards
PHI

397
SF

327
Yards Passing
PHI

272
SF

191
Yards Rushing
PHI

125
SF

136
TEAM DEFENSE
TEAM
PER GAME AVERAGE
Yards Allowed
PHI

376
SF

321
Pass Yds Allowed
PHI

265
SF

221
Rush Yds Allowed
PHI

111
SF

101
Head to Head Matchups (Since 2001)
Philadelphia leads 6-4
Oct 2, 2011
PHI 23, SF 24
Oct 10, 2010
PHI 27, @SF 24
Dec 20, 2009
PHI 27, SF 13
Oct 12, 2008
PHI 40, @SF 26
Sep 24, 2006
PHI 38, @SF 24
Sep 18, 2005
PHI 42, SF 3
Dec 21, 2003
PHI 28, SF 31
Nov 25, 2002
PHI 38, @SF 17
Dec 22, 2001
PHI 3, @SF 13
Research Notes
From Elias: According to Elias, Philadelphia's
LeSean McCoy
is the first running back since 2004 to have fewer than 40 yards combined in consecutive games the season after winning the NFL rushing title and just the 3rd player since 1990 to do so.
[+]
Through the first 3 quarters the Eagles have punted 5 times and turned it over 3. The Eagles have advanced past their own 40-yard line on just 1 drive today. They have 0 plays that started inside 49ers territory. The only time the Eagles had the ball in 49ers territory was
Riley Cooper
's fumbled at the end of the first half.
We all know the zone read has stormed into the NFL as a result of spread offenses becoming more prevalent in college. The Eagles offense under Chip Kelly has produced the most yards and TD, dating back to 2011 when Andy Reid was still coach. Also, usage of the zone read shot up last season from the 2012 season.
[+]
With
Stevie Johnson
3rd quarter TD, the 49ers now have more 2nd half points today than they had in the first 3 games combined (3).
The Eagles rushed for 22 yards on 12 rushes Sunday, falling two yards short of their yards per rush average entering Sunday. Offensive line injuries are starting to catch up to Philadelphia because the rushers won't break tackles - the Eagles had 6 yards after contact on 12 rushes in Sunday's game and didn't record multiple yards after contact on any rush.
[+]
Nick Foles
was 0-of-10 with two interceptions on passes traveling more than 20 yards downfield Sunday. It is the most attempts without a completion on such throws in ESPN Stats & Info's dataset (since 2006).
[+]
LeSean McCoy
had a career-low 17 rushing yards (as starter) after rushing for 22 yards last week. He's combined for 39 rushing yards with no receptions or touchdowns during his last 2 games.
[+]
The 49ers pressured Foles on 27% of his dropbacks Sunday after pressuring opposing quarterbacks on an NFL-low 12% of dropbacks through their first three games.
Nick Foles
completed 3-of-11 passes for 36 yards and an interception when under duress Sunday.
Nick Foles
is 0-of-7 with an interception on passes traveling more than 10 yards downfield. Five of them have been off-target
Stevie Johnson
's 3rd quarter TD reception was the first by a 49ers wide receiver not named Crabtree or Boldin since Randy Moss. Moss hasn't played in the NFL since 2012.
[+]
The 49ers had 14 rushes for 148 yards outside the tackles Sunday, the second most they have had in a game since 2006 (Stats & Info's dataset). It is also the most rushing yards a team has had outside the tackles since the start of last season.
Colin Kaepernick
's touchdown pass to
Frank Gore
in the second quarter was his first touchdown pass after the first quarter this season.
ESPN Stats & Information