4:05 PM ET, September 28, 2014
Qualcomm Stadium, San Diego, CA
Top Performers
Passing: P. Rivers (SD) - 377 YDS, 3 TD
Rushing: T. Gerhart (JAX) - 10 CAR, 32 YDS, 1 TD
Receiving: K. Allen (SD) - 10 REC, 135 YDS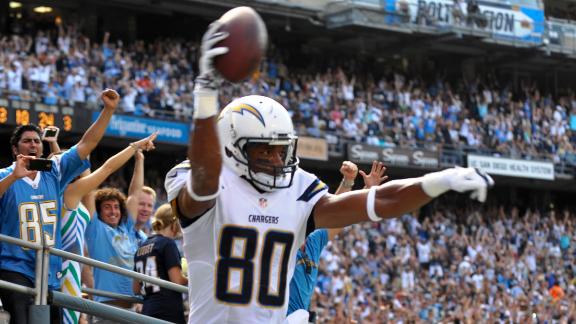 Sunday Blitz: Jaguars-Chargers Recap
Jim Basquil and Eric Allen break down the Chargers 33-14 win over the Jaguars.
Sunday Blitz: Jaguars-Chargers Recap
VIDEO PLAYLIST
Blake Bortles showed enough ability and poise last weekend to earn the Jacksonville Jaguars' starting quarterback job.
Winning his first start figured to be difficult no matter who the opponent is, and that could be even more the case given how the San Diego Chargers' Philip Rivers has shredded the Jaguars in the past.
These quarterbacks selected high in the first round 10 years apart will be in the spotlight Sunday in San Diego, where Rivers is expected to guide the Chargers to a third straight victory.
When Jacksonville (0-3) trailed 30-0 at halftime last Sunday in an eventual 44-17 defeat to Indianapolis, coach Gus Bradley opted to bench veteran Chad Henne in favor of Bortles -- the No. 3 overall selection this year.
Bortles was 14 of 24 for 223 yards with two touchdowns, two interceptions and one sack while also gaining 30 yards on two carries in his first pro action. Henne went 4 of 7 for 33 yards and was sacked three times. Bradley said after the contest that Bortles will start this weekend.
"I just love his mindset," Bradley said. "I love the strength that he has. He is a tough, hard-nosed competitor and he will attack. And the team felt that part of it. It's no coincidence that all of a sudden we blocked a little bit better and the receivers played a little bit better. He has a way to uplift people and uplift the team."
The Jaguars have been outscored by a league-worst 75 points this season. They had scored one touchdown in their last 10 quarters before Bortles found Allen Hurns for a 63-yard TD in the fourth and Cecil Shorts III for a 10-yard score in the closing seconds.
"It was definitely good to get some game action before you go into the week of practice," Bortles said. "So I mean kind of taking it one day at a time, try to learn from everything, every experience, situation you get put in and move on."
Bortles, though, won't be able to help a Jaguars defense yielding an NFL-worst 466.0 yards per game.
San Diego (2-1) has taken the last three meetings by an average of 22.3 points behind Rivers, who has gone 66 of 83 for 913 yards, seven touchdowns and two interceptions in those games. Rivers was 22 of 26 for 285 yards and a score in last season's 24-6 win at Jacksonville, with his 84.6 completion percentage being the second-highest of his career.
Six different Chargers have at least six receptions this season from the No. 4 pick of the 2004 draft. Rivers has five TDs, no interceptions and a 74.2 completion percentage in consecutive victories, with the Chargers winning 22-10 at Buffalo on Sunday.
"We're all unselfish, we all try to come in and do our job," receiver Keenan Allen said. "Whoever Phil hits, pretty sure he's going to hit the right guy so we just go with it and try to win the game."
The backfield behind Rivers has become very thin. Already missing starting running back Ryan Mathews (knee), the Chargers lost Danny Woodhead for the season to a broken right leg suffered against the Bills.
"He's a true professional," coach Mike McCoy said. "We're going to miss him but we've got to move on."
The primary load at running back will remain with Donald Brown, who carried a career-high 31 times for 62 yards last weekend. Undrafted rookie Branden Oliver was the only other running back on the roster before Shaun Draughn was signed Tuesday.
"My mindset hasn't changed," Brown said. "You always prepare like you're going to start and get all the reps because you never know what's going to happen. Be prepared for any and every situation."
Brown and Oliver may like their chances of being productive against a Jaguars defense yielding an NFL-worst 160.0 rushing yards per game even with the unit holding Philadelphia star LeSean McCoy to 74 yards in the season opener.
"We've got some guys doing the right thing and some guys not," Jacksonville defensive tackle Roy Miller said. "But when you're playing in the NFL, that kind of stuff gets you beat. It's a recurring theme that we need to get fixed."
Offensively, Bortles likely will be without one of his top targets in Marqise Lee. The rookie receiver won't practice this week after sitting out last Sunday with a right hamstring injury.
The Chargers will be without linebacker Manti Te'o, who shares the team lead in tackles (18) but fractured his right foot last Sunday.
More from ESPN.com
San Diego pushing to keep Chargers around
San Diego Mayor Kevin Faulconer announced Thursday that the city and county will collaborate to facilitate future talks on a stadium deal with the Chargers.
Goodell: Long-term fit vital for move to L.A.
NFL commissioner Roger Goodell told reporters at the conclusion of the league owners meetings here on Wednesday that speed is not driving the process in the inevitable return of professional football to Los Angeles.
McCoy: Plan is for Rivers to retire a Charger
Essentially asked the same question several different times over a 45-minute period during the AFC coaches breakfast at the NFL owners meetings Tuesday, San Diego Chargers coach Mike McCoy did not waver on the future of his quarterback, Philip Rivers.
NFL delves into stadium, relocation details
As momentum builds toward an NFL return to Los Angeles, Eric Grubman, the league's point man on relocation, addressed the assembled owners on what's happening in Los Angeles, St. Louis, Oakland and San Diego on Monday morning.
Matchup
JAX

SD

W-L
0-4
3-1
Avg Points
3.5
8.3
Avg Points Allowed
8.3
3.5
Home Record
0-1
2-0
Road Record
0-3
1-1
Division Record
0-1
0-0
Conference Record
0-2
2-0
Complete Standings
Team Averages & NFL Ranks
TEAM OFFENSE
TEAM
PER GAME AVERAGE
Total Yards
JAX

290
SD

342
Yards Passing
JAX

188
SD

256
Yards Rushing
JAX

102
SD

85
TEAM DEFENSE
TEAM
PER GAME AVERAGE
Yards Allowed
JAX

371
SD

338
Pass Yds Allowed
JAX

244
SD

214
Rush Yds Allowed
JAX

127
SD

124
Head to Head Matchups (Since 2001)
San Diego leads 5-2
Oct 20, 2013
JAX 6, SD 24
Dec 5, 2011
JAX 14, SD 38
Sep 19, 2010
JAX 13, @SD 38
Nov 18, 2007
JAX 24, SD 17
Oct 10, 2004
JAX 21, @SD 34
Oct 5, 2003
JAX 27, SD 21
Research Notes
Philip Rivers
had at least 3 Pass TD in a game for the eighth time in the last two seasons, the second-most such games in the NFL behind
Peyton Manning
(13).
Blake Bortles
' 37 pass attempts traveled an average of 4.7 yards downfield, the sixth-fewest air yards per attempt for a quarterback in a game this season. Blake Bortles completed 21-of-25 passes thrown 5 or fewer yards downfield for 104 yards, a touchdown and an interception Sunday.
Philip Rivers
completed 7-of-10 passes thrown 15 or more yards downfield for 191 yards and three touchdowns Sunday, completing each of his first seven deep attempts. Rivers was 3-of-4 for 106 yards and two touchdowns when targeting
Eddie Royal
on such throws. - Sunday was Rivers' second career game with three touchdown passes thrown at least 15 yards downfield (Week 13 2011 vs Jaguars).
[+]
Philip Rivers
is 4-of 4 with two touchdowns on throws traveling 15+ yards downfield, including 3-of-3 targeting
Eddie Royal
. The last time Rivers had more than 4 deep completions in a game was Week 9 of last season (5 vs Redskins)
ESPN Stats & Information