4:30 PM ET, November 27, 2014
AT&T Stadium, Arlington, TX
Top Performers
Passing: M. Sanchez (PHI) - 217 YDS, 1 TD
Rushing: L. McCoy (PHI) - 25 CAR, 159 YDS, 1 TD
Receiving: J. Maclin (PHI) - 8 REC, 108 YDS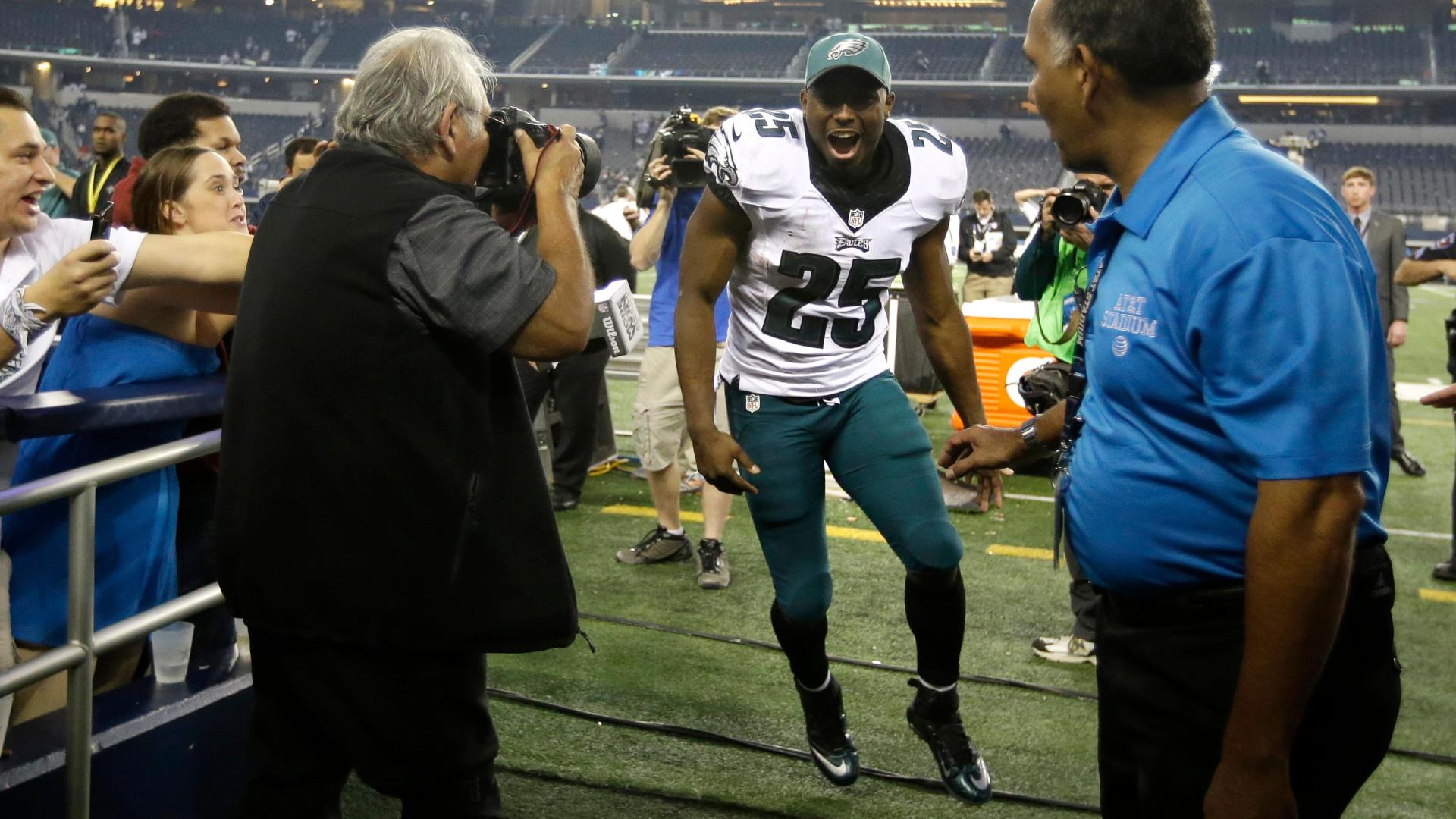 Game Balls: Eagles at Dallas
Eagles reporter Phil Sheridan's game ball goes to LeSean McCoy, who rushed for 156 yards and topped 1,000 yards on the season. Cowboys defensive tackle Tyrone Crawford gets the game ball from Todd Archer with the first sack of his career.
Game Balls: Eagles at Dallas
VIDEO PLAYLIST
Game Balls: Eagles at Dallas

Game Balls: Eagles at Dallas

Eagles reporter Phil Sheridan's game ball goes to LeSean McCoy, who rushed for 156 yards and topped 1,000 yards on the season. Cowboys defensive tackle Tyrone Crawford gets the game ball from Todd Archer with the first sack of his career.
With sole possession of first place in the NFC East on the line, the Philadelphia Eagles and Dallas Cowboys haven't had much time to prepare for a Thanksgiving showdown.
In the first of two meetings across 18 days, the Eagles look to remain unbeaten in the division and improve to 6-0 on the holiday when they try to deny the Cowboys a third consecutive victory.
"It's going to be a great game," Philadelphia defensive end Fletcher Cox said of the matchup between 8-3 teams. "I'm really excited, man. I'm looking forward to it. We're ready to roll. We're ready for Thursday."
Although the rivals enter the contest in a first-place tie, the Eagles have a slight advantage with a 2-0 mark in the East, while Dallas is 2-1 with the loss coming 20-17 at home against Washington on Oct. 27.
Philadelphia recovered from a blowout loss at Green Bay in Sunday's 43-24 home win over Tennessee. Mark Sanchez had a team record-tying third straight 300-yard passing day, while LeSean McCoy ran for 130 yards and a touchdown.
"We had to stay focused on Tennessee all week," linebacker Trent Cole said. "That was the next game. And we were coming off a bad game. So there was no reason to think about Dallas. But now we can. Now, it's all about Dallas. If you can't get excited for this game, you shouldn't be playing football."
The Eagles have dropped three of their last four on the road, but they've won three of four at Dallas following a 24-22 victory last season that clinched the NFC East title in Week 17. Tony Romo did not play in that contest two days after undergoing back surgery, and Brandon Boykin picked off a Kyle Orton pass with 1:49 remaining to seal the win.
Romo now appears to be playing at his best, throwing for seven touchdowns and no interceptions in his last two games. He completed 18 of 26 passes for 275 yards and four scores -- including the winner to Dez Bryant with 1:01 left -- in a 31-28 comeback road win over the New York Giants on Sunday night.
"Everybody knows that we won, but when we land in Dallas, that game no longer matters," said Bryant, who had seven catches for 86 yards with 2 TDs.
After losing their last two at AT&T Stadium, the Cowboys have answered with back-to-back road wins -- though they didn't exactly face a hostile crowd while beating Jacksonville in London on Nov. 9. They haven't dropped three straight at home since losing four straight to open the 2010 season.
Jason Witten, who has a touchdown grab in his last two games, has a combined 18 catches for 243 yards in his last two at home versus Philadelphia. He also has more catches than anyone on Thanksgiving as he gets ready for his 12th game on the holiday with the Cowboys, who are 29-16-1 all-time in those contests.
"I think the excitement and adrenaline can override how tired you are," Witten said about playing 90 hours after Sunday's game ended. "It's a great opportunity for us. You can't worry about anything else. Just get through it and move forward."
League rushing leader DeMarco Murray posted his tenth 100-yard game with 121 on 24 carries against the Giants, while Bryant is tied for the most touchdown receptions since Week 8 with six.
The Eagles have been vulnerable through the air, ranking 30th with 266.3 yards allowed per game. They limited Tennessee to 52 rushing yards Sunday after allowing an average of 110.0 over their previous three games.
"We want to win our division," Philadelphia cornerback Cary Williams said. "They are a great opponent. They have a great team and are playing at a high level right now."
Romo has thrown for at least 300 yards with eight touchdowns and two picks while winning each of the last three home meetings he's finished. He was knocked out with a right hand injury in the opening series of a loss to the Eagles in 2011.
Dallas will have to account for linebacker Connor Barwin, who is tied for second in the NFL with a career-high 12 1/2 sacks after recording 2 1/2 of the team's five against the Titans.
The Cowboys have allowed 160 rushing yards in the last two, but they've had their own issues against the pass, allowing an average of 278.3 yards over their last four games.
Sanchez has thrown for an average of 328.3 yards with five touchdowns since taking over for injured starter Nick Foles, but he's also thrown four picks in his last two games. Dallas has pulled down an interception in each of its past four.
Jordan Matthews has been Sanchez's top target with 18 catches for 322 yards and three scores in his last three games.
"We've got a pretty good understanding of what (the Cowboys) are right now," Eagles coach Chip Kelly said. "They play extremely hard on the defensive side; and then, obviously, offensively they are running the ball at a very, very high rate."
Dallas safety Jeff Heath and defensive tackle Jack Crawford each have a broken thumb that will require surgery, though they're still hoping to play. Receiver Terrance Williams has a broken index finger but is likely to go with the aid of a splint.
Philadelphia linebacker Emmanuel Acho may be sidelined due to a groin injury.
The teams will meet again at Lincoln Financial Field on Dec. 4.
Matchup
PHI

DAL

W-L
9-3
8-4
Avg Points
2.8
.8
Avg Points Allowed
.8
2.8
Home Record
6-0
3-4
Road Record
3-3
5-0
Division Record
3-0
2-2
Conference Record
5-3
5-4
Complete Standings
Team Averages & NFL Ranks
TEAM OFFENSE
TEAM
PER GAME AVERAGE
Total Yards
PHI

397
DAL

384
Yards Passing
PHI

272
DAL

237
Yards Rushing
PHI

125
DAL

147
TEAM DEFENSE
TEAM
PER GAME AVERAGE
Yards Allowed
PHI

376
DAL

355
Pass Yds Allowed
PHI

265
DAL

252
Rush Yds Allowed
PHI

111
DAL

103
Head to Head Matchups (Since 2001)
Philadelphia leads 16-13
Dec 29, 2013
PHI 24, @DAL 22
Oct 20, 2013
PHI 3, DAL 17
Dec 2, 2012
PHI 33, @DAL 38
Nov 11, 2012
PHI 23, DAL 38
Dec 24, 2011
PHI 20, @DAL 7
Oct 30, 2011
PHI 34, DAL 7
Jan 2, 2011
PHI 13, DAL 14
Dec 12, 2010
PHI 30, @DAL 27
Jan 9, 2010
PHI 14, @DAL 34
Jan 3, 2010
PHI 0, @DAL 24
Nov 8, 2009
PHI 16, DAL 20
Dec 28, 2008
PHI 44, DAL 6
Sep 15, 2008
PHI 37, @DAL 41
Dec 16, 2007
PHI 10, @DAL 6
Nov 4, 2007
PHI 17, DAL 38
Dec 25, 2006
PHI 23, @DAL 7
Oct 8, 2006
PHI 38, DAL 24
Nov 14, 2005
PHI 20, DAL 21
Oct 9, 2005
PHI 10, @DAL 33
Dec 19, 2004
PHI 12, DAL 7
Nov 15, 2004
PHI 49, @DAL 21
Dec 7, 2003
PHI 36, DAL 10
Oct 12, 2003
PHI 21, @DAL 23
Dec 21, 2002
PHI 27, @DAL 3
Sep 22, 2002
PHI 44, DAL 13
Nov 18, 2001
PHI 36, @DAL 3
Sep 30, 2001
PHI 40, DAL 18
Research Notes
Sanchez has developed a strong chemistry with the Eagles top 2 wide receivers, but hasn't been on the same page with others.
[+]
The Eagles have played 5 road game this season, and 4 have been against teams currently over .500. All 6 of the Eagles home games have been against opponents currently below .500.
[+]
From Elias: The Cowboys and Eagles will play on Thanksgiving, each being 5 games over .500. It's the first time a game will be played on Thanksgiving with both teams being 5 games over .500 since 1998 when the 10-1 Vikings won 46-36 over the 8-3 Cowboys.
With 100 rushing yards today against the Eagles,
DeMarco Murray
would have 11 games this season with at least 100 rushing yards, tied with Emmitt Smith for the most in team history.
[+]
DeMarco Murray
and
Dez Bryant
have accounted for over 57% of the Cowboys yards from scrimmage this season, highest among any pair of teammates.
[+]
The Eagles pass rush has generated pressure (duress or sack) on 32.5% of dropbacks this season, highest in the NFL.
[+]
The Eagles and Cowboys are sure to put some points up on Thanksgiving. Philadelphia averages more points per game, but Dallas looks to control time of possession with
DeMarco Murray
while the Eagles are more of a fast-paced offense. Philadelphia has also scored 10 touchdowns on defense and special teams, most of any team in the NFL.
[+]
Cowboys: 3rd rushing touchdown allowed to opposing quarterbacks this season (T-most this season) Gave up 4 last season, 3rd behind the Buccaneers and Jaguars (both with 5)
PHI zone-read rushing 8 rushes, 32 yards, TD Sanchez- zone-read play action 3-5, 46 yards, TD (9.2 yds per att) Sanchez- all other passes 14-20, 156 yds (7.8 yds per att)
Mark Sanchez
's 27-yard touchdown pass to
Jordan Matthews
was his 6th play-action TD pass this season. Sanchez has 6 TD and 1 Int on play-action passes this year (2 TD, 5 Int on non-play-action passes).
Romo: 4 sacks today... his season high is 5 (Week 8 vs Washington)
The Cowboys scored just 10 points against the Eagles: * Fewest points they've scored at home since Week 16 in 2011 (a 20-7 loss to the Eagles) * Fewest points they've scored at home in a game
Tony Romo
started and finished since Week 11 in 2009 (7-6 win over the Redskins)
This was the Eagles' 7th game with 200 rushing yards since Chip Kelly took over last season, 1 more than the Seahawks for most in the NFL in that span.
Eagles: 16th 30-point game since the start of last season, 2nd-most in the NFL (Broncos - 20)
LeSean McCoy
(PHI): Rushing TD in back-to-back games for the first time since Weeks 12-15 in 2011 (4 straight games)... It's his 1st Rush TD against the Cowboys since he had 2 in Week 8 back in 2011 (he had gone 4 straight games against the Cowboys without a rushing TD).
The Eagles rushed for 244 yards on 40 designed rushes (excluding scrambles and kneel downs), the most yards on designed rushes by Philadelphia since Week 16 of 2013. In
Mark Sanchez
's 1st 3 starts this season, the Eagles ran 6 zone-read rushes for 34 yards, and didn't run a single zone-read rush in Week 12. That was the first time in the Chip Kelly era they didn't try at least one in a game.
[+]
Mark Sanchez
(PHI): 1st rush TD since 2011 (Week 16 vs Giants)
Mark Sanchez
was 6-of-9 for 61 yards and threw his only touchdown off play-action fakes Thursday, and he didn't even attempt a non-play-action pass in the 2nd half. Sanchez has thrown 6 play-action TD passes in 5 games played, the only quarterback with multiple games played to average more than 1 play-action TD pass per game. However, the only quarterback this season with a worse TD-Int differential on non-play-action passes than Sanchez (-3) is
Blake Bortles
(-6).
[+]
The Eagles gained 162 rush yards before contact Thursday, averaged 4.05 yards before contact per rush. That's the most allowed by Dallas in a game since Week 10 of 2013 against the Saints (178), and the most gained by the Eagles since Week 16 of 2013 against the Bears (215).
[+]
16 points is Dallas' biggest halftime deficit since Week 1 (28-3 at halftime, lost 28-17 to 49ers).
The Eagles had 43 rush yards before contact on that drive. There were 3 games this season where the Eagles didn't gain 43 yards before contact in the entire game, and 2 games that the Cowboys didn't allow 43 yards before contact in the entire game. The TD was the 2nd zone-read rush by Sanchez this season... He gained 1 yard on 1 rush against the Texans in Week 9.
Tony Romo
did not throw a touchdown pass Thursday. Romo had thrown a TD pass in 38 consecutive starts, the 2nd-longest active streak in the league (
Peyton Manning
- 43).
The Cowboys finished with 10 points Thursday, their fewest in a game since Week 2 of 2012 at Seattle (27-7 loss) and fewest in a home game since Week 16 of 2011 against the Eagles (20-7 loss). What happened?
Tony Romo
completed 5-of-10 passes under duress for 60 yards and 2 interceptions. Romo's 10 attempts under duress were his most in a game this season. Romo had not thrown an interception under duress since the season-opening loss to the 49ers. Romo completed 3-of-12 (25%) passes with 2 interceptions on attempts more than 10 yards downfield Thursday, his worst completion percentage on such passes this season. Six of his incompletions were off target, including both of his interceptions. Romo's six off-target throws downfield were his most since Week 12 of 2012 against the Redskins.
DeMarco Murray
was held to a season-low 73 rushing yards, his first game with fewer than 4.0 yards per rush this season. Murray rushed for 32 yards after contact, his fewest in a game this season. Murray had zero rushes of at least 10 yards Thursday. Murray had at least two in each game this season and a league-leading 38 entering the game, six more than any other player this season.
LeSean McCoy
's only other lost fumble this year was Week 5 vs STL
ESPN Stats & Information