12:30 PM ET, November 27, 2014
Ford Field, Detroit, MI
Top Performers
Passing: M. Stafford (DET) - 390 YDS, 2 TD
Rushing: J. Bell (DET) - 23 CAR, 91 YDS, 2 TD
Receiving: C. Johnson (DET) - 11 REC, 146 YDS, 2 TD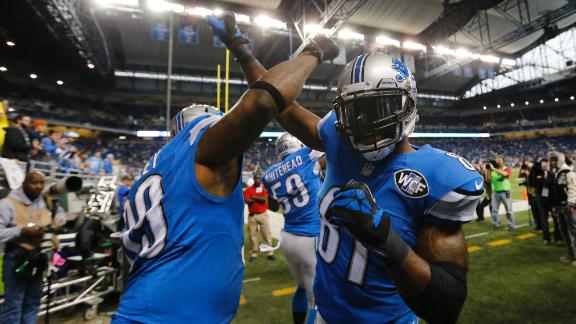 Mega Day For Johnson
Tedy Bruschi breaks down the adjustments made to improve the Lions' offense and Calvin Johnson becoming the fastest in NFL history to 10,000 yards receiving during Detroit's 34-17 win over Chicago.
Mega Day For Johnson
VIDEO PLAYLIST
Mega Day For Johnson

Mega Day For Johnson

Tedy Bruschi breaks down the adjustments made to improve the Lions' offense and Calvin Johnson becoming the fastest in NFL history to 10,000 yards receiving during Detroit's 34-17 win over Chicago.
Back home for their traditional Thanksgiving contest, the reeling Detroit Lions are bruised but not necessarily battered.
Though the underachieving Chicago Bears have won two straight over weak competition, they've been embarrassed in their last two road games against teams with winning records.
Hoping to ignite a sagging offense and avoid a third consecutive defeat, the Lions try to extend the Bears' struggles against the NFL's better teams Thursday.
Since scoring the go-ahead touchdown with 29 seconds left of a 20-16 home win over Miami on Nov. 9, Detroit (7-4) has been held to five field goals while dropping back-to-back road games to division leaders Arizona and New England.
"If I knew what was wrong, I would have already fixed it," receiver Calvin Johnson said after Sunday's 34-9 loss to the Patriots. "We still have time to get things going in the right direction."
While that's true, the Lions now trail first-place Green Bay by one game in the NFC North and are tied with Seattle and San Francisco for the final wild-card spot, which the Seahawks own via the tiebreaker.
"I'm not worried about (the) big picture to be honest with you," coach Jim Caldwell told the Lions' official website. "I'm worried about our next game and we'll deal with the big picture later on."
Plagued by nagging injuries to the likes of Johnson, Reggie Bush and Joique Bell, the Lions rank 28th with 17.9 points per game -- 6.8 fewer than last season.
Matthew Stafford completed a career-low 39.1 percent (18 of 46) of his passes against the Patriots and has only two 300-yard games after recording six in 2014. Now the league's 26th-rated passer, Stafford has thrown six of his 10 interceptions in the last five games.
"Their offense is up and down at times but I'm sure they'll play well on Thursday," Bears quarterback Jay Cutler said. "They're reeling a bit, so we're going to get their very best shot.
"They're going to be ready for this one."
As Stafford looks to avoid going three straight games without a TD pass for the first time in his career, Johnson is stuck on one touchdown in his last seven contests. He's been targeted 37 times in three games since missing three with an ankle injury but has just 16 receptions in that span.
Golden Tate, though, has already set career highs with 72 receptions and 1,047 yards to become the first Lion other than Johnson to post a 1,000-yard receiving season since 2006.
Detroit also has struggled to stay healthy on the offensive line, a big reason the teams ranks 30th in rushing yards per game (80.8) and per carry (3.3). Knee injuries could keep guard Larry Warford out a third straight game and tackle Riley Reiff from playing Thursday. Center Dominic Raiola will play while the NFL takes a closer look at his attempted cut block in Sunday's loss.
"That's the great part about coaching: we get to see the team during the good times and also during tough stretches, and how we respond," said Caldwell, whose team is 4-1 at home. "That's what makes a team. That's when you find out the kind of grit you have, the kind of toughness, the kind of leadership -- when things aren't going quite as nice as you'd like them, see if they can battle through."
Detroit, which snapped a nine-game Thanksgiving Day skid with a 40-10 rout of the Packers last season, faces a Chicago team that allowed 106 points in its last two road games against Green Bay and New England.
The Bears bounced back from those horrid performances to post consecutive 21-13 wins over Minnesota and Tampa Bay -- teams with a combined six victories and rank 30th and 26th, respectively, in total offense. Chicago could be without linebacker Lance Briggs (groin) and rookie cornerback Kyle Fuller (knee) for this contest.
Cutler and the Bears are average 6.3 points fewer than last season when they scored an NFC-high 27.8 per game. Things likely won't get easier against the Lions, who even after Sunday lead the NFL allowing 17.3 points per contest and are third giving up an average of 303.8 yards.
"It's a tough test, (the Lions) are a heck of a team," said Cutler, who has committed 10 turnovers over the last five games.
Chicago's immediate goal is to get on the board early after being outscored 41-0 in the first quarter of the last six games.
"We're just trying to focus on what we can do better and that is to be more consistent on offense and to use opportunities to make plays," coach Marc Trestman said. "We need to do that from start to finish."
Tied for fourth in the league with 72 catches and third with 1,420 scrimmage yards, Matt Forte remains Chicago's most consistent offensive threat. He totaled 112 yards and rushed for two TDs against the Buccaneers on Sunday.
Forte has averaged 95.8 rushing yards and 5.4 per carry in his last five games at Detroit.
Cutler didn't have an interception in his first five starts at Ford Field before throwing three in last season's 40-32 loss there. The Bears won seven of their first eight games against the Lions that Cutler started before losing both meetings last season.
Johnson caught three of Stafford's four TD passes in that sweep, and Bush rushed for a combined 244 yards but could miss a third straight game with an ankle injury.
Chicago is 8-7 at Detroit on Thanksgiving but hasn't been part of the Lions' annual tradition since a 21-17 loss in 1999.
Matchup
CHI

DET

W-L
5-7
8-4
Avg Points
1.4
2.8
Avg Points Allowed
2.8
1.4
Home Record
2-3
5-1
Road Record
3-4
3-3
Division Record
1-3
3-0
Conference Record
4-4
6-2
Complete Standings
Team Averages & NFL Ranks
TEAM OFFENSE
TEAM
PER GAME AVERAGE
Total Yards
CHI

327
DET

341
Yards Passing
CHI

237
DET

252
Yards Rushing
CHI

90
DET

89
TEAM DEFENSE
TEAM
PER GAME AVERAGE
Yards Allowed
CHI

377
DET

301
Pass Yds Allowed
CHI

264
DET

232
Rush Yds Allowed
CHI

113
DET

69
Head to Head Matchups (Since 2001)
Chicago leads 17-11
Nov 10, 2013
CHI 19, DET 21
Sep 29, 2013
CHI 32, @DET 40
Dec 30, 2012
CHI 26, @DET 24
Oct 22, 2012
CHI 13, DET 7
Nov 13, 2011
CHI 37, DET 13
Oct 10, 2011
CHI 13, @DET 24
Dec 5, 2010
CHI 24, @DET 20
Sep 12, 2010
CHI 19, DET 14
Jan 3, 2010
CHI 37, @DET 23
Oct 4, 2009
CHI 48, DET 24
Nov 2, 2008
CHI 27, DET 23
Oct 5, 2008
CHI 34, @DET 7
Oct 28, 2007
CHI 7, DET 16
Sep 30, 2007
CHI 27, @DET 37
Dec 24, 2006
CHI 26, @DET 21
Sep 17, 2006
CHI 34, DET 7
Oct 30, 2005
CHI 19, @DET 13
Sep 18, 2005
CHI 38, DET 6
Dec 26, 2004
CHI 13, @DET 19
Sep 12, 2004
CHI 16, DET 20
Nov 9, 2003
CHI 10, @DET 12
Oct 26, 2003
CHI 24, DET 16
Nov 24, 2002
CHI 20, DET 17
Oct 20, 2002
CHI 20, @DET 23
Dec 30, 2001
CHI 24, @DET 0
Dec 2, 2001
CHI 13, DET 10
Research Notes
The Lions have failed to score a touchdown in back-to-back games. The last team with a winning record to have a longer streak was the 2000 Super Bowl Champion Ravens (5 straight) - ELIAS
Jay Cutler
and
Matthew Stafford
will square off on Thanksgiving and they've been remarkably similar this season. Cutler and Stafford have posted the same yards per attempt and nearly the same Total QBR this season. Stafford leads Cutler in passing yards by a narrow margin, while Cutler has thrown for exactly one more first down than Stafford.
[+]
Detroit has now been listed as the favorite in back-to-back Thanksgiving games for the first time since 1999-2000. Detroit is listed as a 7-point favorite today against Chicago and it is tied for the 2nd-highest spread for Detroit on Thaksgiving in the past 20 seasons...and that has been a good situation for Detroit over that span.
[+]
Calvin Johnson
's second quarter TD reception was the first touchdown scored by the Lions since 0:29 remaining in the 4th quarter of Week 10. 137 minutes and 34 seconds of game time passed between TD for the Lions.
Jay Cutler
in the 1st quarter: 5-for-5 with 36 yards and 2 TD off play action. Cutler entered the day with the third-highest completion percentage (74.7%) on play-action passes behind
Philip Rivers
(78.6%) and
Aaron Rodgers
(75.3%)
Lions: 3rd straight 30-point game on Thanksgiving, their longest such streak since a 4-season run from 1983-86
After the interception,
Jay Cutler
now has 19 turnovers this season (13 Int, 6 fumbles lost), most in the NFL.
[+]
After the last play of the game,
Jay Cutler
now has 20 turnovers this season (14 Int, 6 fumbles lost), most in the NFL.
[+]
The Bears have run five plays on 3rd and 18+ this game, the most in any NFL game since Week 2 of 2012 when the Bears ran 5 such plays against the Packers.
Joique Bell
: 2nd career game with multiple rushing TD (other was Week 1 of 2013)
The Lions scored 24 points in the first half. They scored 25 points in the first half of their previous five games combined.
All 5 of
Jay Cutler
's completions on the Bears' opening touchdown drive came within 5 yards of the line of scrimmage.
Jay Cutler
's touchdown pass to
Alshon Jeffery
accounted for the Bears' first points in the first quarter since Week 5 and first points on their opening drive since Week 4.
Jay Cutler
in the first half: 14-of-16 for 107 yards and 2 TD on throws within 10 yards of the line of scrimmage; 0-of-3 on throws more than 10 yards downfield. All 3 of those downfield incompletions for Cutler came when targeting
Brandon Marshall
.
Jay Cutler
: First game with 2 passing TD in the first quarter since Week 2 of 2013 vs the Vikings
That was the Bears' 4th snap of the game on 3rd and 18+, tied with the Giants in Week 6 and Panthers in Week 10 for the most such plays in a game this season. Both teams lost to the Eagles by 24 points or more in those games.
A big day for Megatron...
[+]
Alshon Jeffery
: Second career multi-TD game. The other was Week 13 of 2013 at the Vikings
ESPN Stats & Information