1:00 PM ET, September 28, 2014
Heinz Field, Pittsburgh, PA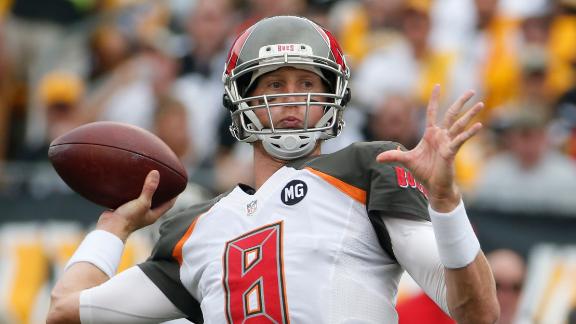 Sunday Blitz: Buccaneers-Steelers Recap
Jim Basquil and Ron Jaworski break down the Buccaneers huge win against the Steelers, including Mike Glennon's game-winning touchdown strike to Vincent Jackson.
Sunday Blitz: Buccaneers-Steelers Recap
VIDEO PLAYLIST
Sunday Blitz: Buccaneers-Steelers Recap

Sunday Blitz: Buccaneers-Steelers Recap

Jim Basquil and Ron Jaworski break down the Buccaneers huge win against the Steelers, including Mike Glennon's game-winning touchdown strike to Vincent Jackson.
The touchdowns for the Pittsburgh Steelers finally started to pile up in an impressive victory after a drought that spanned two games.
They may find themselves on the winning end of another lopsided score Sunday when they host the winless Tampa Bay Buccaneers, who face numerous questions after one of their worst defeats ever.
The Steelers (2-1) rank second in the AFC with 419.3 total yards per game after recording 454 in last Sunday's 37-19 road win over previously unbeaten Carolina. Ben Roethlisberger's seven-yard touchdown pass to Antonio Brown with 11:02 remaining in the third quarter was their first TD since the second quarter of a Week 1 win over Cleveland.
Pittsburgh found the end zone three more times over the final 26 minutes with LeGarrette Blount's fourth-quarter score punctuating an impressive rushing performance.
Le'Veon Bell ran for a career-best 147 yards and now leads the league with 461 from scrimmage. Blount rushed for 118, marking the first time two Steelers have run for 100 in the same game since Walter Abercrombie and Earnest Jackson in 1986.
"That's awesome," said Roethlisberger, who was 22 of 30 for 196 yards and two TDs. "I'm sure that Steeler fans back home are going crazy because we ran the ball for 100 and had two guys do it. That's just awesome. I think it shows what we can do if we put our minds to it."
Roethlisberger, 16-2 at home against NFC teams, continues to display excellent chemistry with Brown, who is tied for fifth in the league with 22 catches and 296 yards. He ranks second in those categories since the start of last season (110 for 1,499).
Pittsburgh is nursing a wounded defense, however, after losing linebackers Jarvis Jones and Ryan Shazier. Jones will miss at least eight weeks after being placed on the injured reserve/return list following surgery for a broken wrist. Shazier is expected to be back sooner, though he'll miss at least Sunday's game with a sprained right knee.
Cornerback Ike Taylor was also lost indefinitely after breaking his right forearm.
The Steelers signed veteran linebacker James Harrison on Tuesday to improve their depth, though it's not clear if he'll be ready to play. Harrison, who recorded 456 tackles with the Steelers from 2002-12 before being released, had two sacks for Cincinnati last year.
One positive in light of the injuries was the performance of linebackers Sean Spence and Arthur Moats, who both played well in relief and are expected to get their first starts of the season Sunday.
"As a competitor, you want to go in there when the game is heated like that and it's still a meaningful game," said Moats, who registered his first sack since 2011.
The Buccaneers (0-3) are in a state of disarray after last week's 54-16 loss at Atlanta, which tied for the third-worst margin of defeat in franchise history. They were outgained 488-217 and converted only 10 first downs compared to the Falcons' 26. It was their first five-turnover performance since 2012.
"When you get beat that bad, you need to make changes," coach Lovie Smith said. "Maybe that's personnel, maybe it's not. You're looking at all areas when you feel like you need to go another direction."
Smith was evasive when asked who will start at quarterback after Mike Glennon came in for Josh McCown, who suffered a sprained thumb on his throwing hand. Smith didn't discuss the severity of the injury, merely saying McCown is "getting better."
The Buccaneers were 4-9 with Glennon as the starter last year and the rookie threw for 19 touchdowns with nine interceptions.
Tampa Bay is also suffering from instability within its coaching staff, announcing Tuesday that offensive coordinator Jeff Tedford is taking an indefinite leave. He underwent an undisclosed medical procedure Aug. 25 and has worked part-time since. Smith said there's no timetable for his return and the staff will continue to fill in collectively in his absence.
Defensive lineman Gerald McCoy and running back Doug Martin were also among the injured players sidelined versus Atlanta, though both could return Sunday.
Pittsburgh owns an 8-1 series edge and won the last meeting 38-13 in Tampa on Sept. 26, 2010.
More from ESPN.com
Steelers re-sign Heyward-Bey to 1-year deal
Wide receiver Darrius Heyward-Bey has signed a one-year contract to remain with the Pittsburgh Steelers, the team announced Thursday.
Heinz Field keeps name after Kraft merger
The Pittsburgh Steelers' football stadium will keep the name Heinz Field despite the company's planned merger with Kraft Foods Group.
Magee, cut by Bucs, off to Red Sox camp
Linebacker Brandon Magee was released by the Tampa Bay Buccaneers on Wednesday morning. It didn't take him long to find a new team -- in a different sport.
Lovie praises Winston: 'He can sell himself'
With five weeks remaining for the Tampa Bay Buccaneers to make a decision about their first overall pick, coach Lovie Smith gave effusive praise to Jameis Winston during his hour-long breakfast Wednesday with reporters at the NFL owners meetings.
Matchup
TB

PIT

W-L
1-3
2-2
Avg Points
6.8
6.0
Avg Points Allowed
6.0
6.8
Home Record
0-2
1-1
Road Record
1-1
1-1
Division Record
0-2
1-1
Conference Record
0-3
1-1
Complete Standings
Team Averages & NFL Ranks
TEAM OFFENSE
TEAM
PER GAME AVERAGE
Total Yards
TB

292
PIT

411
Yards Passing
TB

206
PIT

302
Yards Rushing
TB

86
PIT

110
TEAM DEFENSE
TEAM
PER GAME AVERAGE
Yards Allowed
TB

369
PIT

353
Pass Yds Allowed
TB

255
PIT

253
Rush Yds Allowed
TB

114
PIT

100
Head to Head Matchups (Since 2001)
Pittsburgh leads 4-1
Sep 26, 2010
TB 13, PIT 38
Dec 3, 2006
TB 3, @PIT 20
Dec 23, 2002
TB 7, PIT 17
Oct 21, 2001
TB 10, PIT 17
Research Notes
Ben Roethlisberger
was sacked five times on 42 dropbacks against a four-man pass rush Sunday. Roethlisberger had been sacked five times on 90 dropbacks all season against standard pressure before today.
Antonio Brown
set an NFL record with his 20th consecutive game with at least 5 receptions.
[+]
Tampa Bay's touchdown drive to open the 3rd quarter went for 80 yards. The Buccaneers had just 64 yards of offense in the entire first half.
Mike Glennon
was just 3-of-9 when targeting
Vincent Jackson
in the game, but hit him for the game-winning score with just seconds remaining. Glennon's last four throws to Jackson went into the end zone, the last being the only one completed. Overall, Glennon was 15-of-29 for 226 yards, two touchdowns and an interception targeting wide receivers (10 first downs). Glennon has 21 completions to wide receivers in seven quarters this season, while
Josh McCown
had 22 in his 10 quarters at quarterback.
ESPN Stats & Information