4:25 PM ET, September 7, 2014
AT&T Stadium, Arlington, TX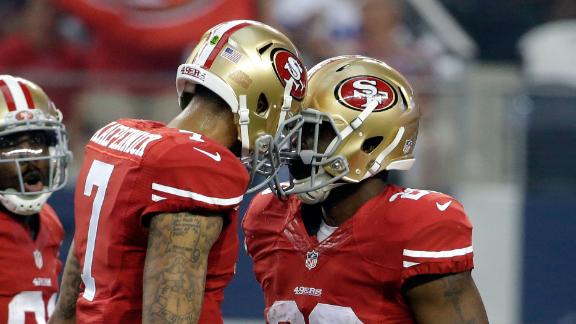 Sunday Blitz: 49ers-Cowboys Recap
Jim Basquil and Eric Allen break down the 49ers' win over the Cowboys.
Sunday Blitz: 49ers-Cowboys Recap
VIDEO PLAYLIST
The San Francisco 49ers have been to three straight NFC title games and the expectation is to take the next step and finally win it all under coach Jim Harbaugh.
The Dallas Cowboys have finished 8-8 in three straight seasons, and it could be an accomplishment to reach that mark in 2014.
Neither of these franchises have been strangers to controversy over the years, and the 49ers head into Sunday's opener at Dallas with the status of defensive tackle Ray McDonald in serious doubt for a unit that is already short-handed.
The build-up to the season took a difficult turn for San Francisco last Friday when star linebacker Aldon Smith was suspended for nine games for what the NFL called violations of the league's substance abuse and personal conduct policies. The defense is already without linebacker NaVorro Bowman, who is on the physically unable to perform list due to a gruesome torn left ACL suffered in last season's NFC championship game loss at Seattle.
The news got worse for the 49ers this past Sunday when McDonald was arrested on felony domestic violence charges. It came only days after Commissioner Roger Goodell cracked down on such offenses with far harsher penalties than the two-game ban he gave to Baltimore running back Ray Rice.
The 49ers have not ruled McDonald out this weekend. Harbaugh said the decision "will be based on information and facts," and Goodell said Wednesday that the NFL is closely watching the case.
"There's two very strong principles in play. No. 1 is we will not tolerate domestic violence. The second principle is the respect for due process," Harbaugh said. "It's something we all know, we all live in America, and we all understand that sometimes patience is required when it comes to due process. ... You're innocent until proven guilty."
General manager Trent Baalke and Harbaugh have spent recent days denouncing such behavior and reiterating their stand for zero tolerance when it comes to domestic violence.
Asked about the 49ers having players arrested an NFL-high 10 times since 2012, Harbaugh said Tuesday that the team is doing "everything in our power to make sure there isn't a pattern forming."
San Francisco has won at least 11 games in each of the last three seasons, going 12-4 last year before winning twice in the postseason and then losing 23-17 to the NFC West rival Seahawks.
The 49ers have averaged 32.3 points in winning all three season openers under Harbaugh, and offensive success can be expected Sunday unless the Cowboys improve their woeful defense from last season.
Dallas allowed a league-worst 415.3 yards per game for the NFL's third-worst mark since the merger in 1970. The franchise's all-time leader in sacks, DeMarcus Ware, has left for Denver while Jason Hatcher, who had a team-high 11 sacks in 2013, is now with Washington.
In addition, rookie defensive end Demarcus Lawrence will miss at least half the season after the second-round pick was placed on the short-term injured list because of a broken right foot.
The Cowboys turned in a winless preseason and even normally confident owner Jerry Jones doesn't sound too thrilled about this year's club.
"I think there is a difference being optimistic and assessing the odds," Jones said. "You've got guys out there, no-name guys. You've got guys out there who retired. You've got guys who are coming back from injury. Man, this is a `to prove' group."
The offense will again revolve around Tony Romo, who was fifth in the NFL in touchdown passes with 31 a year ago but enters his 11th season after back surgery. Romo insists he won't alter how he plays.
"You'd be selling the game short if you think you could control all parts of the game," Romo said. "It's a very physical, fast-flowing game that has humbled the best players who have ever played. There's only one way to play it -- all out, all the time."
No team has ever finished 8-8 in four straight years. Dallas entered Week 17 in each of the last three seasons with an 8-7 mark in a winner-take-all contest to capture the NFC East and has fallen to the Giants, Washington and Philadelphia last year. An injured Romo missed the 24-22 defeat to the Eagles.
This marks the second straight year in which Colin Kaepernick begins the season as San Francisco's starting quarterback. He had 21 touchdown passes and four on the ground last year while his 58.4 completion percentage ranked 31st.
The 49ers were third in the NFL in rushing with 137.6 yards per game. Frank Gore was ninth in the league with 1,128 yards as he topped 1,000 for the seventh time in eight seasons.
Romo is 2-0 as a starter against San Francisco with 686 passing yards, five TDs and no interceptions. He played through a broken rib in a 27-24 overtime victory in the last meeting Sept. 18, 2011.
His major target at receiver is Dez Bryant, who finished third in the NFL with 13 TD receptions and had 1,233 yards last season.
More from ESPN.com
Aldon Smith tweaks deal in good-faith effort
San Francisco 49ers outside linebacker Aldon Smith agreed to a restructuring of his contract that will convert his salary into a series of non-guaranteed bonuses that will add up to his salary if he meets certain requirements.
49ers sign WR Simpson to two-year deal
The San Francisco 49ers signed former Cincinnati Bengals and Minnesota Vikings wideout Jerome Simpson to a two-year deal, the team announced Thursday
Dockett on new team: 49ers 'hit the lottery'
Defensive end Darnell Dockett will stay in the NFC West next season, signing with the San Francisco 49ers, his agent Drew Rosenhaus announced Thursday on Twitter.
Goodell: Super Bowl XLV seat issues NFL's fault
NFL Commissioner Roger Goodell says in a taped deposition that the league was responsible for problems that left hundreds of fans without seats or with restricted views during the 2011 Super Bowl at Cowboys Stadium.
Matchup
SF

DAL

W-L
1-0
0-1
Avg Points
28.0
17.0
Avg Points Allowed
17.0
28.0
Home Record
0-0
0-1
Road Record
1-0
0-0
Division Record
0-0
0-0
Conference Record
1-0
0-1
Complete Standings
Team Averages & NFL Ranks
TEAM OFFENSE
TEAM
PER GAME AVERAGE
Total Yards
SF

324
DAL

341
Yards Passing
SF

186
DAL

247
Yards Rushing
SF

138
DAL

94
TEAM DEFENSE
TEAM
PER GAME AVERAGE
Yards Allowed
SF

317
DAL

415
Pass Yds Allowed
SF

221
DAL

287
Rush Yds Allowed
SF

96
DAL

129
Head to Head Matchups (Since 2001)
Dallas leads 4-2
Sep 18, 2011
SF 24, DAL 27
Nov 23, 2008
SF 22, @DAL 35
Sep 25, 2005
SF 31, DAL 34
Dec 8, 2002
SF 31, @DAL 27
Dec 30, 2001
SF 21, @DAL 27
Research Notes
The Cowboys scored at least 30 points in seven games last season but were only 4-3 in those games, the worst record when scoring 30 points in a single season in the last 10 years, minimum five games.
The 49ers defense has faced injuries, suspensions and are awaiting another legal situation with
Ray McDonald
to play out. Bad timing, they face some high powered offenses early this season.
[+]
Frank Gore
is 33 yards shy of becoming the 29th player in NFL history, and first in 49ers franchise history with 10,000 rushing yards. He would be the 10th player to reach 10,000 yards and 10 seasons with a single franchise.
[+]
All three of
Tony Romo
's interceptions have been off of play action. It is the first time in his career he has thrown three interceptions off of play fakes in a game. Last season, he had no interceptions on play-action passes.
Vernon Davis
' first touchdown was on a pass that traveled 27 air yards. Last season, he had 6 TD on throws traveling 15+ yards downfield, tied with
Jimmy Graham
for most among TE (t-4th in NFL).
DeMarco Murray
averaged 5.4 yards on 22 rushes Sunday, but
Tony Romo
was unable to take advantage of the rushing success. Romo threw all three of his interceptions on play-action passes Sunday after throwing no such interceptions last season. Sunday was the first game of Romo's career with three interceptions on first down.
[+]
The Cowboys did not force a turnover in Sunday's loss to the 49ers, the 17th-straight game Dallas has lost when not registering at least one takeaway. The last game the Cowboys won without forcing a turnover was Week 5 of 2009 against the Chiefs.
Vernon Davis
caught two touchdown passes Sunday on back-to-back throws from
Colin Kaepernick
. Davis has now caught 15 of Kaepernick's 23 touchdown passes the past two seasons.
[+]
Anquan Boldin
caught all eight of his targets Sunday for 99 yards and six first downs. Although
Michael Crabtree
caught only two passes in Week 1, his presence has continued to open the field for Boldin. - Boldin has caught 67.9% of his targets from Kaepernick the past two seasons, best of any 49ers wide receiver or tight end.
[+]
ESPN Stats & Information