1:00 PM ET, September 28, 2014
M&T Bank Stadium, Baltimore, MD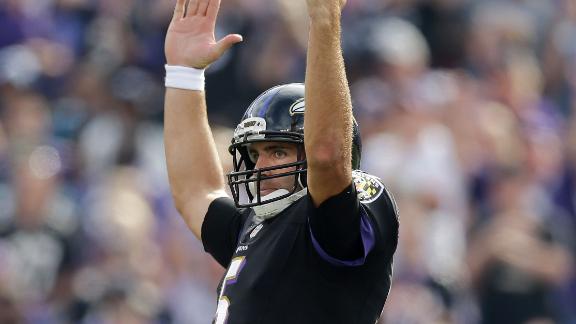 Sunday Blitz: Panthers-Ravens Recap
Jim Basquil and Ron Jaworski break down Steve Smith's big day against his former team as the Ravens beat the Panthers 38-10
Sunday Blitz: Panthers-Ravens Recap
VIDEO PLAYLIST
Steve Smith was synonymous with the Carolina Panthers for 13 seasons.
He has quickly established himself as the Baltimore Ravens' top receiver, and it also won't take him long to face his former team.
Possibly the greatest player in Carolina history, Smith will face the Panthers on Sunday in Baltimore.
After Carolina (2-1) made the decision to release Smith on March 13, it took less than 24 hours for Baltimore to sign him to a three-year deal. He has become Joe Flacco's top target with team highs of 18 catches and 290 yards.
"I never really imagined that I'd be in a different uniform," he said. "I never really thought that I'd be playing against the Panthers."
Smith is Carolina's all-time leader in receptions (836), yards receiving (12,197) and touchdowns (67).
The move to get rid of one of Carolina's most admired players wasn't welcomed by its fans. A seven-year-old fan named Gavin was seen crying upon learning of the news of Smith's release in a YouTube video that became so popular that Smith eventually met the child in person to console him.
Smith said he has moved on.
"I think for every man that tries to earn a living despite the amount of money, you always try to go to work doing (more), always trying to give them more than they pay you," Smith said. "And when things don't work well, unless you obviously hate your job, nobody walks out going, 'Yay, I just got fired!'"
One of the reasons Smith chose Baltimore is because it's about a one-hour flight to Charlotte, where his family continues to live.
Carolina first-round pick Kelvin Benjamin has been spectacular in supplanting Smith as the team's No. 1 receiver with 253 yards and two scores. The Panthers could also get back Jerricho Cotchery from a one-game absence due to a hamstring injury.
Panthers coach Ron Rivera said in the offseason that the 35-year-old Smith had lost his "top-end speed." Rivera didn't take too kindly to questions Wednesday about facing Smith.
"We all know who Steve is and we know what Steve's done," Rivera said. "He's had a great career, he's assimilated very well to Baltimore, he's doing a great job for them. But after that, we're playing the Ravens."
Rivera has his own concerns since his team's rushing attack is the fourth-worst in the NFL with 72.3 yards per game. The Panthers turned in their worst rushing effort in two seasons with 42 yards in last Sunday's 37-19 defeat to Pittsburgh.
Cam Newton has 26 yards rushing in two games since missing the opener due to a rib injury. He hasn't looked very mobile and is on pace to rush for 384 yards, well behind his career average of 677.
"We know he is a big part of what we do," Rivera said. "The thing it shows is we can't rely on him all of the time. Now we have to find other answers and other ways to (run the ball) -- and the coaching staff is working on that."
The running game should get a boost with the expected return of DeAngelo Williams, who has missed the last two games with a hamstring injury and is back at practice.
However, backup Jonathan Stewart attempted to practice Friday with a sprained knee but Rivera didn't sound optimistic about his chances of playing, saying "he didn't have what he needed as a running back."
Baltimore (2-1) is yielding 89.7 rushing yards per game for the league's eighth-best mark, but it's wary of the threat that Carolina poses.
"They're physical, they want to run the ball," coach John Harbaugh said. "They're a big challenge for us, they're probably going to watch the tape and think they can run the ball on us."
The Ravens will be without tight end Dennis Pitta, who is out for the year due to a dislocated right hip suffered in last Sunday's 23-21 win at Cleveland. Owen Daniels, who has a team-best two TD catches, takes over as the starter.
Baltimore has been solid with 137.0 rushing yards per game after rookie Lorenzo Taliaferro had 91 with a TD last weekend. The Panthers played last weekend without defensive end Greg Hardy, who has been removed from the roster in the wake of his domestic violence case, and they allowed 264 rushing yards to the Steelers for the highest total by any team this year.
Flacco will have a new blocker on his blind side in rookie James Hurst, who replaces Eugene Monroe at left tackle. Monroe will be sidelined for several weeks following knee surgery.
The Panthers are without All-Pro fullback Mike Tolbert, who will miss at least eight games with a hairline fracture in his left leg suffered against Pittsburgh.
More from ESPN.com
Sources: QB Schaub likely to sign this week
Quarterback Matt Schaub is expected to sign with a new team this week, a source told ESPN NFL Insider Adam Schefter.
Panthers claim Martin off waivers from 49ers
The Carolina Panthers claimed former San Francisco 49ers offensive tackle Jonathan Martin off waivers on Friday.
NFL lawsuit for Hardy evidence put on hold
Tuesday's scheduled hearing to determine whether the NFL is entitled to evidence from the July 15 domestic violence trial of Dallas Cowboys defensive end Greg Hardy has been put on hold in an attempt to settle the matter out of court.
Goodell: NFL ruling on Hardy in 'near future'
NFL commissioner Roger Goodell said Wednesday that potential discipline for Cowboys defensive end Greg Hardy is expected in the "near future," with coach Jason Garrett saying the club is "aware something might happen here in the next couple of weeks."
Matchup
CAR

BAL

W-L
2-2
3-1
Avg Points
2.5
9.5
Avg Points Allowed
9.5
2.5
Home Record
1-1
2-1
Road Record
1-1
1-0
Division Record
1-0
2-1
Conference Record
2-0
2-1
Complete Standings
Team Averages & NFL Ranks
TEAM OFFENSE
TEAM
PER GAME AVERAGE
Total Yards
CAR

347
BAL

365
Yards Passing
CAR

219
BAL

239
Yards Rushing
CAR

127
BAL

126
TEAM DEFENSE
TEAM
PER GAME AVERAGE
Yards Allowed
CAR

340
BAL

337
Pass Yds Allowed
CAR

228
BAL

249
Rush Yds Allowed
CAR

112
BAL

88
Head to Head Matchups (Since 2001)
Series tied 2-2
Nov 21, 2010
CAR 13, BAL 37
Oct 15, 2006
CAR 23, @BAL 21
Sep 8, 2002
CAR 10, BAL 7
Research Notes
Steve Smith
caught a 61-yard touchdown pass from
Joe Flacco
(with help from
Owen Daniels
). During his Panthers career (2001-13), Smith had 17 catches that gained at least 60 yards, most of any player in the league. Smith has two receiving touchdowns of 60+ yards this season. The last Ravens player with two receiving touchdowns of 60+ yards in a season was Derrick Mason in 2009.
Carolina Panthers
: 6 passing TD allowed outside the painted numbers in 2014, including 3 today. They allowed 4 in all of 2013
Joe Flacco
has been really good when targeting
Steve Smith
this season. He's averaging over 4 more yards per attempt when targeting Smith than when he targets any other receiver.
Joe Flacco
was 6-of-8 for 172 yards and three touchdowns on throws at least 15 yards downfield. Flacco is the first quarterback since
Drew Brees
in Week 17 last year to have three touchdowns and no interceptions on deep throws, and Flacco had as many completions Sunday as he's had all season.
[+]
Steve Smith
has 5 catches for 122 yards and 2 touchdowns at the 2-minute warning. Smith has his first multi-TD game since Week 1 of 2011 (
Cam Newton
's debut). Smith has as many multi-TD games with
Joe Flacco
by Week 4 of this season as he had in 3 years with Cam Newton as quarterback.
The Panthers have allowed 35+ points in consecutive games for the 2nd time in franchise history (1998: Weeks 4-5)
ESPN Stats & Information