4:25 PM ET, September 28, 2014
TCF Bank Stadium, Minneapolis, MN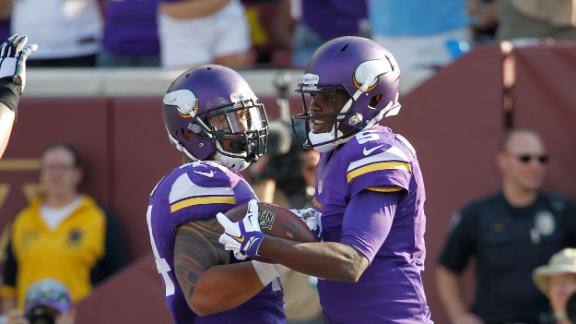 Sunday Blitz: Vikings-Falcons Recap
Jim Basquil and Eric Allen break down Teddy Bridgewater's first start for the Minnesota Vikings.
Sunday Blitz: Vikings-Falcons Recap
VIDEO PLAYLIST
The Minnesota Vikings have lost starting quarterback Matt Cassel for the rest of the season, and they were already having trouble scoring when he played.
Cassel's departure comes just before a visit from the high-scoring Atlanta Falcons, though his replacement looked good in a limited audition last week.
The Vikings will move forward with highly touted rookie Teddy Bridgewater under center Sunday as they take on a Falcons team coming off a 56-point outburst.
Minnesota (1-2) found out Wednesday that Cassel is done for 2014 with broken bones in his left foot. The veteran, injured in last Sunday's 20-9 loss at New Orleans, had completed 57.1 percent of his passes with three touchdowns and four interceptions in three games.
With some shaky play from Cassel, a rushing attack that's missing star Adrian Peterson due to a child abuse charge and the absence of injured tight end Kyle Rudolph, the Vikings haven't had much success on offense recently. They opened with a 34-6 rout of St. Louis on Sept. 7 but have totaled 16 points in the past two weeks.
If there's reason for optimism, it's the performance of Bridgewater after he replaced Cassel against the Saints. The 32nd pick in the draft went 12 of 20 with no touchdowns or interceptions and ran for 27 yards as he led two field-goal drives, though he was sacked twice.
"A lot of poise for a rookie. I mean, an incredible amount, and he can throw the ball around the field," center John Sullivan said. "So we're excited."
Sullivan went even further in response to a question about the team's confidence in Bridgewater.
"We should win every single game we play with him at quarterback," he said.
That might require a career performance from Bridgewater in his starting debut. Banged-up Minnesota is allowing 18.7 points per game, ninth best in the league, but Atlanta (2-1) has the potential to bloat that number significantly.
Matt Ryan went 21 of 24 and threw three touchdowns, Kemal Ishmael returned an interception for a score and Devin Hester brought a punt back 62 yards for a TD as the Falcons pounded Tampa Bay 56-14 last Thursday.
Though the club struggled in a 24-10 loss at Cincinnati on Sept. 14, it opened the season with a 37-34 overtime victory over the Saints and leads the league with 34.3 points and 455.0 yards per game.
Atlanta didn't dwell long on the blowout, quickly turning its attention to Minnesota and the skill set Bridgewater possesses.
"They're going to base their offense off of what he can do well, which is obviously run and move around," linebacker Paul Worrilow said. "That's going to be something we're going to have to prepare for."
Falcons coach Mike Smith said his game plan for the Vikings changed with Cassel's injury.
"We've got a challenge in my mind with an athletic quarterback to be able to keep him in the pocket," Smith said after Monday's practice.
Smith's team needs to tighten up defensively regardless of which quarterback it faces. Atlanta is allowing 387.0 yards per game, tied for 27th in the league, though its pass rush finally emerged against the Buccaneers as Jonathan Massaquoi, Stansly Maponga and Corey Peters recorded the club's first sacks of the season.
If the Vikings don't continue to play strong pass defense, though, the issue of the Falcons containing Bridgewater may prove irrelevant. Minnesota is giving up only 225.3 passing yards a contest, but Ryan is second in the NFL with 965 yards and also among the leaders in passing touchdowns (seven), completion percentage (68.5) and passer rating (105.1).
Julio Jones leads the league with 365 receiving yards and is tied for third with 23 catches. Jones has been Ryan's primary target with Roddy White (hamstring) and Harry Douglas (foot) uncertain to play Sunday and Hester missing practice earlier this week. White sat out against the Bucs.
Despite the presence of one of the league's hottest quarterbacks in Ryan, the spotlight figures to be on Bridgewater.
"It's not all about me. I don't have to do it my myself," said Bridgewater, who will be backed up by former starter Christian Ponder. "There are 10 other guys out on the field with me, so we're expecting those guys to play well for us and just excited to get back out there Sunday."
Along with Cassel, the Vikings suffered several other key injuries last week. Starting right guard Brandon Fusco was also lost for the year with a pectoral muscle injury, while linebacker Chad Greenway, who played with a broken left hand, aggravated a rib injury he was already dealing with.
Greenway, Minnesota's leader in tackles each of the past six seasons, will see his streak of 90 consecutive starts come to an end.
Nickel cornerback Josh Robinson also hurt his right hamstring.
The Falcons have taken the last two meetings with Minnesota, winning the most recent 24-14 at Atlanta on Nov. 27, 2011.
Matchup
ATL

MIN

W-L
2-2
2-2
Avg Points
7.0
10.3
Avg Points Allowed
10.3
7.0
Home Record
2-0
1-1
Road Record
0-2
1-1
Division Record
2-0
0-0
Conference Record
2-1
2-1
Complete Standings
Team Averages & NFL Ranks
TEAM OFFENSE
TEAM
PER GAME AVERAGE
Total Yards
ATL

378
MIN

316
Yards Passing
ATL

285
MIN

203
Yards Rushing
ATL

94
MIN

113
TEAM DEFENSE
TEAM
PER GAME AVERAGE
Yards Allowed
ATL

398
MIN

345
Pass Yds Allowed
ATL

280
MIN

223
Rush Yds Allowed
ATL

118
MIN

121
Head to Head Matchups (Since 2001)
Atlanta leads 4-3
Nov 27, 2011
ATL 24, MIN 14
Dec 21, 2008
ATL 24, @MIN 17
Sep 9, 2007
ATL 3, @MIN 24
Oct 2, 2005
ATL 30, MIN 10
Oct 5, 2003
ATL 26, MIN 39
Dec 1, 2002
ATL 30, @MIN 24
Research Notes
The Falcons are 2-0 at home this season and 0-2 on the road, with the Falcons pass offense struggling away from Atlanta.
Matt Ryan
was 5-of-13 with 2 interceptions on passes thrown 15+ yards downfield Sunday. - Matt Ryan targeted
Roddy White
a team-high 14 times Sunday, six more targets than
Julio Jones
. Ryan was 4-of-14 targeting White with both interceptions and went 6-of-8 to Jones.
[+]
Matt Asiata
has 3 rushing TD Sunday, his 2nd career game with 3 rushing TD. Asiata has no rushing TD in any other game played (29 total games).
Teddy Bridgewater
was 8-of-12 on passes thrown 10+ yards downfield Sunday and was 4-of-5 in his debut the week prior.
Matt Cassel
had just one completion on such throws before his injury. Bridgewater is averaging 13.6 yards per attempt on those throws, well ahead of Cassel's 1.6 yards per attempt average.
[+]
Teddy Bridgewater
posted a Total QBR of 85.6 Sunday against the Falcons, the third highest for any rookie in their first career start in the last five seasons.
[+]
The Vikings have rushed for 154 yards and 3 TD at the half against the Falcons Sunday. Entering the day they had rushed for 113 yards and 0 TD in 2 games since suspending
Adrian Peterson
.
ESPN Stats & Information