1:00 PM ET, September 28, 2014
NRG Stadium, Houston, TX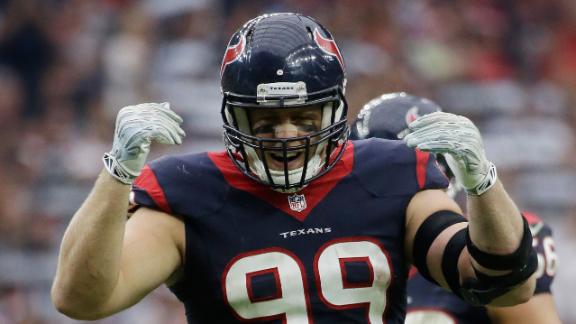 Sunday Blitz: Bills-Texans Recap
Jim Basquil and Ron Jaworski talk about J.J. Watt's big day as the Texans beat the Bills 23-17.
Sunday Blitz: Bills-Texans Recap
VIDEO PLAYLIST
A major factor that sent Ryan Fitzpatrick out of Buffalo played a pivotal role in his new team's perfect start being spoiled.
Turnovers.
The Houston Texans missing their star rusher didn't help, either.
With Arian Foster's status still in question, Fitzpatrick likely must cut down on his mistakes Sunday in Houston if he's to win his first matchup with a Bills team for which he was once the franchise quarterback.
"It will be for bragging rights," Buffalo veteran Fred Jackson told his team's official website. He still considers Fitzpatrick a close friend and called the Harvard graduate "by far the smartest player I've ever played with."
Besides Fitzpatrick having the distraction of facing Buffalo (2-1), his teammates are trying to fight off the demons of 2013. That wouldn't have been the case had the Texans won last Sunday to go to 3-0, but instead they lost 30-17 to the Giants and set up the media to ask questions about last season's 14-game losing streak after a 2-0 start.
"We don't think about last year at all," left tackle Duane Brown said. "It's a new year. We have a new team. It's a totally different organization ... we're not getting used to this feeling."
Another loss will be hard to avoid if Fitzpatrick throws three interceptions like he did last week. Fitzpatrick, who also had a fumble but recovered it, did not commit a turnover or get sacked during the 2-0 start but faced heavier pressure against New York and was sacked twice.
"It's definitely about being steady. Not letting what's going on outside or not letting last week's performance kind of affect the work you put in for this week," Fitzpatrick said. "... Not allowing anything that happened in the past affect the way you go about your business."
He started 53 games for the Bills from 2009-12 and was awarded a six-year, $59 million extension in October 2011. However, he was released less than 18 months later after his 39 interceptions over 2011 and '12 tied for the most in the league, not to mention he had 15 fumbles.
Fitzpatrick spent last year with Tennessee before signing with Houston to run an offense based around Foster, who had an AFC-leading 241 rushing yards through Week 2. The three-time Pro Bowler sat out last week with a hamstring injury -- which also forced him to miss time in 2011 and 2013 -- and isn't sure if he'll return Sunday.
"I've played through a lot in this league and hamstrings are the hardest thing to gauge because you don't know how it's going to fatigue, how it's going to react to a certain cut," Foster said. "You've just got to let it rest ... having things heal on their own time. You can't push it or it'll relapse on you."
Rookie Alfred Blue had 78 yards on 13 carries starting for Foster, but 46 of them came on one run. Either Foster or Blue has a tough assignment against a Buffalo defense which has not allowed more than 90 yards rushing in a game.
That unit, though, was picked apart by Philip Rivers in a 22-10 home loss to San Diego last Sunday. Buffalo's pass defense ranks 26th in the league at 267.3 yards per game.
The passing offense also struggled. Fitzpatrick's replacement, 2013 first-round pick EJ Manuel, completed seven of 21 for 49 yards to his wide receivers. Sammy Watkins, this year's No. 4 overall pick, was targeted eight times but had two catches for 19 yards after having eight for 117 the previous week.
"We're not where we want to be," said C.J. Spiller, held to 25 yards on 10 carries.
Buffalo coach Doug Marrone is close friends with Houston counterpart Bill O'Brien -- they carpooled as Georgia Tech assistants in the late '90s -- and one will be concerned if his team falls behind early. These teams trailed for less than a combined seven minutes through Week 2 but faced double-digit holes at halftime last Sunday.
Since the start of last season, the Bills are 0-10 when they've trailed by 10 or more points.
"That's something, obviously, we have to be able to do to be a good football team," Marrone said.
Foster ran for 111 yards and a touchdown in the last meeting as Houston beat the Fitzpatrick-led Bills 21-9 in 2012. Buffalo's Mario Williams had a sack in his first meeting with the team which drafted him No. 1 overall in 2006, and he's off to a solid start with two sacks and 2 1/2 tackles for loss.
Watkins will look to outplay fellow former Clemson star DeAndre Hopkins, the second-year wideout who tops Houston with 227 receiving yards.
Matchup
BUF

HOU

W-L
2-2
3-1
Avg Points
4.3
5.8
Avg Points Allowed
5.8
4.3
Home Record
1-1
2-0
Road Record
1-1
1-1
Division Record
1-0
0-0
Conference Record
1-2
2-0
Complete Standings
Team Averages & NFL Ranks
TEAM OFFENSE
TEAM
PER GAME AVERAGE
Total Yards
BUF

319
HOU

345
Yards Passing
BUF

226
HOU

210
Yards Rushing
BUF

93
HOU

135
TEAM DEFENSE
TEAM
PER GAME AVERAGE
Yards Allowed
BUF

312
HOU

348
Pass Yds Allowed
BUF

206
HOU

243
Rush Yds Allowed
BUF

106
HOU

105
Head to Head Matchups (Since 2001)
Houston leads 4-3
Nov 4, 2012
BUF 9, @HOU 21
Nov 1, 2009
BUF 10, HOU 31
Nov 19, 2006
BUF 24, @HOU 21
Sep 11, 2005
BUF 22, HOU 7
Nov 16, 2003
BUF 10, HOU 12
Oct 13, 2002
BUF 31, @HOU 24
Research Notes
EJ Manuel
was 5-of-18 for 36 yards, a touchdown and two interceptions when the Texans sent at least five pass rushers Sunday. Entering today, Manuel had a 19.1 Total QBR against the blitz this year, 29th among qualified quarterbacks. Manuel had a 53.1 QBR against the blitz last year, 18th in the league.
ESPN Stats & Information