1:00 PM ET, September 28, 2014
Soldier Field, Chicago, IL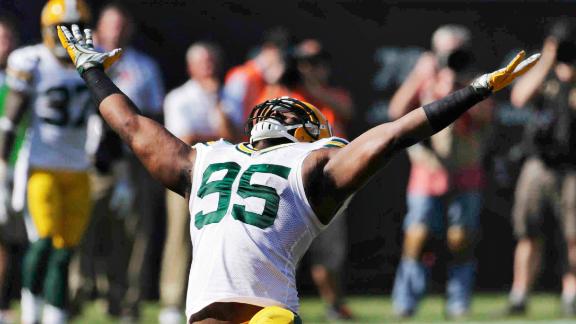 Sunday Blitz: Packers-Bears Recap
Jim Basquil and Ron Jaworski break down Jay Cutler's bad day as the Packers get a big win in Chicago.
Sunday Blitz: Packers-Bears Recap
VIDEO PLAYLIST
Aaron Rodgers delivered a bitter ending to the Chicago Bears' 2013 season, but he returns to Soldier Field after one of the worst performances of his career.
The Green Bay quarterback will seek to bounce back while denying the Bears a third consecutive victory and their first at home this season Sunday.
It looked like the Packers might fall short of a fifth consecutive playoff berth in December when they faced fourth-and-8 from the Chicago's 48-yard line with 46 seconds left. Instead, Rodgers connected with a wide-open Randall Cobb for a touchdown to give Green Bay a 33-28 victory over its archrival and the NFC North title.
Rodgers and the Packers have some early ground to make up after starting 1-2, and they were largely ineffective offensively in their 19-7 loss at Detroit last Sunday.
Green Bay was held scoreless in the final three quarters and finished with 223 yards, its second-lowest total in the last six seasons. Rodgers had 162 for his second-fewest in any game that he's been healthy.
The Packers also allowed a 40-yard fumble return for a touchdown and a safety.
"We haven't been a sharp offense. I haven't been as sharp," Rodgers said. "We've all got to do better."
Rodgers will face a Bears defense that's dealt with a bevy of injuries but had enough depth to pull out a 27-19 win at the New York Jets on Monday night. Ryan Mundy returned an interception 45 yards for a score on the second play from scrimmage but was in and out of the game after suffering a stinger.
Safety Chris Conte, who was burned by Cobb for that winning touchdown, also has an ailing shoulder. The Bears (2-1) played without defensive lineman Jeremiah Ratliff (concussion), linebacker Shea McClellin (hand) and veteran cornerback Charles Tillman, who is out for the season with a torn right triceps.
"That's a credit to our coaches," Mundy said. "We get coached hard day in and day out. And we make sure that everyone is ready to play.
"And I think that has been evident over the past two weeks."
McClellin has been ruled out for this game and the statuses of Ratliff, Mundy and Conte are unknown. Coach Marc Trestman was "not optimistic" center Roberto Garza and left guard Matt Slauson could end their two-game absences due to ankle injuries, and fullback Tony Fiammetta has a hamstring injury.
The Bears have lost seven of eight in the NFL's longest-running rivalry, including the NFC championship game in January 2011, but earned that lone win in Trestman's first matchup Nov. 4.
Rodgers broke his collarbone on the opening drive of that 27-20 defeat on a sack by McClellin. He didn't return to action until the win at Soldier Field, throwing for 318 yards and two touchdowns in the victory.
Rodgers has averaged 282.0 yards while totaling 14 TDs and four interceptions in his last five full games against Chicago. Bears quarterback Jay Cutler has 18 interceptions -- seven more than against any other opponent -- and 11 touchdowns in 10 career meetings with Green Bay, including the postseason.
He missed last season's victory over the Packers because of a torn groin muscle.
Like Green Bay, Chicago is trying to get its top rusher back on track.
The Bears' Matt Forte has 54 yards in the last two games after running for 82 in their Week 1 loss to Buffalo, but he's second on the team with 19 receptions for 145 yards. Chicago has a league-low 192 yards on the ground and has been held to 106 in the last two games.
Forte topped 100 yards in both meetings last season, totaling 235, and added nine catches for 101 yards.
Green Bay's Eddie Lacy has 113 rushing yards this season after gaining 1,178 and winning the league's offensive rookie of the year award. Lacy had 216 yards in last season's two matchups, including 150 in the loss.
The Packers haven't topped 80 yards on the ground in 2014 after reaching triple digits in all but four games last season.
Green Bay has not started 0-3 on the road since dropping its first four there in 2005. The Packers haven't lost three in a row on the road in one season since Nov. 28-Dec. 19, 2010, but are seeking a fifth consecutive win in Chicago, including the NFC title game.
The Bears haven't opened with back-to-back home defeats since an 0-3 start in 2004. Their last set of consecutive losses at Soldier Field came at the end of 2012.
This game marks the return of former All-Pro Julius Peppers to Chicago, where he had 37 1/2 sacks from 2010-13. He has one this season, while his replacement Jared Allen has yet to record one for Chicago.
Matchup
GB

CHI

W-L
2-2
2-2
Avg Points
9.5
4.3
Avg Points Allowed
4.3
9.5
Home Record
1-0
0-2
Road Record
1-2
2-0
Division Record
1-1
0-1
Conference Record
1-2
1-1
Complete Standings
Team Averages & NFL Ranks
TEAM OFFENSE
TEAM
PER GAME AVERAGE
Total Yards
GB

386
CHI

327
Yards Passing
GB

266
CHI

237
Yards Rushing
GB

120
CHI

90
TEAM DEFENSE
TEAM
PER GAME AVERAGE
Yards Allowed
GB

346
CHI

377
Pass Yds Allowed
GB

226
CHI

264
Rush Yds Allowed
GB

120
CHI

113
Head to Head Matchups (Since 2001)
Green Bay leads 20-9
Dec 29, 2013
GB 33, @CHI 28
Nov 4, 2013
GB 20, CHI 27
Dec 16, 2012
GB 21, @CHI 13
Sep 13, 2012
GB 23, CHI 10
Dec 25, 2011
GB 35, CHI 21
Sep 25, 2011
GB 27, @CHI 17
Jan 23, 2011
GB 21, @CHI 14
Jan 2, 2011
GB 10, CHI 3
Sep 27, 2010
GB 17, @CHI 20
Dec 13, 2009
GB 21, @CHI 14
Sep 13, 2009
GB 21, CHI 15
Dec 22, 2008
GB 17, @CHI 20
Nov 16, 2008
GB 37, CHI 3
Dec 23, 2007
GB 7, @CHI 35
Oct 7, 2007
GB 20, CHI 27
Dec 31, 2006
GB 26, @CHI 7
Sep 10, 2006
GB 0, CHI 26
Dec 25, 2005
GB 17, CHI 24
Dec 4, 2005
GB 7, @CHI 19
Jan 2, 2005
GB 31, @CHI 14
Sep 19, 2004
GB 10, CHI 21
Dec 7, 2003
GB 34, CHI 21
Sep 29, 2003
GB 38, @CHI 23
Dec 1, 2002
GB 30, CHI 20
Oct 7, 2002
GB 34, @CHI 21
Dec 9, 2001
GB 17, CHI 7
Nov 11, 2001
GB 20, @CHI 12
Research Notes
Defense optional in Packers-Bears 1st half: 38 points 33 1st downs 508 yards 7.6 yds per play
Jordy Nelson
and
Randall Cobb
were the targets on 21 of
Aaron Rodgers
' 28 passes Sunday. Rodgers found an efficiency with the duo that he hadn't the first three games of the season. Although
Brandon Marshall
and
Alshon Jeffery
each had touchdown receptions Sunday, neither was able to make that much of an impact, especially in the second half. - Cutler was 2-of-6 targeting Marshall Sunday. That's their worst single game completion percentage with the Bears and second worst overall (went 2-of-9 in 2008 with Broncos).
[+]
Brandon Marshall
's touchdown catch in the 1st quarter Sunday was his fourth touchdown reception against the Packers since 2012, breaking a tie with
Vernon Davis
for the most Rec TD against Green Bay in the last three seasons.
Jared Allen
played 175 of the Bears 193 defensive snaps in their first three games this season, tied for the fifth-most defensive snaps of any defensive lineman in the league.
[+]
Aaron Rodgers
was pressured on just three of his 21 dropbacks against four or fewer pass rushers Sunday. Rodgers went 18-of-20 when facing such pass rushes Sunday, completing his first 11 attempts. - Rodgers was 6-of-6 overall passing 15+ yards downfield Sunday. Five of those completions were against standard pressure. - Rodgers was 10-of-10 targeting
Jordy Nelson
when facing standard pressure Sunday.
[+]
With his 2-yard TD run in the 1st quarter,
Eddie Lacy
has now scored in all 3 of his games played against the Bears.
The Bears rushed for 102 yards in the 1st quarter. Chicago entered the game with the fewest rush yards per game this season at 64.3.
Aaron Rodgers
reached 25,000 career pass yards in his 98th game, the fourth fewest in NFL history.
[+]
Aaron Rodgers
and the Packers offense got back on track Sunday, scoring on 6-of-7 offensive drives (85.6 percent). Only once since Rodgers became starter have the Packers scored on a higher rate of their drives (87.5 percent Week 8 last season vs Vikings).
Jay Cutler
's second half performance Sunday was one of the worst by a quarterback at home dating back to 2006.
[+]
Offensive plays run in the 1st quarter: Packers - 6, Bears - 24
Martellus Bennett
had a career-high 134 receiving yards Sunday. According to Elias, Bennett is the first Bears tight end with at least 100 receiving yards against the Packers since Mike Ditka had 190 yards on November 12, 1961.
The first 2 Bears drives of the game Sunday each went for at least 13 plays. The Bears had 2 such drives in their first 3 games of the season (35 total drives).
Aaron Rodgers
threw at least 4 touchdowns in a game for the 13th time in his career, the sixth-most such games since the 1970 NFL/AFL Merger.
[+]
ESPN Stats & Information