4:25 PM ET, December 15, 2013
AT&T Stadium, Arlington, TX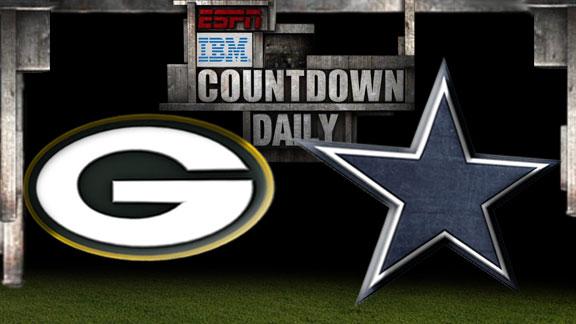 Countdown Daily Prediction: GB-DAL
Countdown Daily Prediction: GB-DAL
VIDEO PLAYLIST
The Green Bay Packers are still unsure whether the injured Aaron Rodgers will return for his first start in six games.
Having a backup quarterback may not be a detriment against the Dallas Cowboys' league-worst defense.
These teams are both in the hunt for division titles, and the Cowboys could be hard-pressed to stop whichever quarterback the Packers use in Sunday's matchup at AT&T Stadium.
Rodgers took some first-team snaps in practice Wednesday and Thursday, though the Packers' franchise quarterback still hasn't been cleared to play in a game. In order to do so, he'll likely need to take the majority of first-team snaps in practice Friday, and get good results from a scan on his healing left collarbone.
Asked after Thursday's practice if he is holding out hope of playing Sunday, Rodgers paused before replying, "Yes."
"I feel a little better than last week," Rodgers said. "It was good to be out there with those guys, but I'm still just trying to get better every day and it's nice to be able to go through a couple practices."
Green Bay (6-6-1) is one-half game behind NFC North co-leaders Detroit and Chicago as it returns to Arlington for the first time since Rodgers became MVP of Super Bowl XLV there in a 31-25 victory over Pittsburgh.
While the Packers do not control their destiny to win the division, the Cowboys do in the East. Dallas (7-6) trails first-place Philadelphia by one game and hosts the Eagles in Week 17 and will own the tiebreaker if it wins its last three games.
Dallas (7-6), however, likely won't be confident Sunday even if Matt Flynn makes a third straight start in place of Rodgers. That's because the Cowboys were shredded in Monday's 45-28 road loss to the Bears by backup Josh McCown, who threw for 348 yards and four touchdowns as Chicago racked up 490 yards of total offense.
The defeat marked the second time in a row Dallas has turned in an embarrassing performance in prime time after Drew Brees threw for 392 yards and four scores in a 49-17 win for New Orleans on Nov. 10. The Cowboys have allowed a league-worst 441.9 yards per game.
"Basically, we will have to make some adjustments in what we are doing defensively," owner Jerry Jones said Monday. "What that usually means is taking more risks on defense. But if you're going to have the kind of match like we had tonight or certainly in New Orleans, you have to take some risks. We have to double up and I'm sure that will be part of the plan on defense; more risks."
Flynn helped Green Bay end a 0-4-1 slide in Sunday's 22-21 home win over Atlanta. He completed 24 of 32 passes for 258 yards, one touchdown and one interception.
Rodgers' backup pointed to the fact that Dallas has done well in forcing turnovers in assessing the beleaguered defense he would face if he starts. The Cowboys have forced 25 turnovers to tie for the fifth-highest total in the NFL.
"We've got to do our job and go out there and execute," Flynn said. "We think they're a talented defense. We know what we've got to do, we've got to try to work out any of the mistakes we're making and play a really clean game, especially there."
The Cowboys didn't force any turnovers Monday and allowed the Bears to score on their first eight possessions.
Jones made a splash in the offseason when he fired Rob Ryan as defensive coordinator and brought in the venerable Monte Kiffin. The owner reiterated his support for Kiffin, who wants his defense to do better on third downs.
Chicago converted 8 of 11, and Dallas is allowing opponents to convert on 42.9 percent of third downs for the NFL's fifth-worst mark.
"It isn't like they went right down the field, right down the field," Kiffin said. "Now they did but we had some third downs, we've gotta win some third downs."
The Cowboys are also tied for the NFL's fourth-worst number of sacks with 27. Star pass rusher DeMarcus Ware, who has missed three games with a thigh injury, has just 6.0 sacks for the lowest figure of his career.
The woeful defense has put more pressure on Tony Romo, who fell to 11-16 in December. He threw for a season-low 104 yards but had three touchdown passes with no interceptions for an offense that was only on the field for 23:16 because of the problems on the other side of the ball.
"It feels like you've got to win out is what it feels like," said Romo, a Wisconsin native who is 2-1 in his career as a starter against Green Bay. "It's felt like that for a few weeks."
Although the Packers are familiar with this venue, Sunday marks the first time they will face the Cowboys in it. Dallas captured the last nine home meetings at Texas Stadium, including three in the postseason.
The previous three matchups were all in Green Bay, with the Packers winning the last two. These teams haven't met in three seasons.
More from ESPN.com
Rodgers gets some snaps, still not cleared
The Aaron Rodgers watch will continue for at least one more day.
Taylor: Cowboys' Jones too reactionary as GM
Jerry Jones can't let his emotion of being a fan get in the way of him doing his job as GM.
Joyner: Packers can still win NFC North


KC Joyner details the reasons why the Green Bay Packers are still a good bet to win the NFC North and make the playoffs despite their current 6-6-1 record.
Kiffin would listen to Jerry for suggestions
Dallas Cowboys defensive coordinator Monte Kiffins search for solutions includes taking suggestions from owner and general manager Jerry Jones.
Going to the Game?

4515 tickets available from $30 to $10,000 per ticket.
Buy on StubHub »
Matchup
GB

DAL

W-L
6-6-1
7-6
Avg Points
24.3
27.5
Avg Points Allowed
25.1
26.8
Home Record
4-2-1
5-1
Road Record
2-4
2-5
Division Record
2-2-1
4-0
Conference Record
4-5-1
6-3
Complete Standings
Team Averages & NFL Ranks
TEAM OFFENSE
TEAM
PER GAME AVERAGE
Total Yards
GB

394
DAL

328
Yards Passing
GB

266
DAL

235
Yards Rushing
GB

129
DAL

94
TEAM DEFENSE
TEAM
PER GAME AVERAGE
Yards Allowed
GB

369
DAL

427
Pass Yds Allowed
GB

247
DAL

299
Rush Yds Allowed
GB

123
DAL

128
Head to Head Matchups (Since 2001)
Green Bay leads 3-2
Nov 7, 2010
GB 45, DAL 7
Nov 15, 2009
GB 17, DAL 7
Sep 21, 2008
GB 16, DAL 27
Nov 29, 2007
GB 27, @DAL 37
Oct 24, 2004
GB 41, DAL 20