4:25 PM ET, December 30, 2012
Gillette Stadium, Foxboro, MA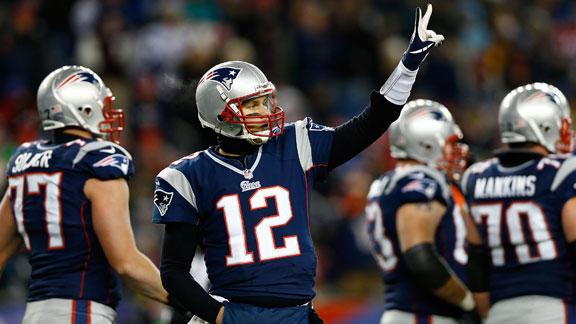 Sunday Blitz: Dolphins-Patriots Recap
Sunday Blitz: Dolphins-Patriots Recap
VIDEO PLAYLIST
The New England Patriots should have a pretty good idea whether their regular-season finale has any significance in the AFC playoff picture before the opening kickoff.
Either way, it may mean something to their confidence heading into the postseason.
After a pair of uninspiring starts, the Patriots look to produce a better first half of football Sunday when they host the Miami Dolphins.
New England (11-4) fell behind lowly Jacksonville 10-0 in the first 10 minutes last weekend. Although the AFC East champions recovered for a 23-16 victory, their slow start the previous week may have cost them a bye in the playoffs.
The Patriots trailed San Francisco 31-3 at home Dec. 16, rallying to tie the score but eventually losing 41-34. That leaves them one game behind both Houston and Denver going into Week 17.
"We've got to do a better job," Tom Brady said Monday during his weekly appearance on WEEI radio. "We've got some pretty important weeks of football ahead, and that's when we really need to play our best."
The Patriots, who hold tiebreakers over the Texans and Broncos after beating both, could still claim one of the top two seeds in the AFC if one of those teams loses Sunday. Houston plays at Indianapolis early in the afternoon.
That result won't affect the Colts, who are locked into the No. 5 seed, but New England will still be watching the scoreboard. Denver is heavily favored at home against Kansas City, with that game happening at the same time the Patriots face Miami.
Even if the chance of a bye is remote, New England may need a win to secure the AFC's No. 3 spot if Baltimore beats Cincinnati early. The third-place team will host the Bengals next weekend, while the No. 4 seed faces Indianapolis.
All of those scenarios, including the chance of a short week before a Saturday wild-card game, could affect coach Bill Belichick's personnel decisions Sunday.
"You can't be totally oblivious to the possibilities that exist out there," Belichick said. "There are quite a few possibilities. It's really hard to be specific on something like that when there are so many possibilities."
There's a possibility New England could have one of its most important offensive weapons back Sunday. Rob Gronkowski hasn't played since breaking his arm late in a 59-24 win over the Colts on Nov. 18, although he still has twice as many receiving touchdowns (10) as any teammate.
The Patriots' top-ranked offense looked sluggish in Jacksonville, with Brady throwing a pair of interceptions and the team converting a season-low 23 first downs. New England has gone 6 for 27 on third down over the last two weeks.
Brady blamed the performance against the Jaguars largely on "self-inflicted errors," and offensive coordinator Josh McDaniels seemed to agree.
"Certainly, (we) never really got into the game where we felt like we were going to string together a bunch of drives," McDaniels said.
Even though the Patriots have won five straight against the Dolphins, it's far from certain that they'll be able to dominate Sunday. They gained a season-low 321 yards in a 23-16 win at Miami on Dec. 2, and they trailed 17-0 at halftime against the Dolphins at home last season before rallying to win 27-24.
Miami (7-8) would love to avoid a fourth straight losing season and finish with a third consecutive victory. Coach Joe Philbin's team has allowed 13 total points in its last two games, home victories over Jacksonville and Buffalo.
"We're building a foundation that is going to deliver excellent football teams here in the future," Philbin said. "And it takes time."
Rookie Ryan Tannehill has gone four straight games without an interception and has thrown four TD passes over the last two weeks. The Dolphins also totaled 362 rushing yards in their back-to-back wins, and Reggie Bush needs only 40 more for his second straight 1,000-yard season.
"Our offense is really getting into a rhythm," Bush said. "We hit a low point midway through the season where we were kind of struggling to run that ball, and I think that really hurt us. I feel like now we've kind of hit that stride where everybody is on the same page, our chemistry is good, our defense is playing well, and it feels good."
The Patriots may want to get a few key defensive players some rest for the playoffs. Linebacker Brandon Spikes (knee, ankle) missed last week's game and cornerback Aqib Talib (hip) was extremely limited.
More from ESPN.com
Pats' Amendola building rapport with Brady
New England Patriots wide receiver Danny Amendola got a head start on his work with quarterback Tom Brady this offseason, as the two convened in Southern California to take part in workouts at USC.
Kraft: Positive reports on Gronk's surgery
One day after New England Patriots tight end Rob Gronkowski underwent a fourth surgery on his left forearm, team owner Robert Kraft said he has received positive reports from doctors.
San Francisco, Houston win Super Bowl bids
The San Francisco Bay Area was awarded hosting rights to Super Bowl L in 2016, while Houston will host Super Bowl LI in 2017, commissioner Roger Goodell announced at the NFL's spring owners meetings in Boston on Tuesday.
Reilly: My top 20 NFL coaches
Rick Reilly submits his ballot for the top 20 coaches in NFL history. He lets you see whom he voted for and whom he didn't.
ESPN Local
Bid Committee Celebrates As Houston Gets 2017 Super Bowl
By a vote of the NFL clubs, Super Bowl LI in 2017 has been awarded to Houston. The Visitors Bureau and Houston First, which manages the George R. Brown Convention Center, are part of Houstons Super Bowl Bid Committee. It will be the third Super Bowl p
Super Bowl 50 to be hosted by San Francisco 49ers' new Santa Clara stadium
BOSTON -- Let the Bay Area's Super Bowl party begin. NFL owners on Tuesday selected the San Francisco 49ers' new Santa Clara stadium to host the 50th Super Bowl in 2016, sending the nation's biggest sporting event back to the Bay Area for the first time
Miami loses votes for two Super Bowl bids
BOSTON The NFL conducted its own referendum on the Miami Dolphins stadium on Tuesday, shutting South Florida out when it handed out the 2016 and '17 Super Bowl hosts. Owners at the NFL's spring meeting in Boston sent the 50th Super Bowl to the 49ers new
NFL: Pats have new look
FOXBOROUGH, Mass. -- Tom Brady dropped back and threw a pass. Danny Amendola ran to where he expected it to be. A NEW GROUP: Danny Amendola is one of nine new wide receivers who are participating in offseason works outs with the New England Patriots this
Patriots Danny Amendola talks about new team
FOXBOROUGH, Mass. Neither quarterback Tom Brady nor head coach Bill Belichick met with the media at the New England Patriots first open organized teams activities workout of the offseason on Tuesday. So the spokesman left to talk about the dramatic ov
New England Patriots owner Robert Kraft would 'love' to host the Super Bowl
With the next Super Bowl being held in New York, Robert Kraft has started to ponder the possibility of bringing the festivities to the New England region. We would love one day to hold it here if its a good experience there, Kraft told reporters at Tu
Scouting Report
Dolphins-Patriots: What to watch
After watching film of both teams, Scouts Inc. breaks down key elements of the Week 17 Dolphins-Patriots matchup.
• Keep it away from Brady: The Patriots' offense is explosive. Miami has shown progress offensively in recent weeks, and New England's defense has been exploited at times by precision offenses. Look for Dolphins offensive coordinator Mike Sherman to utilize a variety of high-percentage passes and attack the Patriots' front seven at all levels to limit Tom Brady's opportunities.
Matchup
MIA

NE

W-L
7-9
12-4
Avg Points
18.0
34.8
Avg Points Allowed
19.8
20.7
Home Record
5-3
6-2
Road Record
2-6
6-2
Division Record
2-4
6-0
Conference Record
5-7
11-1
Complete Standings
Team Averages & NFL Ranks
TEAM OFFENSE
TEAM
PER GAME AVERAGE
Total Yards
MIA

312
NE

428
Yards Passing
MIA

199
NE

291
Yards Rushing
MIA

113
NE

137
TEAM DEFENSE
TEAM
PER GAME AVERAGE
Yards Allowed
MIA

357
NE

373
Pass Yds Allowed
MIA

248
NE

271
Rush Yds Allowed
MIA

108
NE

102
Head to Head Matchups (Since 2001)
New England leads 17-7
Dec 2, 2012
MIA 16, NE 23
Dec 24, 2011
MIA 24, @NE 27
Sep 12, 2011
MIA 24, NE 38
Jan 2, 2011
MIA 7, @NE 38
Oct 4, 2010
MIA 14, NE 41
Dec 6, 2009
MIA 22, NE 21
Nov 8, 2009
MIA 17, @NE 27
Nov 23, 2008
MIA 28, NE 48
Sep 21, 2008
MIA 38, @NE 13
Dec 23, 2007
MIA 7, @NE 28
Oct 21, 2007
MIA 28, NE 49
Dec 10, 2006
MIA 21, NE 0
Oct 8, 2006
MIA 10, @NE 20
Jan 1, 2006
MIA 28, @NE 26
Nov 13, 2005
MIA 16, NE 23
Dec 20, 2004
MIA 29, NE 28
Oct 10, 2004
MIA 10, @NE 24
Dec 7, 2003
MIA 0, @NE 12
Oct 19, 2003
MIA 13, NE 19
Dec 29, 2002
MIA 24, @NE 27
Oct 6, 2002
MIA 26, NE 13
Dec 22, 2001
MIA 13, @NE 20
Oct 7, 2001
MIA 30, NE 10
Research Notes
In 11 previous seasons under Bill Belichick, the Patriots made 9 playoff appearances. For 6 of those 9 trips, they earned 1 of the top 2 seeds and a 1st-round bye -- leading to all 3 of New England's Super Bowl titles. The Pats are 0-for-3 (in terms of titles) without skipping past the 1st round.
[+]
Since
Aqib Talib
joined the Patriots in Week 11, they have sent five or more pass rushers on 34.1 percent of dropbacks after sending such pressure on 15.0 percent of dropbacks in their first nine games. The Patriots have more sacks when sending added pressure over their last six games (5) than they did in their first nine games (4).
[+]
Tom Brady
has 20 touchdown passes against five or more pass rushers this season, the most for a quarterback against added pressure in the last five seasons. Brady has not thrown an interception against five-plus rushers since December 11, 2011. The Dolphins sent added pressure on 27.9 percent of Brady's dropbacks in Week 13, their second-lowest rate this season.
[+]
ESPN Stats & Information