Cleveland Rocks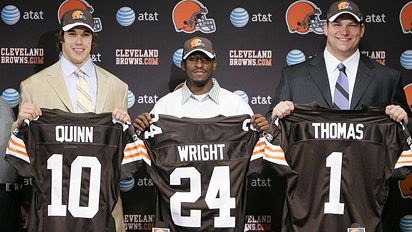 AP Photo/Tony Dejak
Cleveland's winning trifecta: Brady Quinn, Eric Wright and Joe Thomas.
The 2007 draft is in the books. No team earned an A, but the Browns were among the teams that came close.
Mel Kiper's grades
•
Kiper: Good/bad
|
Vote: Grades
|
Consensus grades
|
Q&A
•
McShay:
AFC's best/worst
|
NFC
|
Undrafted prospects
•
Draft review

|
Trades
|
Pasquarelli:
Final thoughts
|
Long Day 1
Must Read

The 2007 draft continued a trend: the smaller-school football player isn't as popular as before. Ask Chippewa-turned-49er Joe Staley, who was the highest pick (No. 28) among the non-BCS players. Pat Forde


The Raiders decided to take the quarterback this year, making them one of the big winners on Day 1 of the draft. John Clayton
• Clayton: Day 2 observations
• Clayton: It was time for Moss to go

After 200-plus picks, including former Baylor punter Daniel Sepulveda, Matt Mosley and his NFL draft blog packed it in. See what you missed. Day 2
• Mosley: Day 1 blog
Draft Conversation
NFL fans are among the most knowledgeable out there. They know their teams' strengths and weaknesses. Want to share some of your knowledge about the draft? Join the conversation.

Comment on a NFL Team
Look Back: 2006 NFL Draft

Super Mario
The Texans passed on Reggie Bush and took Mario Williams No. 1 overall.
2006 Draft Coverage
Look Back: 2005 NFL Draft

49ers' Mr. Smith
The 49ers grabbed quarterback Alex Smith with the No. 1 overall pick.
2005 Draft Coverage