Curry comes alive in Warriors' Game 3 rout
Steph Curry scores 26 of his game-high 35 points in the second half of the Warriors' 41-point win in Game 3.
Steph shimmies after crossing up Harden for 3
In the 3rd quarter, Steph Curry drills a 3-pointer over James Harden does the shimmy.
Livingston leaves Harden in the dust with filthy move
Shaun Livingston brings the ball behind his back, then accelerates by James Harden for the two-handed dunk.
Draymond, Ariza receive double techs
Draymond Green and Trevor Ariza get into a heated exchange in the 4th quarter of Game 3.
Curry goes off in third quarter
Steph Curry breaks out of a slump in a big way by scoring 18 points in the third quarter while igniting the Oracle crowd.
Durant: Success 'all stems around' defensive end
Kevin Durant credits the Warriors' win on the team's sense of urgency on defense and how they were able to help Steph Curry on offense.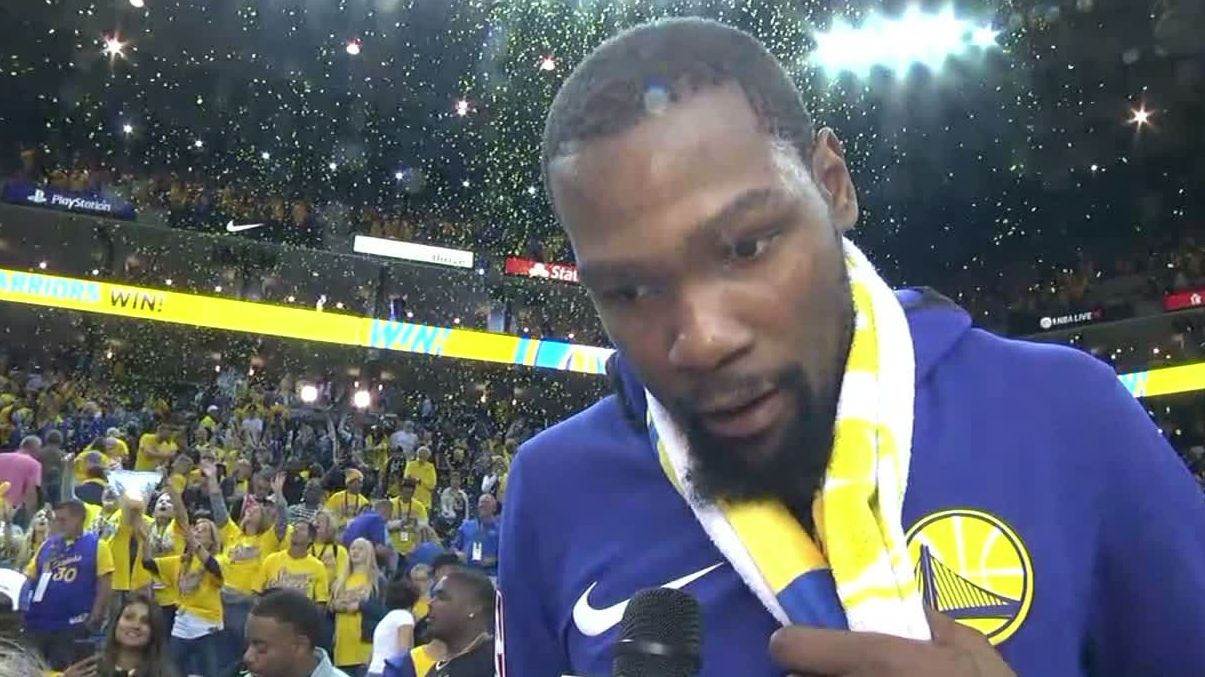 Curry 'expected' to bounce back in Game 3
Steph Curry says he doesn't get too high or too low regarding how he's shooting and explains how the Warriors will stay motivated for Game 4.
Riley hyped up after Steph's tough layup
Steph Curry hits a teardrop in the lane to get his daughter Riley and the Oracle crowd pumped up.
Steph drills deep 3-pointer
Steph Curry pulls up from deep and hits it over Chris Paul in the 3rd quarter of Game 3.
KD blows by Harden for crafty layup
Kevin Durant attacks the rim and finishes over two Rockets in Game 3.
Iguodala follows own miss with putback dunk
Andre Iguodala cleans up his own shot with a two-handed slam in the first quarter.
Looney's block sparks slick Warriors fast break
Golden State pushes the tempo after Kevon Looney's block and Klay Thompson finishes with a tough layup.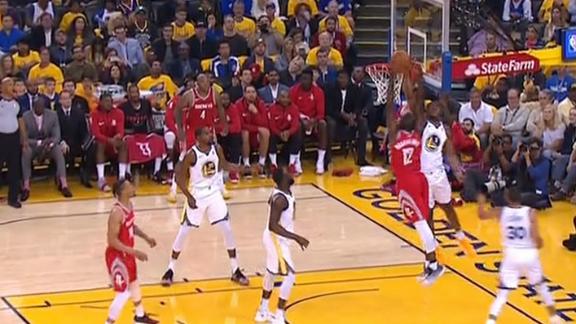 NBA Draft
Will Lakers land two top free agents this offseason?
Byron Scott expects Magic Johnson to bring Paul George and one more marquee free agent to Los Angeles.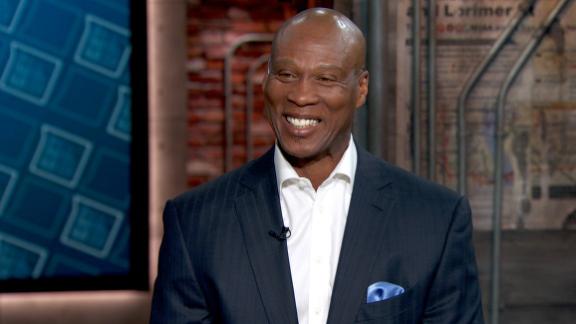 Customize ESPN
The scariest three minutes in the NBA
Diego Patino

By the time opponents know what's hit them, it's already too late. This is how the Warriors crush -- and how the NBA fails to fight back.
Kawhi, Pop and the NBA's most fascinating mystery
Soobum Im/USA TODAY Sports

What's behind the tension between the Spurs and Kawhi Leonard's camp? And how will the NBA's most fascinating mystery end?
Russell Westbrook's fashion
ESPN Illustration

Russ does what he wants -- on and off the court. We tracked every outfit the NBA's biggest fashion star wore this season. But even if you think you can pull off Westbrook's look, it'll cost you.
Joel Kimmel illustration

From LeBron James backing up Stephen Curry to Joel Embiid taunting victims on a weekly basis, if you weren't locked in to social media, you weren't getting the full story of the 2017-18 NBA season.