Heyward makes nice sliding grab
Yadier Molina lines a ball into the outfield that looks to be a hit, but Jason Heyward races over to make the sliding catch.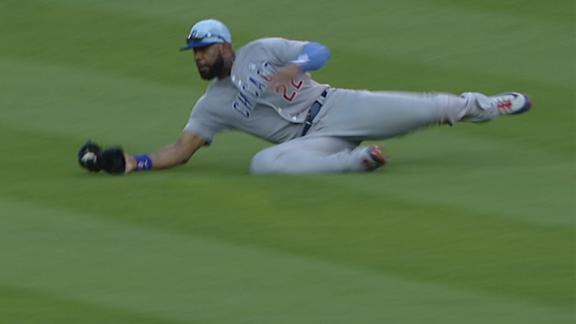 Sunday's must-see
Hamilton covers 77 feet to make ridiculous diving grab
Billy Hamilton robs Francisco Cervelli of a hit by diving to make a great catch.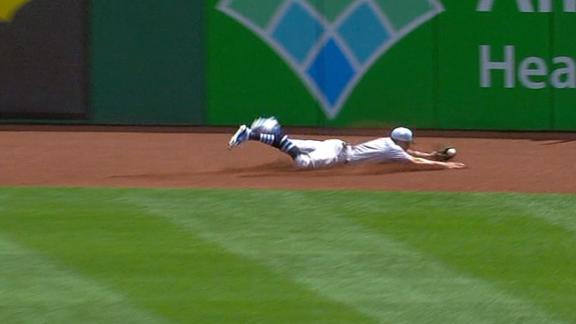 Trevino walks it off for Rangers
With the bases loaded in the 9th, Jose Trevino hits a seeing-eye single that drives in 2 for a dramatic 13-12 Rangers victory.
Hicks drops bat after solo blast
Aaron Hicks watches his homer leave the park in the fifth inning as the Yankees trail the Rays 3-1.
Markakis ends game with epic diving catch
Franmil Reyes slices a ball down the line in right and Nick Markakis lays out to record the final out of the game.
Customize ESPN

It's not too late to play!
Keith Law's Top 100 Prospects
Photo by Cliff Welch/Icon Sportswire

Between minor leaguers with major league bloodlines and future stars who have been involved in major trades, there are plenty of familiar names on this year's list. Where did your team's top young players land?
Tracking Ohtani's progress
Sean M. Haffey/Getty Images

Los Angeles' pitching/hitting sensation is turning heads with every step. Follow along for the major moments from Ohtani's big league journey.
Rafa Alvarez

From setting the mood to celebrating a win, these are the players responsible for keeping their teams on beat.
Mahoney Studio

Here's a radical idea: no more games that don't matter, or teams that can't pretend to contend. We imagine a way hope can stay alive all season.