NCAA Men's Baseball
Gators' Singer gets eighth win of season vs. Wildcats.
Florida junior pitcher Brady Singer discusses his 10-strikeout performance against Kentucky and the team's overall confidence.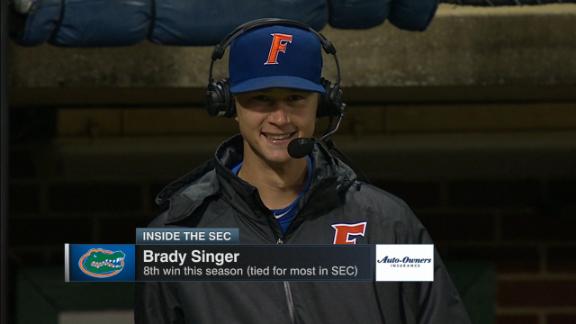 NCAA Men's Baseball
Aggies bringing win streak to series at Tennessee.
SEC Network's Ben McDonald discusses how No. 14 Texas A&M has improved this season and what can lead the team to Omaha.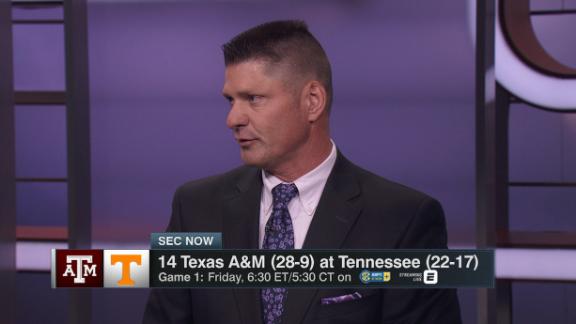 NCAA Men's Baseball
Sikkema leads Mizzou past No. 12 Vanderbilt.
Sophomore TJ Sikkema throws 10 strikeouts and helps the Tigers open the series with a 2-1 victory against the Commodores.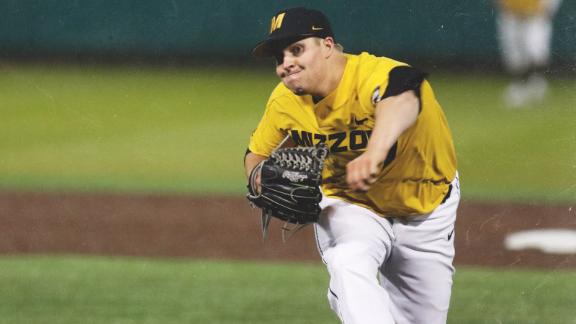 NCAA Men's Baseball
No. 1 Florida takes Game 1 vs. No. 9 Kentucky 11-2.
The Gators score six runs in the third inning to gain early momentum and cruise to a victory over the Wildcats.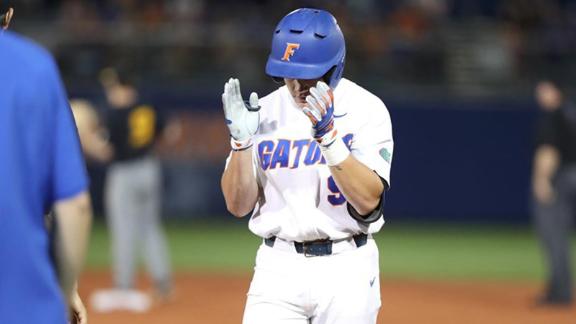 Top SEC teams built for the postseason.
SEC Network's Madison Shipman makes a case for Tennessee, Georgia, Texas A&M and Florida heading into the SEC Tournament and beyond.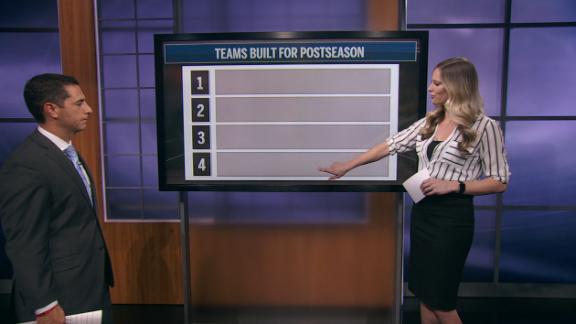 Which 8-7 SEC team has the biggest edge?
SEC Network's Madison Shipman talks about impressive resumes from Tennessee and Arkansas as the teams make a case for the postseason.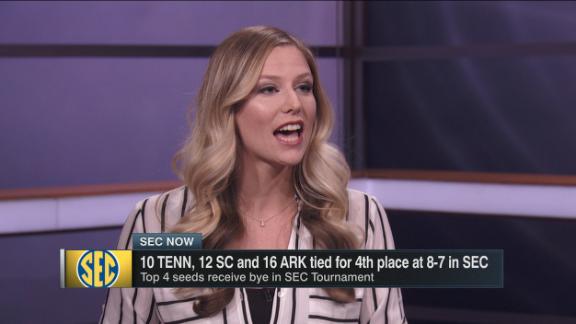 NCAA - Other
NCAA Men's Baseball
Alabama holds Alcorn State scoreless in win.
The Crimson Tide's defense plays well as Bama defeats the Braves 3-0 to improve to 22-17 on the season.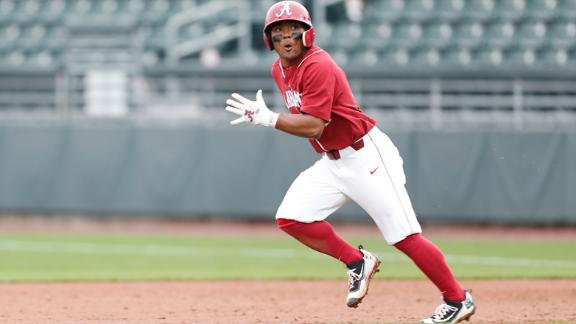 No. 17 Alabama takes down Southern Miss 4-2.
Crimson Tide sophomore Gabby Callaway discusses her 3-for-3 performance and her preparation at the plate vs. the Golden Eagles.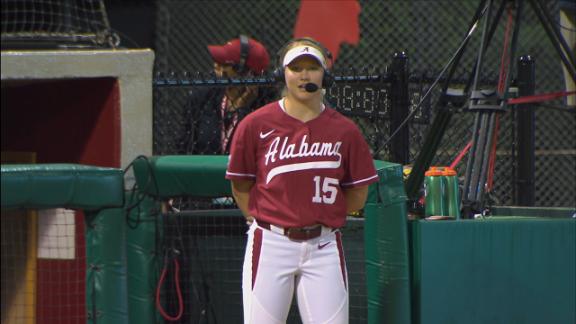 Ole Miss shuts out Louisiana-Monroe 7-0.
The Rebels pick up their 11th home win of the season after scoring seven runs on 11 hits against the Warhawks.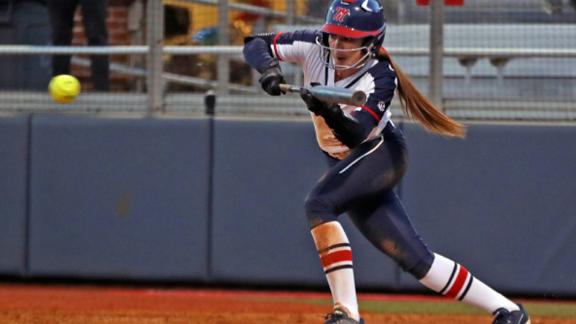 No. 12 South Carolina falls to Campbell.
The Gamecocks try to rally against the Camels but come up a run short in a 3-2 loss.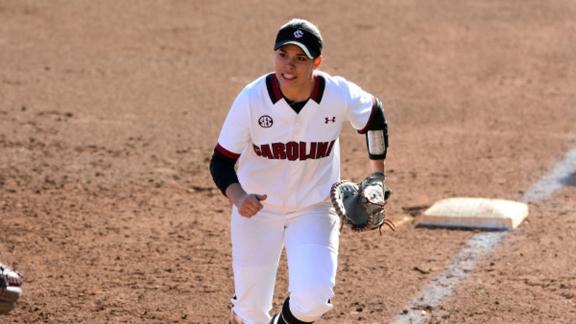 No. 7 Georgia blanks USC Upstate 10-0.
The Bulldogs dispatch the Spartans in five innings to win their final nonconference matchup of the season.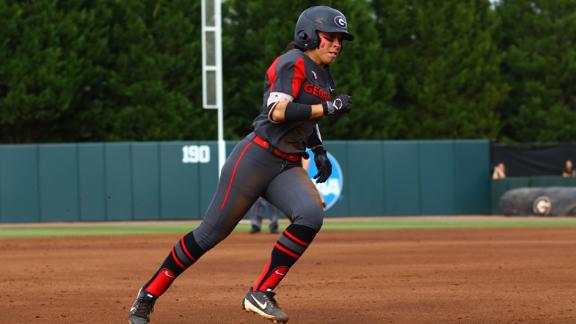 No. 5 Florida dominates Florida A&M 19-3.
The Gators score 12 runs in the second inning to handle the Rattlers and secure a home victory.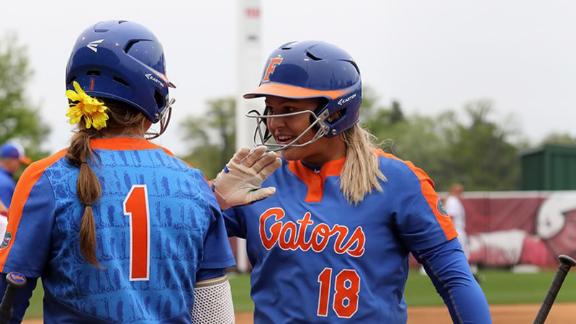 NCAA - Other
CF catches line drive off pitcher's head for triple play.
A pitch off of Clarke pitcher Chelsea Fogarty's forehead starts a 1-8-6-3 triple play.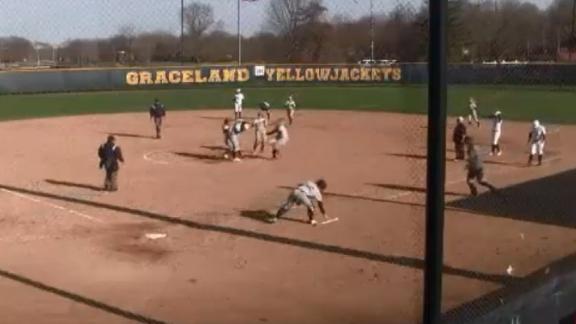 NCAA Men's Baseball
No. 3 Arkansas outlasts Missouri State 11-7.
Infielder Casey Martin hits a three-run homer in the fifth inning to help the Razorbacks avoid an upset against the Bears and win their third straight game.
NCAA Men's Baseball
No. 14 Texas A&M pulls out 7-5 win over Texas State.
The Aggies defeat the Bobcats to win their seventh straight game before entering a series against Tennessee.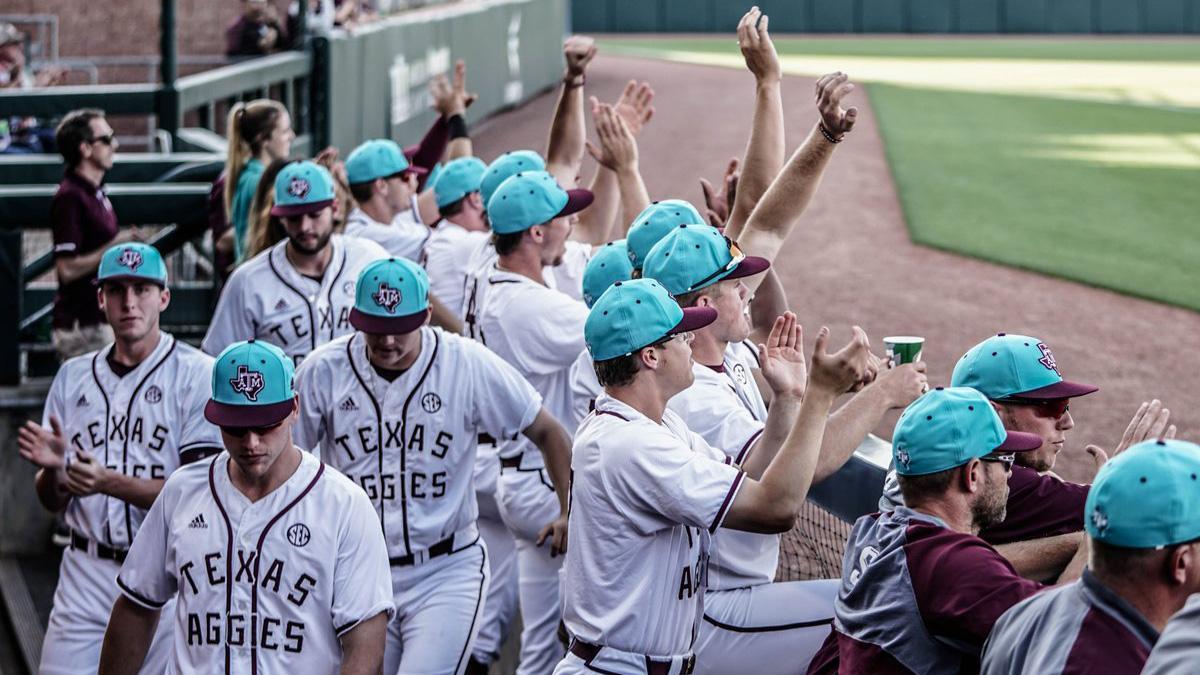 NCAA Men's Baseball
Texas A&M's Coleman comes up big vs. Texas State.
Sophomore Hunter Coleman discusses his three-hit performance to help lead the Aggies to a victory over the Bobcats.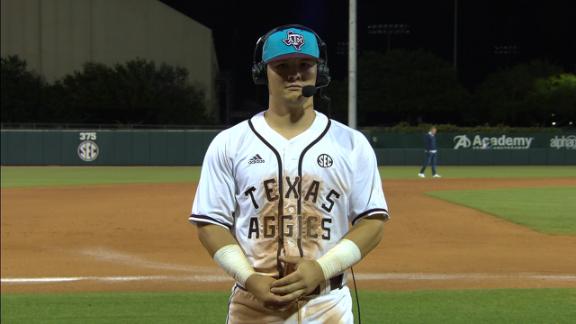 NCAA Men Baseball
No. 12 Vanderbilt handles Evansville 6-1.
Commodores junior Ethan Paul discusses his two home runs against the Aces and how the team continues to settle in this season.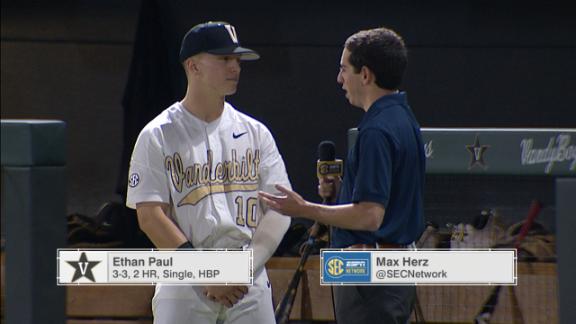 Streeter Lecka/Getty Images

Check out which teams won every men's and women's fall championship and where they stand in the current Capital One Cup standings.
Customize ESPN