Sports betting is increasingly getting the attention of state lawmakers.
The uptick in legislative activity for traditional sports betting -- think point spreads, totals, money lines and prop bets -- follows dozens of states that have considered laws specifically permitting daily fantasy sports.
New state laws about sports betting had been largely dormant since the federal Professional and Amateur Sports Protection Act of 1992 (PASPA) was enacted. For two decades, PASPA dissuaded states from legalizing sports betting. But that changed in 2012 when New Jersey Gov. Chris Christie signed legislation to permit Nevada-style sports gambling. The NCAA, NBA, NHL, MLB and NFL sued to stop New Jersey's plan. That lawsuit was accepted for review by the Supreme Court.
Despite the lawsuit, additional states have recently moved to introduce legislation that would legalize sports betting. Some of the proposals would only be activated if PASPA is repealed by Congress or overturned by the courts. Other proposals are direct affronts to PASPA and might result in additional litigation.
At the same time various state lawmakers are considering sports betting legislation, Congress is too. Rep. Frank Pallone, D-N.J., introduced a "discussion draft" in early 2017 that would replace PASPA. Hearings on the bill have yet to be scheduled.
The dual track of proposals -- state and federal -- have increased in frequency since the start of 2017. Below is a synopsis of the newly proposed state laws, with updates to follow.
This file was updated on March 30, 2018.
---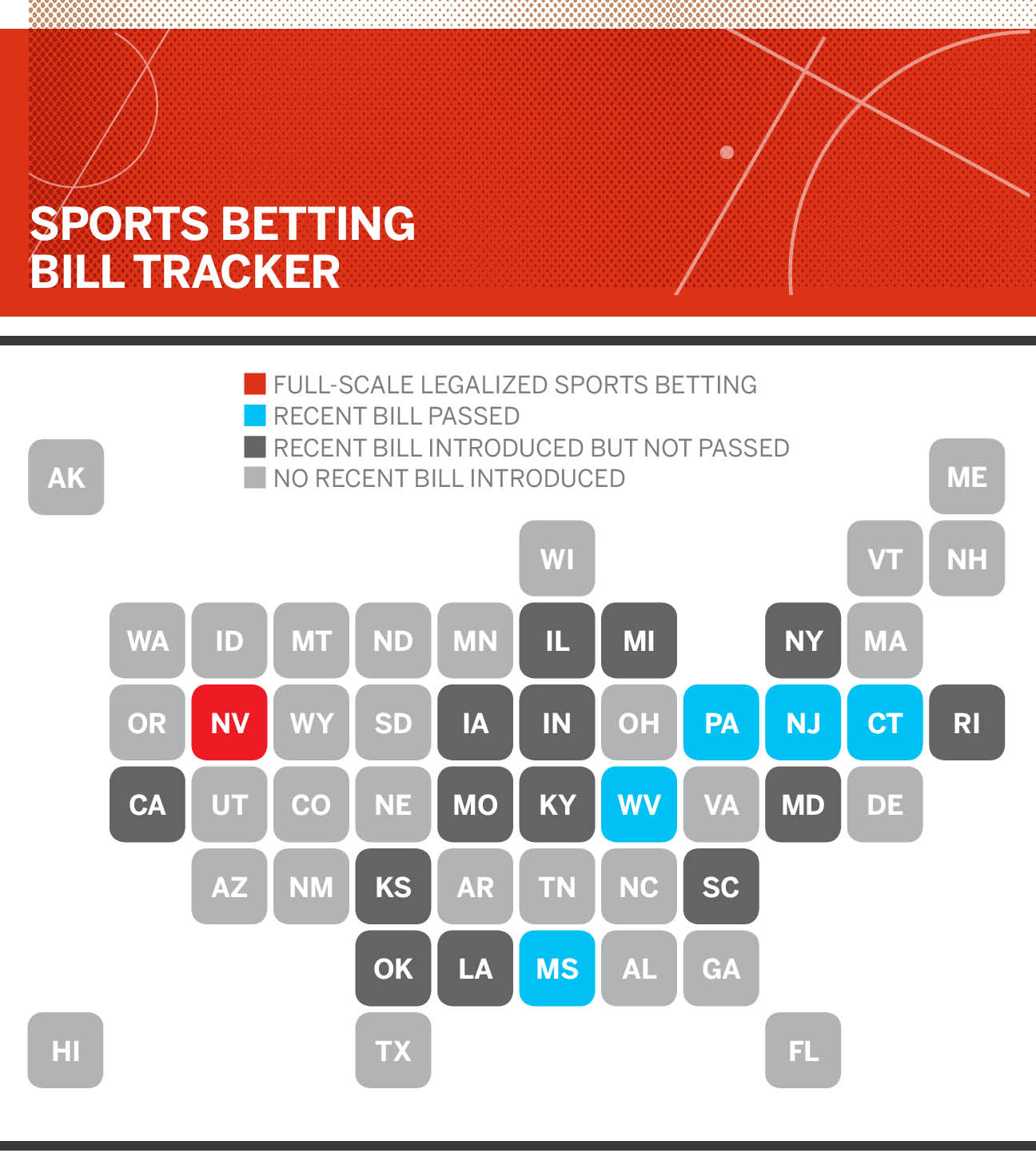 California
In July 2017, Assembly Member Adam Gray introduced a constitutional amendment that would allow the state "to permit sports wagering only if a change in federal law occurs." The proposed amendment specifically refers to PASPA's federal sports betting ban being amended or repealed. "All other gaming activities in California are subject to regulations that ensure the safety of consumers," said Gray in a press release. "Sports wagering should be treated no differently."
Connecticut
In July 2017, Gov. Danell Malloy signed a bill that will allow the state to move quickly if the federal sports betting ban is overturned by the Supreme Court or repealed by Congress. The new Connecticut law allows state officials "to regulate wagering on sporting events to the extent permitted by state and federal law." The law designates the Department of Consumer Protection to oversee any new sports betting.
Illinois
In January 2018, a Senate bill called the "Sports Betting Consumer Protection Act" was introduced. The draft bill could "authorize sports betting or electronic sports betting by an electronic sports betting patron or sports betting facility patron." Also in January 2018, Rep. Lou Lang submitted a "shell" bill in Illinois. The work-in-progress bill intends to legalize sports betting in the state and would potentially be fleshed out later via the legislative process.
Indiana
One version of a January 2018 bill introduced in Indiana would allocate a 1 percent "integrity fee" to specific sports leagues based on handle. The bill also would require a 9.25 percent tax on sports betting-related revenue. Bill sponsor Alan Morrison -- a member of the Indiana House -- said the bill resulted after some input from the NBA and MLB. A different sports betting bill was introduced on the Senate side.
Iowa
A bill proposed in January 2018 would allow casinos and racetracks licensed in Iowa to offer sports betting on-site and possibly online. A February 2018 amendment to the proposed bill included language more favorable to certain sports leagues lobbying in the state.
Kansas
A proposed law "relating to sports gambling" was introduced January 2018. The bill would expand the purview of the Kansas lottery to sports betting involving "one or more competitive games in which amateur or professional athletes participate, or are intended to participate, or on one or more performances of such athletes in such games."
Kentucky
In 2017, a sports betting bill was filed in the Kentucky legislature with regulatory authority granted to the horse racing commission. The bill would take effect only if the partial federal sports betting ban in PASPA was deemed to allow such state-level bills.
Louisiana
A new House bill "authorizes additional games and sports betting at eligible live horse racing facilities." The new legislation introduced in March 2018 is narrowly tailored and would only allow sports betting at the small number of land-based racinos already operating in the state.
Maryland
Maryland House Bill No. 989 was introduced on Feb. 9 and calls for the establishment of a task force to "study the implementation of sports gaming in the state." The draft legislation includes the allocation of a "sports gaming license" and the ability to accept wagers on sporting events if the bettor is at least 21 years of age. The proposed Maryland legislation would only come into effect if federal law allowed it.
Michigan
In 2017, legislation was introduced to amend the state's current gaming control law. Michigan's proposed bill would allow any holder of a casino license to "accept wagers on sporting events." The state's gaming board would be required to "promulgate rules to regulate the conduct of sports betting under this act."
Mississippi
According to Mississippi State Rep. Scott DeLano (R-Biloxi), language in a fantasy sports bill passed in the first half of 2017 would allow the state to offer legal sports betting if the federal ban is lifted.
"We did make modifications to Gaming Control Act that would allow for the Gaming Commission to regulate sports betting if it were ever to be overturned at the federal level," DeLano told the Sun Herald.
Missouri
In January 2018, Rep. Bart Korman introduced a new bill that would allow already-licensed riverboat casinos and daily fantasy companies to expand their offering to also include traditional sports betting.
New Jersey
In addition to the legislation passed in 2014 that is part of the long-running court case with the five sports leagues, New Jersey has also seen a "nuclear option" introduced. The 2017 proposal -- bent on getting around PASPA's ban -- would be a full repeal of "all NJ laws against sports betting," according to State Sen. Raymond Lesniak. A bill to "remove and repeal all State laws and regulations prohibiting and regulating the placement and acceptance ... of wagers on professional, collegiate, or amateur sport contests or athletic events" was subsequently introduced.
New York
On March 7, 2018, Sen. John J. Bonacic introduced comprehensive legislation that would address both in-person and mobile sports betting in New York. The 14-page bill -- S7900 -- includes detailed provisions about tax rates, consumer protection, bettor eligibility and restrictions on certain types of sports wagers. The bill would also establish a "sport betting integrity fund" and mechanisms for the payment of an integrity fee to sports leagues. The New York State Senate held an informational hearing on sports betting in January 2018.
Oklahoma
Pending legislation would allow the Oklahoma governor to expand the tribal-state compact and include "sports pools." The expansion would consist of "wagering on the outcome of one or more competitive games in which athletes participate, or on one or more performances of such athletes in such games where all bets are placed in a common pool or pot from which all player winnings, prizes and direct costs are paid." The proposed bill would only take effect if permitted by federal law.
Pennsylvania
In October 2017, Gov. Tom Wolf signed a new sports betting bill as part of a broad legislation push that included online poker and DFS. "My hope is that Pennsylvania will be positioned to offer sports betting sometime in 2018," said Rep. Rob Matzie -- the author of the new law -- after it was enacted. The new Pennsylvania law would only take effect if PASPA is struck down by the Supreme Court or Congress opts to repeal the federal law.
Rhode Island
In January 2018, five lawmakers in Rhode Island introduced draft legislation that would allow the "state to conduct sports wagering hosted by Twin River and the Tiverton gaming facility." The bill is narrow in scope, as it would permit sports betting in only two facilities. Rhode Island's lottery division would oversee any sports wagering allowed under the proposed law.
South Carolina
House Bill No. 3102 would amend South Carolina's Constitution to allow "sports betting on professional sports." Any betting would be "strictly" regulated and limited to "specified" areas. According to a court document from the now-resolved New York daily fantasy litigation involving DraftKings and FanDuel, South Carolina's current definition of gambling "includes betting money on the outcome of any 'game,' regardless of the skill involved in the game."
West Virginia
In March 2018, the West Virginia legislature passed a new sports betting bill, but it is only activated if the Supreme Court or Congress removes the federal ban contained in PASPA. The West Virginia Lottery Commission would oversee regulating under the new law. The law includes a provision to allow for both in-person and online sports wagering within the state.