Cornelius connects on fade to trim deficit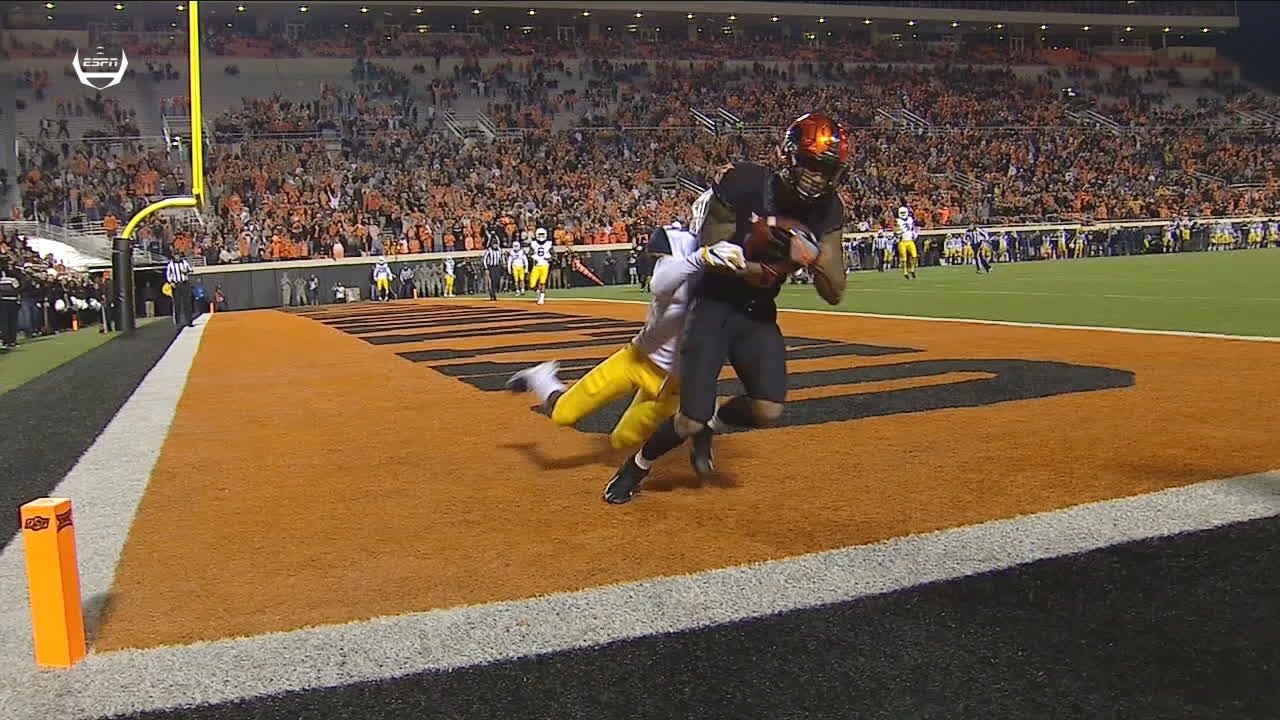 West Virginia pours on offense in first half
The Mountaineers built a 31-14 halftime lead on Oklahoma State thanks to some big plays by RB Kennedy McKoy.
McKoy's 2nd TD puts him over 100 rushing yards
Kennedy McKoy finds open field on a 30-yard touchdown run, his second of the game, putting him over 100 rushing yards.
Cowboys TE drags defender for TD on 1st career catch
TE Logan Carter drags a defender with him into the end zone on his first career catch to bring Oklahoma State within one score.
Grier tosses dime for TD
QB Will Grier throws a pass into a very small window to David Sills V for the touchdown.
Jennings fools defender for TD
Gary Jennings Jr. jukes a defender in the open field, then runs to the end zone to put West Virginia back on top.
Wallace reaches out for TD to tie game
Oklahoma State WR Tylan Wallace extends to his left to grab a 7-yard touchdown, tying it at 7.
McKoy walks into end zone for early lead
RB Kennedy McKoy gets great blocking for an easy 5-yard touchdown, putting West Virginia up early at 7-0.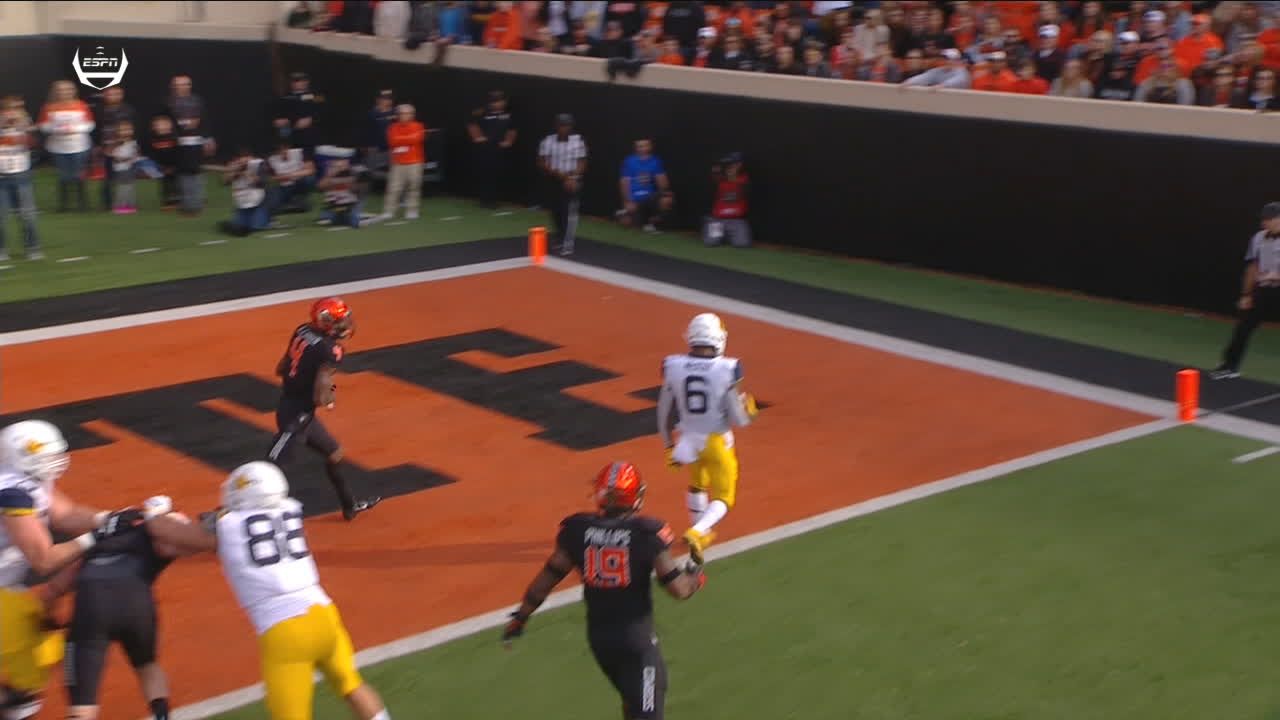 Ohio State survives Maryland in epic OT win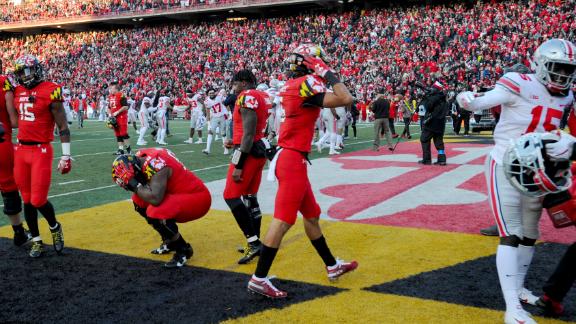 Maryland misses on 2-point conversion, Buckeyes survive
Maryland loses to Ohio State in overtime after failing to complete a two-point conversion.
Haskins dives for overtime TD
Dwyane Haskins strikes first for Ohio State in OT with a five-yard touchdown run.
Haskins finds Victor for tying TD in final minute
Ohio State QB Dwayne Haskins hits Binjimen Victor on a 3-yard touchdown pass to tie the game late in regulation.
Maryland recovers own fumble for go-ahead TD
Anthony McFarland fumbles on third down but Maryland teammate Mary Chigoziem Okonkwo recovers the ball for the go-ahead score.
Deep pass gets Maryland to the 1-yard line
Maryland's Tyrell Pigrome finds Darryl Jones on a 60-yard pass that was originally ruled a touchdown.
Buckeyes tie it up on Haskins' 2nd rushing score
Buckeyes QB Dwayne Haskins' 1-yard score ties the game with the Terrapins in the fourth quarter.
Terps' TD upheld after review
Ohio State challenges a catch that was ruled down at the 1, but officials overturn the call and rule it a Maryland touchdown.
Game-tying TD ties Haskins for Buckeyes' TD record
QB Dwayne Haskins finds K.J. Hill on a six-yard score to even the game, and tie J.T. Barrett's record with 35 Ohio State touchdowns.
Haskins keeps it for 2-yd TD
Ohio State QB Dwayne Haskins fakes the handoff and finds the end zone for another Ohio State score.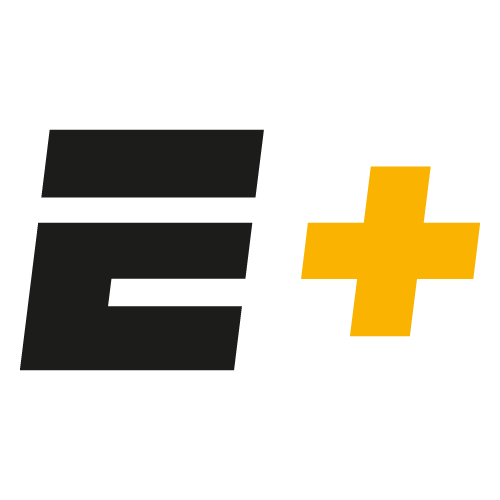 Detail w/ Peyton Manning
New episode available
Peyton breaks down his brother Eli's latest win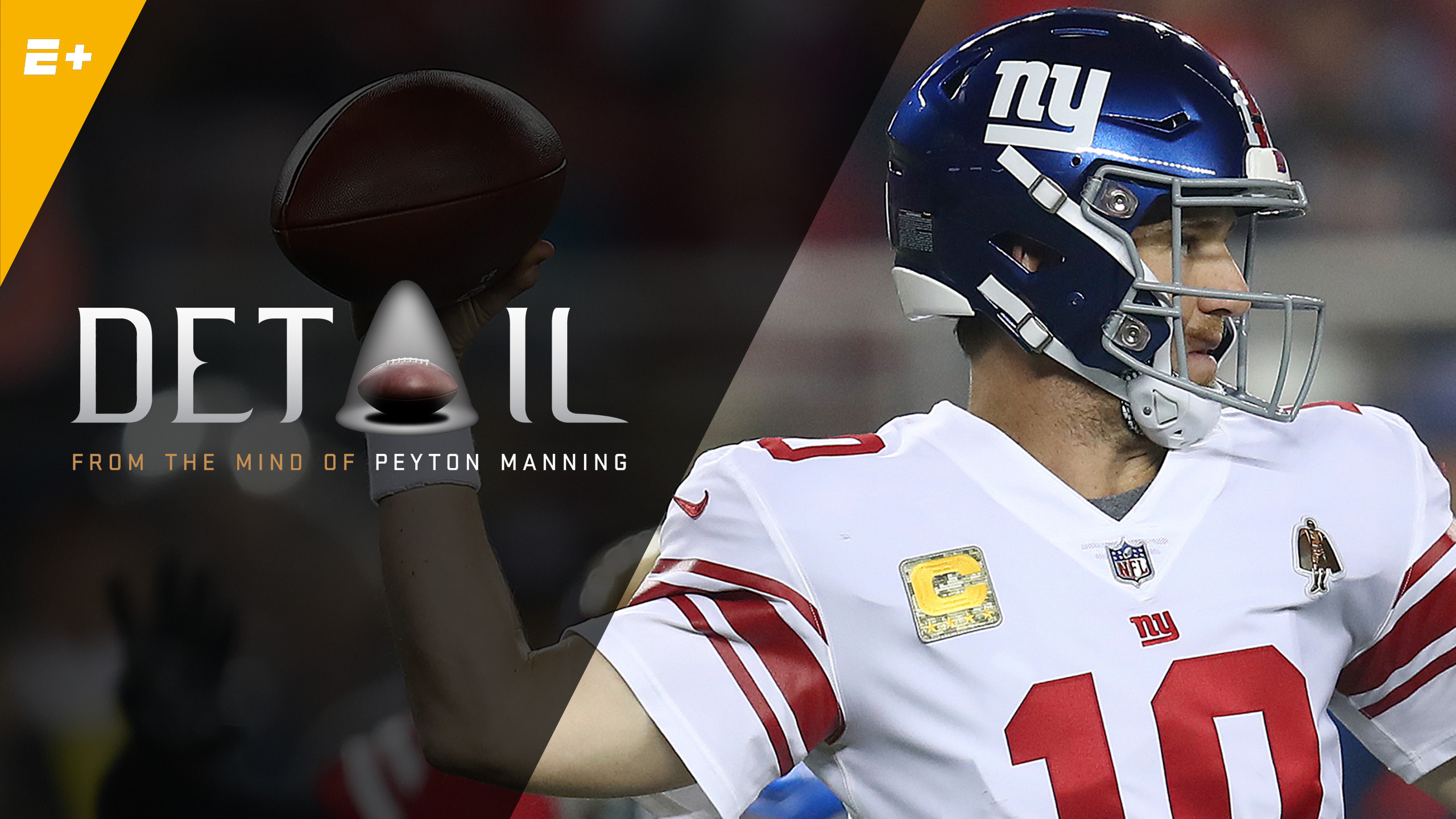 Rutgers QB drops wide-open TD on fourth down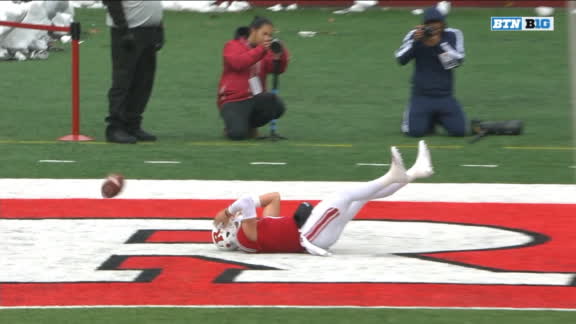 Wisconsin's Davis goes full OBJ for 1-handed TD
Wisconsin WR Danny Davis III snags a Jack Coan back-shoulder fade with one hand to complete an insane 5-yard touchdown.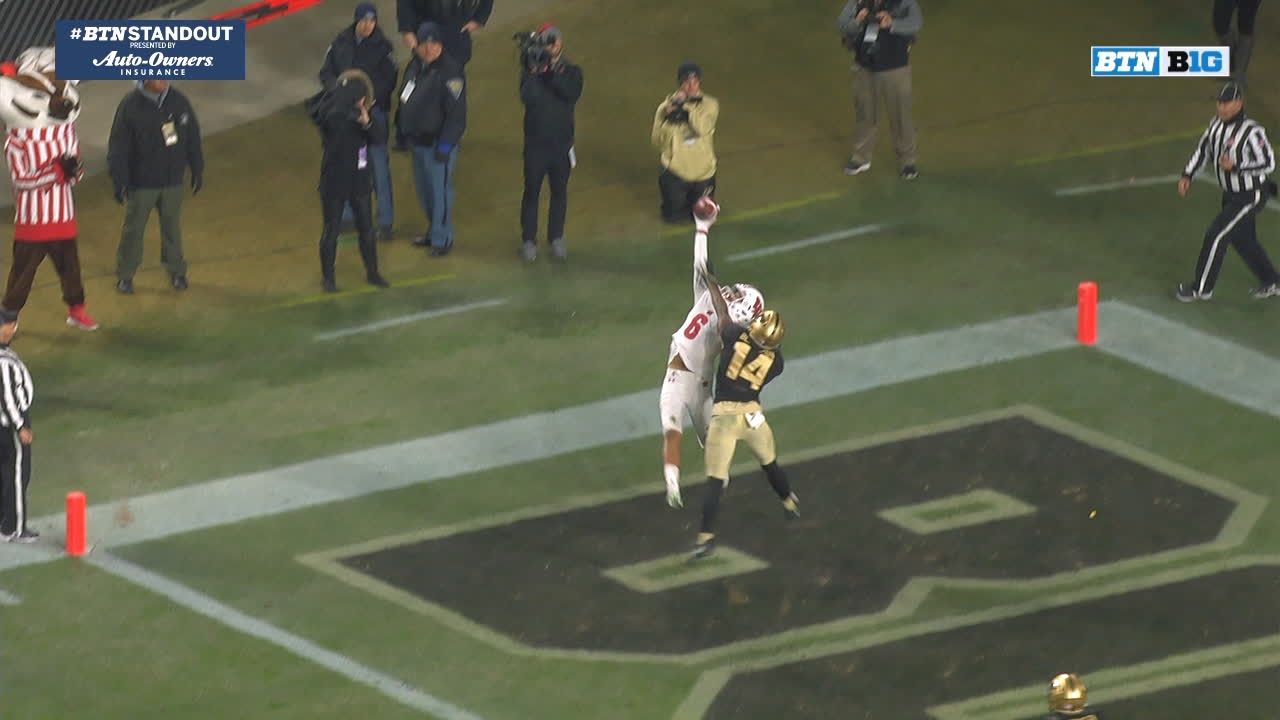 USC DL throws a punch, hit with unsportsmanlike conduct penalty
After a play, Brandon Pili hits a UCLA offensive lineman and is reprimanded on the sidelines in the second quarter.
Colorado State game-winning Hail Mary reversed
After Colorado State pulled off what looked like a game-winning Hail Mary, the play was called off as the receiver ran out of bounds before catching it.
Northwestern's Hall makes diving INT on tipped pass
Northwestern's Nate Hall makes a diving catch to snag a tipped Minnesota pass for an interception.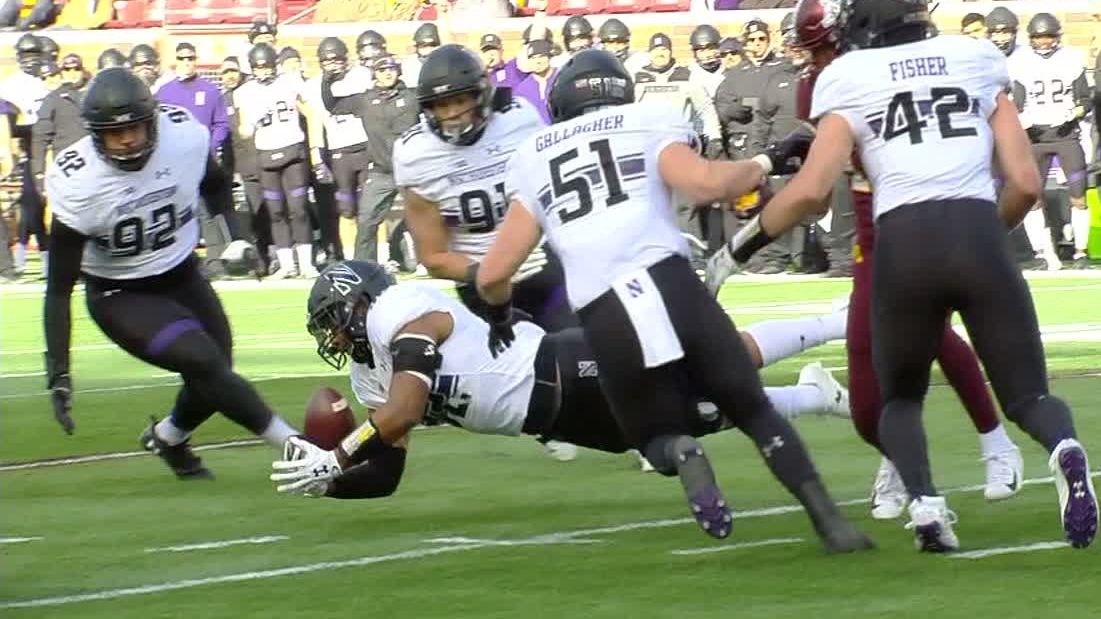 Corso's Pick: Cincinnati vs. UCF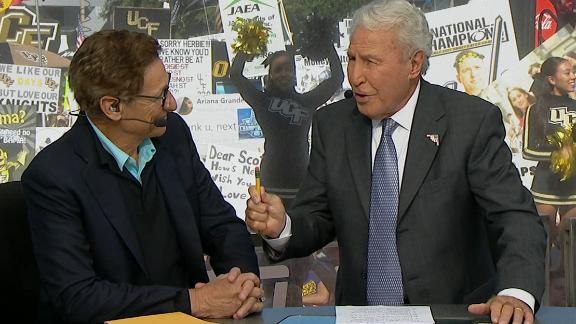 Customize ESPN
On This Date: Nov. 17, 1996
On November 17, 1996, Dwayne "The Rock" Johnson made his first appearance in the WWE at the Survivor Series.

Sign up for FREE!
Famous college football prank
Stan Grossfeld/The Boston Globe via Getty Images

In 1982, during the middle of The Game between rivals Harvard and Yale, a third player entered the game when MIT students pulled the greatest prank in college football history.
Cleveland Cavaliers

Time to hand out some grades for Nike's final batch of City uniform designs.
Brian Spurlock/USA TODAY Sports

Everything went according to plan for the top 10 teams last weekend, but the schedule doesn't get easier for the teams jockeying for a final top-four ranking.